Recipes
Gravlax with Blinis (Cured Salmon with Thin Pancakes)
Serves

makes 1 SIDE OF SALMON AND 24 BLINIS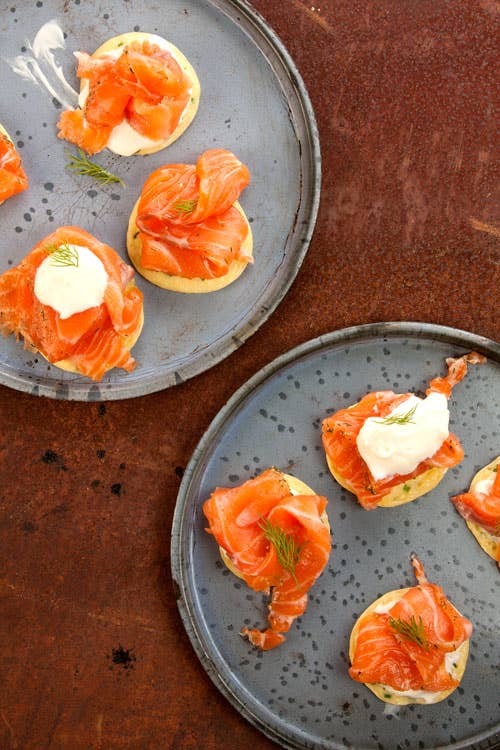 We persuaded the wife of a Norwegian fisherman to share her secret recipe for marinating a fresh side of salmon to silky-textured, ­subtly flavored perfection. Modern-day gravlax, preferably served with blinis (a Russian touch). —from "The Cure" (November/December 1994)
Ingredients
FOR THE GRAVLAX
3 tbsp. finely chopped dill
2 tbsp. kosher salt
1 tbsp. ground white peppercorns
1 tbsp. sugar
1 skin-on, whole salmon fillet (about 2 1/2 lbs.)
3 tbsp. aquavit or cognac
FOR THE BLINIS
4 eggs
1 cup sour cream
1⁄2 cup flour
1 tsp. kosher salt
1⁄4 tsp. baking soda
Crème fraîche and chopped fresh chives or dill, for serving
Instructions
Step 1
For the gravlax: Combine dill, salt, pepper, and sugar in a small bowl and stir together. Remove any bones from the salmon with tweezers or small pliers. Place fish flat in a long glass baking dish. Rub salt mixture into flesh, then sprinkle aquavit or cognac over fish. Cover loosely with plastic wrap, then place a slightly smaller baking dish directly on top of fish. Weigh it down with unopened cans. Refrigerate for 3 to 4 days.
Step 2
Rinse fish in cold water and pat dry. Use a long, sharp slicing knife to slice thinly; refrigerate until ready to serve.
Step 3
For the blinis: Beat eggs lightly in a large bowl, then mix in sour cream. In another bowl, combine flour, salt, and baking soda. Add to egg mixture, and whisk until smooth.
Step 4
Heat a 12" nonstick skillet over medium heat. Spoon batter into pan to form small 2–3" rounds. Cook, turning once, until golden brown on both sides, about 2 minutes. Transfer to serving platter, top with slices of gravlax. Dollop with crème fraîche and sprinkle with chives before serving.