Recipes
Lamb and Cauliflower Stew with Harissa
Temper the season's chill with a spiced and aromatic Middle Eastern-inspired meal.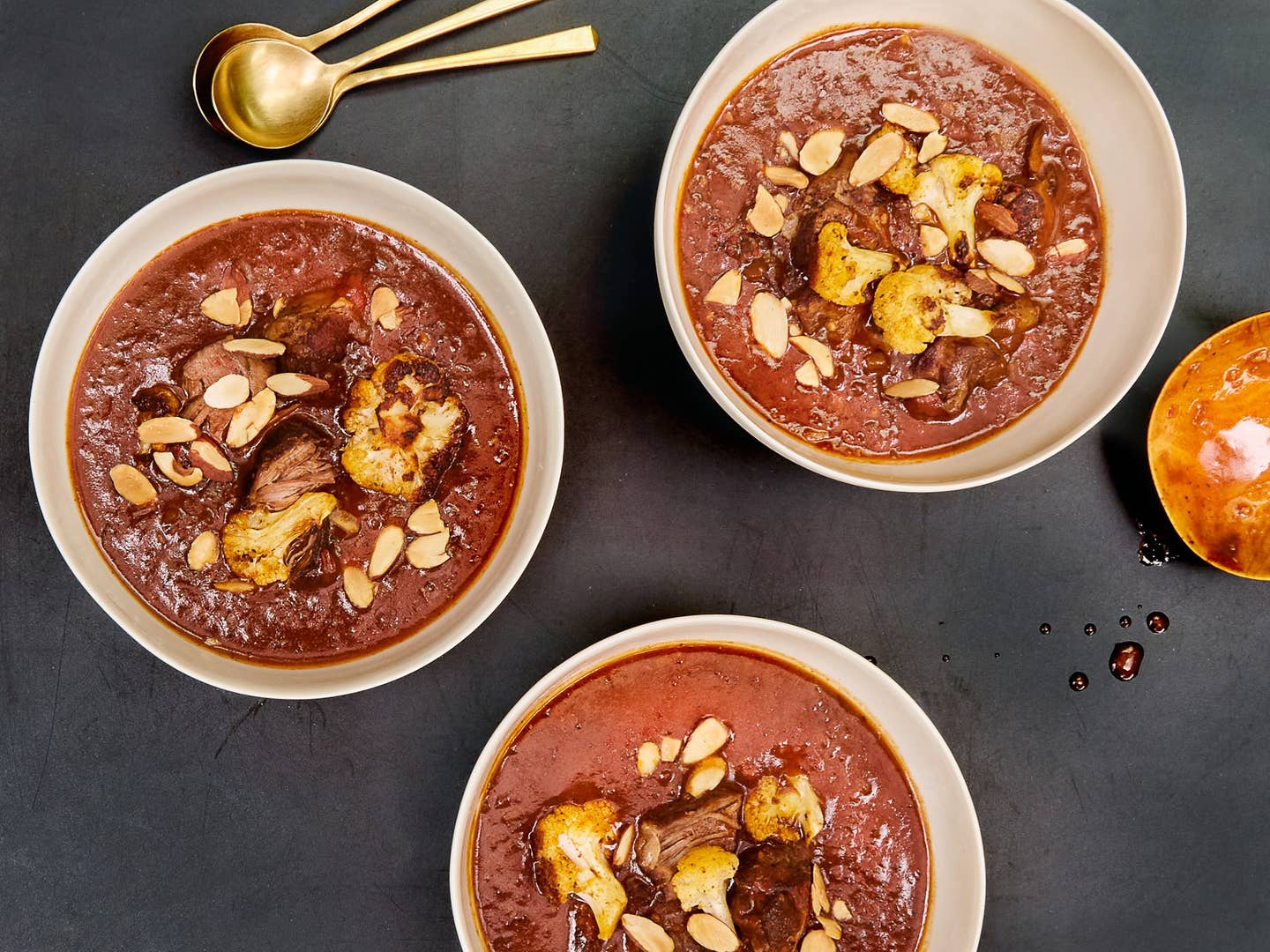 This warming lamb stew with Tunisian red chile paste makes use of the whole head of cauliflower: The flavorful stems are minced and sauteed along with the mirepoix, while the florets—broiled and added at the end—lend crunch and body. Harissa adds a kick of heat and acidity to everything from soups to pastas to roasted vegetables, but its garlicky base pairs particularly well with fatty lamb.
Ingredients
2 lb. boneless lamb shoulder, trimmed and cut into 2-inch pieces
tbsp. Kosher salt and freshly ground black pepper
5 tbsp. extra-virgin olive oil
4 tbsp. unsalted butter, melted, divided
3 cloves plum tomatoes, cored and finely chopped
2 large red onions, finely chopped
5 garlic cloves
1⁄2 head head cauliflower, cut into large florets, stems peeled and finely chopped
1⁄3 cup dry white wine
1⁄4 cup tomato paste
2 tsp. ground cumin
1 tsp. ground cinnamon
5 cups lamb or chicken stock
2 tbsp. cornstarch, mixed with 2 tbsp. cold water
1⁄3 cup harissa
8 pitted dates, coarsely chopped
1⁄2 tsp. pimentón (smoked paprika)
1⁄4 cup sliced almonds, toasted
Instructions
Step 1
Season the lamb with salt and pepper. To a large pot set over medium-high heat, add the oil and 2 tablespoons butter. When the foam begins to subside, add the lamb (working in batches as needed to not crowd the pot) and cook, turning occasionally, until browned all over, about 20 minutes. Transfer the lamb to a large plate, then add the tomatoes, onions, garlic, and cauliflower stems to the pan and cook, stirring occasionally, until the vegetables are lightly golden, 8–10 minutes. Stir in the wine, tomato paste, cumin, and cinnamon and cook until the wine is almost completely evaporated, 3–5 minutes. Add the reserved lamb and the stock, bring to a boil, then lower the heat to medium low, cover, and cook until the lamb is very tender, about 2 hours.
Step 2
Stir in the cornstarch slurry, increase the heat to medium-high to bring the stew back up to a boil, then lower the heat to medium. Add the harissa and dates, season to taste with salt and pepper and cook 5 minutes more.
Step 3
Meanwhile, preheat the broiler. In a large bowl, stir together the remaining butter and the pimentón; season to taste with salt and pepper, then add the cauliflower florets and toss to coat. Transfer to a large rimmed baking sheet then broil, stirring frequently, until the florets are slightly charred and chewy, about 10 minutes. Ladle the stew into bowls, top with cauliflower florets and almonds, and serve hot.