Swiss Chard with Borlotti Beans (Verdure con Fagioli)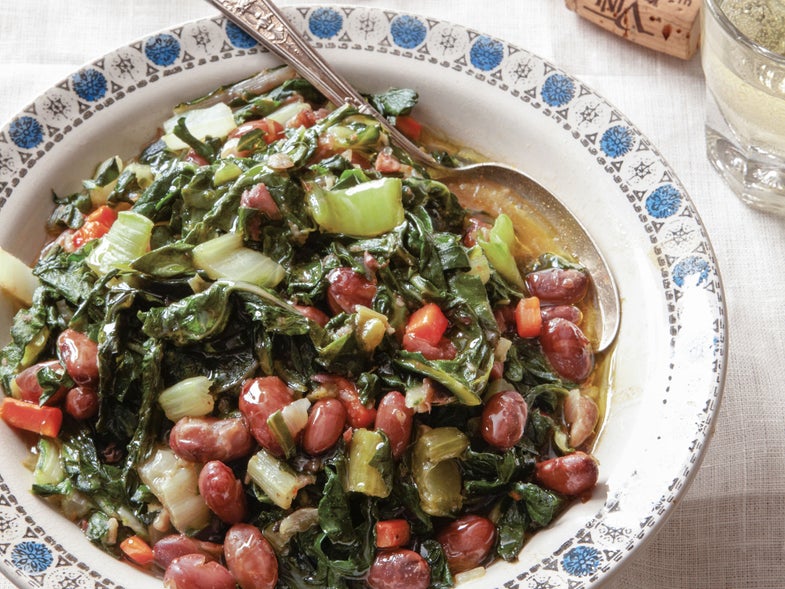 Winemaker Emidio Pepe's wife, Rosa, folds sautéed garlic and aromatic vegetables into this brothy beans-and-greens side dish to add body and an earthy depth. Featured in: The Road to Abruzzo
Find this recipe in our cookbook, SAVEUR: Italian Comfort Food
Swiss Chard with Borlotti Beans (Verdure con Fagioli)
Winemaker Emidio Pepe's wife, Rosa, folds sautéed garlic and aromatic vegetables into this brothy beans-and-greens side dish to add body and an earthy depth.
Time: 2 hours, 25 minutes
Ingredients
2 cups dried borlotti or cranberry beans, soaked overnight and drained
Kosher salt and freshly ground black pepper, to taste
7 lb. Swiss chard, trimmed, leaves and tender stems roughly chopped
1⁄3 cup olive oil
1 tsp. crushed red chile flakes
12 cloves garlic, roughly chopped
4 stallks celery, cut into 1/4″ pieces
3 carrots, cut into 1/4″ pieces
1 medium yellow onion, cut intio 1/4″ pieces
2 cups chicken stock
Instructions
Boil beans and 6 cups water in a 6-qt. saucepan. Reduce heat to medium-low; cook, covered, until beans are tender, about 2 hours. Drain beans; set aside. Fill saucepan with salted water; boil. Cook chard until wilted and stems are tender, 4–6 minutes; drain and transfer chard to an ice bath until chilled, and then drain and squeeze dry. Add 1⁄4 cup oil and the chile flakes to saucepan; heat over medium. Cook garlic, celery, carrots, and onion until golden, 8–10 minutes. Add reserved beans and chard, the stock, salt, and pepper; simmer until stock is slightly reduced, 6–8 minutes. Transfer to a serving dish; drizzle with remaining oil.