Recipes
Marmitako (Basque Tuna and Potato Soup)
This Spanish stew is as vibrant as it is hearty.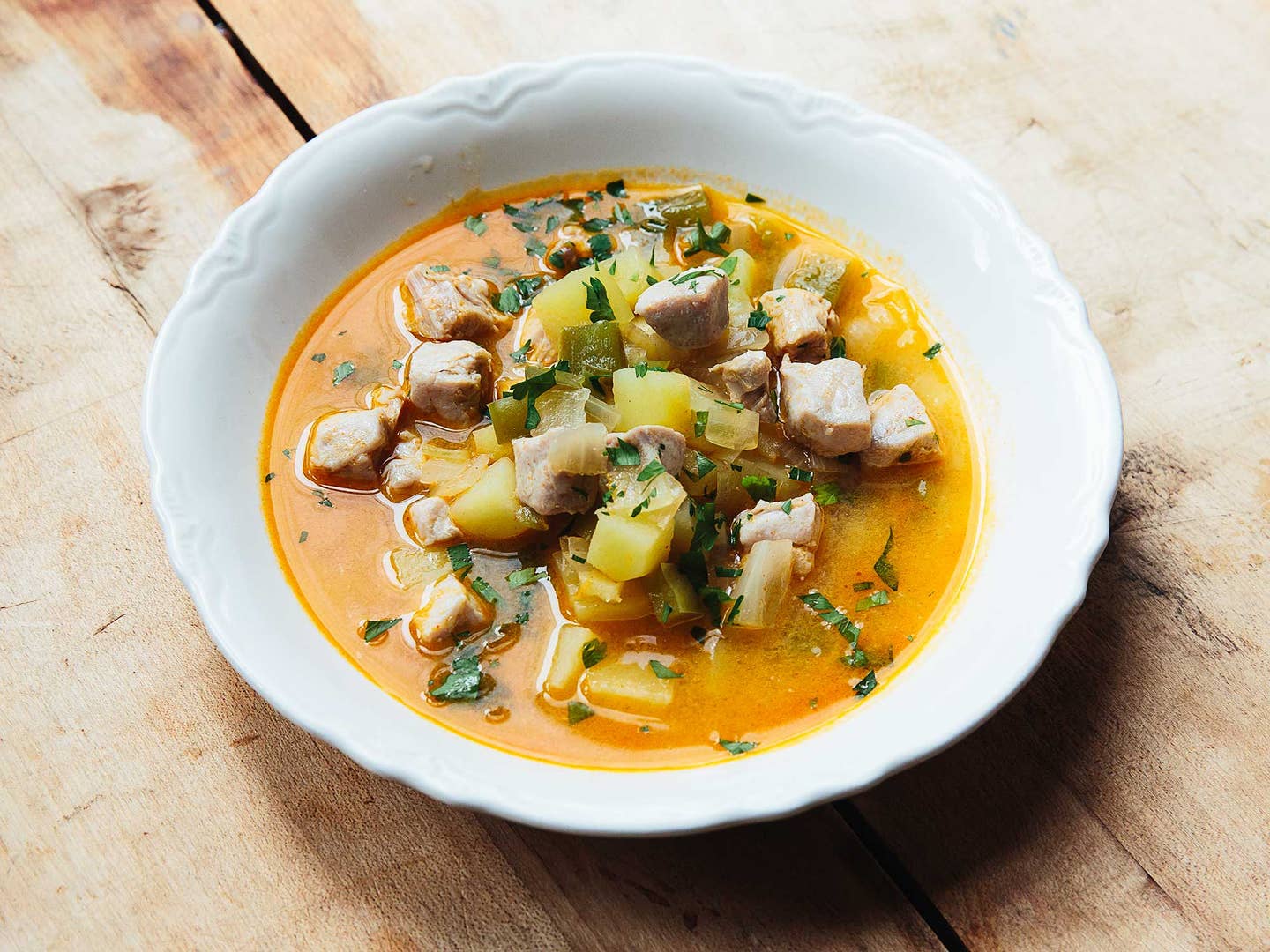 In Spain's Basque Country, marmitako means roughly "from the pot." This rustic, filling soup, now common in Basque homes and sociedades, began as a meal local tuna fishermen would make during long fishing routes on their boats, and still do. Traditionally, locals crack the potatoes with a partial cut, then break off ragged chunks to toss into and add starchiness to the potato soup. Adding the tuna right at the end, just as the soup is removed from the heat, keeps the fish moist and tender.
Ingredients
1 lb. raw tuna, cut into ½-inch cubes
Kosher salt
1 tbsp. extra-virgin olive oil
1 green bell pepper, coarsely chopped
1 yellow onion, coarsely chopped
1 lb. yellow potatoes, peeled and coarsely chopped
1 garlic clove, finely chopped
1 tsp. pimentón (smoked paprika)
Coarsely chopped Italian parsley leaves, for garnish
Instructions
Step 1
In a medium bowl, season the tuna lightly with salt and toss to coat. Set aside.
Step 2
To a large pot set over medium heat, add the oil; when the oil is hot, add the bell pepper and onion and cook, stirring occasionally, until the onion is softened and translucent, 8–10 minutes. Add the potatoes and garlic, season with salt, and continue cooking until vegetables are softened but not colored, 3–5 minutes. Add the pimentón and 3 cups water and bring to a simmer. Cook until the vegetables are tender, 13–15 minutes. Turn off the heat, add the tuna, and immediately cover the pan. Set aside until the fish is just barely cooked through, 3–5 minutes.