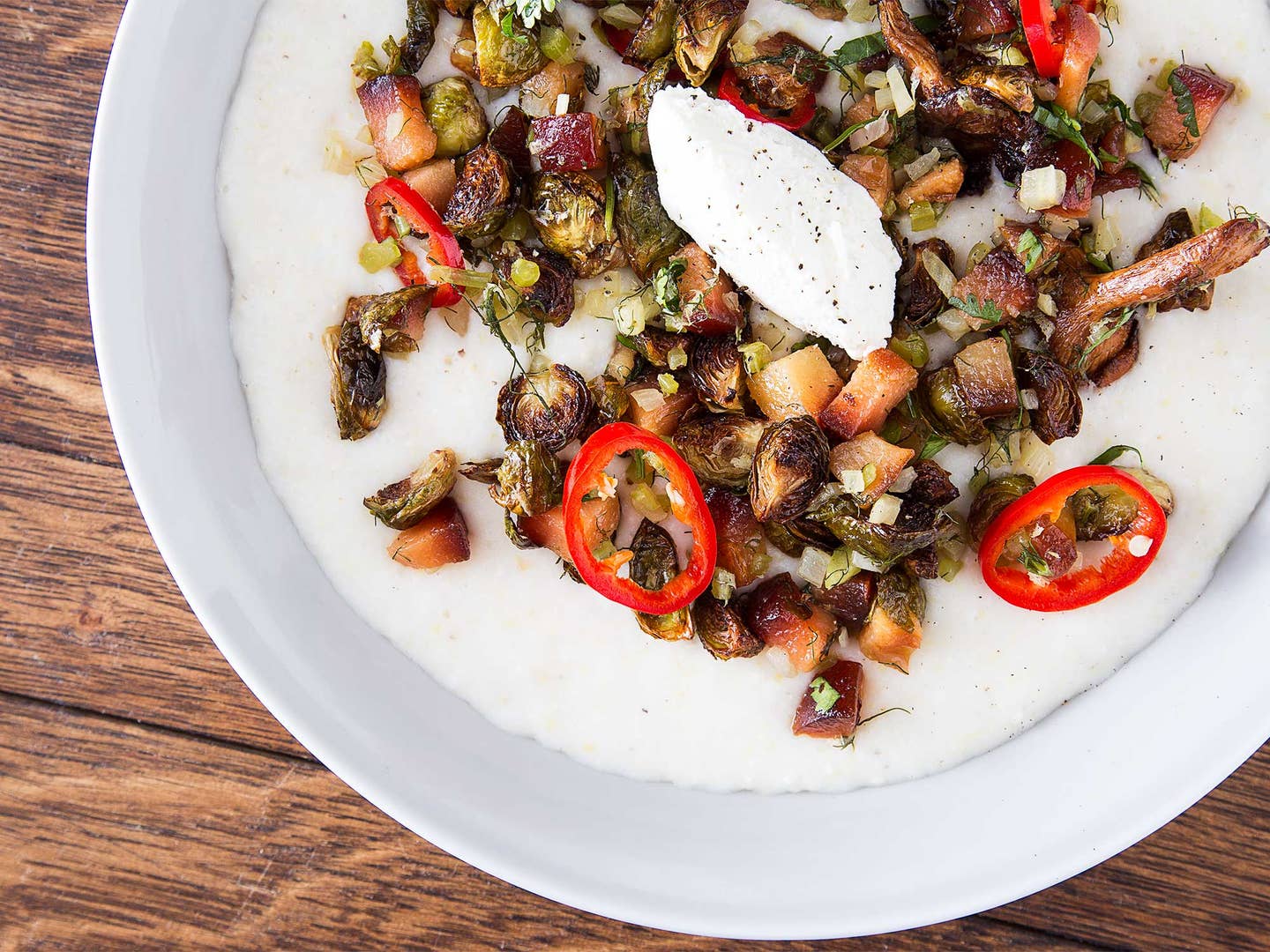 Recipes
Our Absolute Best Fall Vegetarian Recipes to Try Right Now
Fall might not seem like the season to give up meat, but with vegetarian recipes this good, it very well could be
From clothing to food, fall is layering season. As the weather cools and we turn more and more to gooey baked casseroles and hearty soups and stews, it may not seem like the right time to pick up a new diet. That being said, the wonderful bounty of fall produce makes it possible to eat hearty, plant-based meals that make cutting out meat easier than ever. Some of our favorite classic fall pastas are also some of our best vegetarian pasta recipes—think mushroom tortellini and pappardelle with butternut squash. Whether you're looking for a fun twist on grits with goat cheese or a classic sweet potato casserole, here are our best fall vegetarian recipes for your next meat-free meal.
Chef Pierre Thiam's take on this classic autumn soup uses Scotch bonnet chiles for spice and nutmeg for warmth. In Senegal, a similar soup is said to prevent hangovers, so you'll find hawkers selling it outside the bars late at night. Use your favorite type of pumpkin or other fall squashes to substitute for the butternut in this recipe, if you like. For a vegan soup, substitute vegetable stock for the chicken stock. Get the recipe for Butternut Squash Pepe Soup »
Potato and Cheese Tortelli with Porcini Mushrooms
Nothing says love like homemade pasta. Lidia Bastianich's recipe mixes tender, sweet Bartlett pears with sharp pecorino and creamy mascarpone to make a rich filling for ravioli.
Spinach Balanzoni With Brown Butter and Sage
"Borscht was traditionally a fermented soup," says Cortney Burns, who adapted the classic beet base to one featuring a combination of fresh and fermented carrots and beets instead. "The warming spices, fresh ginger, and alliums bring out the natural sweet flavor of the carrots," she says. Burns tops her soup with anything from salt-brined caraway to shredded or wilted vegetables, pickled ginger, dill, or yogurt, but play around with combinations you like. For a red version, use purple or red carrots and red beets. For a yellow version, use yellow carrots and golden beets. Pass the finished soup through a fine-mesh sieve for a completely silky texture. Get the recipe for Fermented Carrot Borscht with Ginger and Turmeric »