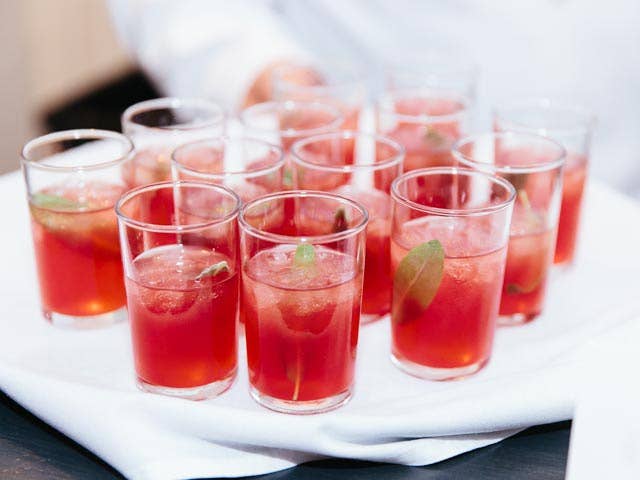 Drinks
Our 10 Best Friday Cocktails
TGIF, right?
After working through a tough week, we're ready for a cocktail. And because the SAVEUR test kitchen also happens to have a pretty extensive supply of alcohol, we can bring happy hour right to our desks (just kidding—when happy hour starts, everything else ends). It's a time to experiment with some new flavors or give some classic favorites an exciting twist. There's the gin campari sour, which is topped off with egg white, and the equally eggy Buffalo Fizz. And of course, we also like to return to certain favorites, like SAVEUR Blog Awards winner Natalie Jacob's original cocktail Smoke in the Orchard, which is fruity and smokey and great to drink year-round. Use these 10 cocktails as inspiration for your next Friday cocktail hour.
This herbal, anise-capped riff on a negroni comes from Eric Foster of Florida's Cask and Larder. In typical SAVEUR fashion, this cocktail is great for enjoying with a good meal, friends, and family. Get the recipe for Friends And Neighbors »
A rye-based fizz cocktail, enriched with a splash of PX sherry and lightened with lemon juice and fluffy egg white.
Gold Rush
This modern classic was invented at Sasha Petraske's now-shuttered Milk & Honey bar by his childhood friend T.J. Siegal, who had chipped in a large portion of his life savings to help Petraske open the bar. As bartender Richard Boccato explains in Regarding Cocktails, the drink's simplicity, perfect balance, and no-fuss nature made it a "standard in bars the world over." Get the recipe for Gold Rush »
Clementine-Rum Liqueur
In the French Caribbean territory of Guadeloupe, this slightly sweet liqueur is prepared with the abundant clementines that appear around the holidays. Known as a shrubb (not to be confused with the vinegar-based shrub), it's prepared with rhum agricole, a local rum variation distilled from fresh sugarcane juice instead of molasses. In New Orleans, the author uses whatever variety of fresh citrus is growing in her backyard to make shrubb, sometimes swapping satsumas or kumquats for clementines. Peel the fruit with a vegetable peeler to avoid any added bitterness from the white pith. Get the recipe for Clementine-Rum Liqueur »
The opening night reception pitted finalists Arsenic Lace (Natalie Jacob) and Apartment Bartender (Elliott Clark) against one another in a cocktail competition. Pictured here is Clark's Chicago Fall cocktail.
Smoke in the Orchard
Arsenic Lace's Smoke in the Orchard cocktail was the winner, as voted by guests and judges the Cocktail Bandits. The winner took home a set of cocktail gear from Cocktail Kingdom and Patrón Tequila.
In this lighter and brighter, albeit far more involved, take on the classic tomato-laced brunch cocktail, the usual vodka is swapped out for Gamle Ode's dill-infused aquavit, a strikingly herbaceous take on the Scandinavian spirit from a Minnesota producer. Get the recipe for The Ultimate Bloody Mary »