A Creamy Coconut Chutney to Put on Everything
From India via Lisbon, and good on all your crunchy carbs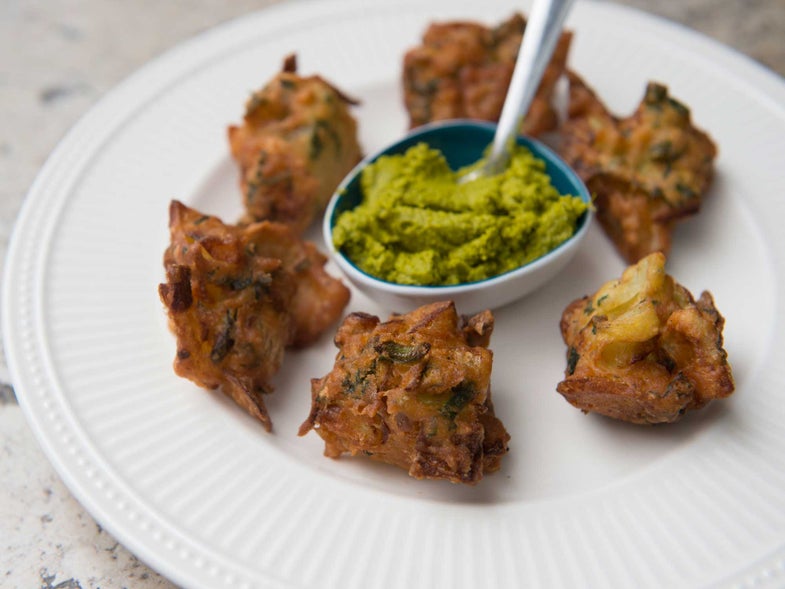 Turmeric, tamarind, chile, and cilantro: common enough Indian staples, bound together with freshly grated coconut for a dippable chutney we can't stop eating. At Jesus é Goês in Lisbon, it's served with some pillowy, onion-flecked chickpea fritters, but the sauce is versatile enough that we've been using it with all kinds of crunchy fried carbs.
It's a neat play on several classic Indian sauces worked together: for South Indian meals of paper-thin dosas and fluffy steamed idli, an herb-blasted coconut chutney is common alongside tangy tamarind sauce and a more concentrated spicy herb mix. We love the typical combo, but this recipe takes some of the best from each for a condiment to keep around for all kinds of cooking.
Frozen grated coconut can work for this recipe, but it really shines with the fresh stuff. We have a handy tutorial on how to crack a coconut to get you started, and you can use the leftovers in these glorious macaroon/blondie hybrids.