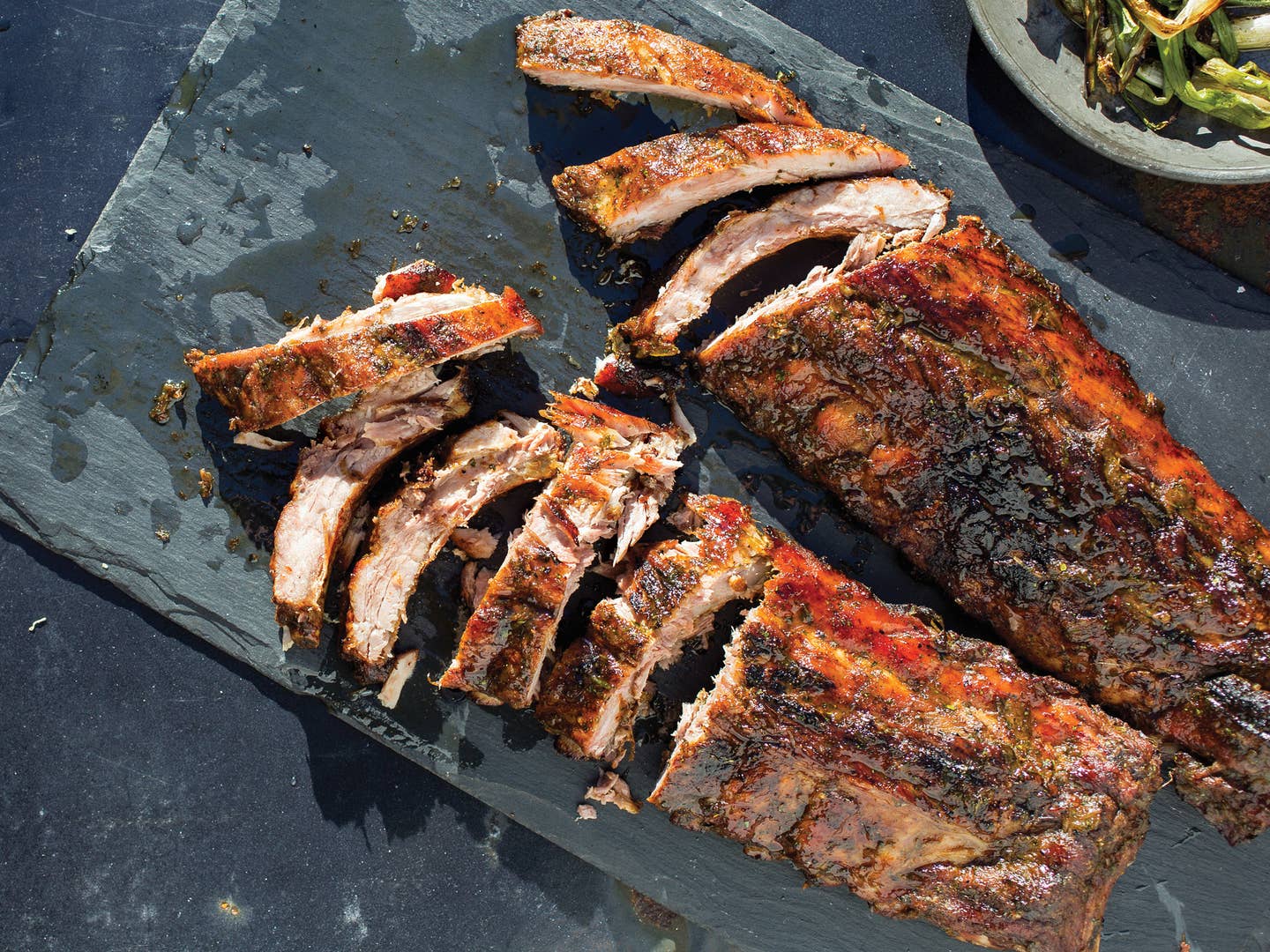 Recipes
Put These Dry Rubs on Absolutely Everything
Spice mixes we're using on all things summer
A good rule for dry rubs is that once you hit on a recipe that works, make a vat of it and use it all summer. So this season, expand your horizons and try an heirloom chile pepper or take inspiration from a cup of coffee—either can be the backbone of a punchy spice rub that will transform your grilled meats and vegetables.
Two All-Purpose Rubs to Make
The key ingredient to this rub, which grilling maven Adam Perry Lang likes on cuts of pork, is Chimayó chile, an heirloom varietal that tastes slightly of curry powder, harvested in the town of Chimayó in New Mexico. Including it in your rub requires a little forethought—it's not mass produced like common chile powder, and generally has to be ordered online—but the flavor it imparts is well worth it, says Lang. Before cooking, he recommends coating your meat with a drizzle of pork or bacon fat and a "mustard moisturizer"—yellow ballpark mustard is his go-to, because of the nostalgic flavors it invokes with each bite—to help tenderize the meat and allow the rub to adhere. For a pork butt that'll be cooking low-and-slow for hours, add the rub on at the beginning and let sit for up to 3 hours. For a pork chop or something that'll be on the grill over high heat, sprinkle it on toward the end of cooking, to prevent the flavors of the rub from carbonizing.
"I drink three to four large cups of coffee per day," says Amy Mills, "and I'm one of those lucky people who can drink it at night and it won't disturb my sleep!" It was a no-brainer for Mills, daughter of Memphis in May's four-time world barbecue champion Mike Mills—the two of them helm Southern Illinois' 17th Street Barbecue restaurants—to incorporate coffee into this otherwise traditional dry rub. It adds an earthy, sweet taste.
The Classic: Bell's Poultry Seasoning Call us old school, but we just really love this blend of rosemary, oregano, sage, marjoram, and a punch of ginger. It's salt-free, so it won't interfere with your salting, and its classic holiday stuffing flavor is absolutely transformative when used in yogurt marinades for grilled chicken.
The Cutting Edge: Sunny Oaxaca Ancho-Coffee Rub Beyond the two titular ingredients, this rub is full of cumin, Mexican oregano (more perky than its Mediterranean cousin), garlic, cinnamon, and brown sugar for a sweet-and-spicy, extra-savory blend that adds a ton of depth to grilled beef or pork ribs. Bonus: makes excellent chili, too.
And If You Want to Get Creative...
Add these spices to your own favorite rub for an extra kick.
Chimayó Hot Chile: Vibrant red with a mild spice, this New Mexican chile will add a subtle background heat when added to chicken or shrimp, or when sprinkled over slices of pineapple. (Add it to flaky salt for a more complex Margarita rim.) Read more about it »
Ground Coffee: Texas ribs, with their dinosaur mass, are a great match for a jolt of roasted flavor. When mixed with the usual spices, coffee amplifies the usual caramelization to a ruddy crust.
Cocoa Powder: A tablespoon or two of unsweetened cocoa powder lends richness to short ribs, brisket, and baby backs, and would be well-paired with a crack of fresh black and white pepper.
Lapsing Souchong Tea: Roasted over pinewood fires, this smoky black tea adds the same character that a coal-fired grill might to everything from pork chops to spare ribs. Add it to a chicken brine for a quick infusion of grill character.
Grains of Paradise: These pungent little corns are packed with flavors of citrus, spice, and cardamom. Duck and skirt steak would get an interesting lift from a few of these ground into your everyday rub base.
Sansho Peppercorns: Brighter and more citrusy than Sichuan peppercorns, Sansho have with the same numbing effect, but won't overpower lighter proteins like chicken or fish.
Mace: The outer layer of nutmeg, mace is subtler, more complex, and brighter than its parent fruit, and adds a touch of aromatic baking spice to beef ribs.
La Boîte Smoked Cinnamon N. 18: From New York's own spice whisperer, Lior Lev Sercarz, this unexpectedly smoky cinnamon is a short-cut to imitating the flavor of wood smoke when using a gas grill or a grill pan. Add to chicken for a subtly sweet Jamaican jerk flavor.
Dehydrated Honey: This unconventional addition is a sweet, crystalized solution to keeping chicken or rib skin crackly and crisp. Toss it with breadcrumbs or flour when breading or frying chicken.