7 Grilled Chicken Recipes to Heat Up Your Next Cookout
When it's too hot to turn on the oven for poultry, fire up the barbecue instead.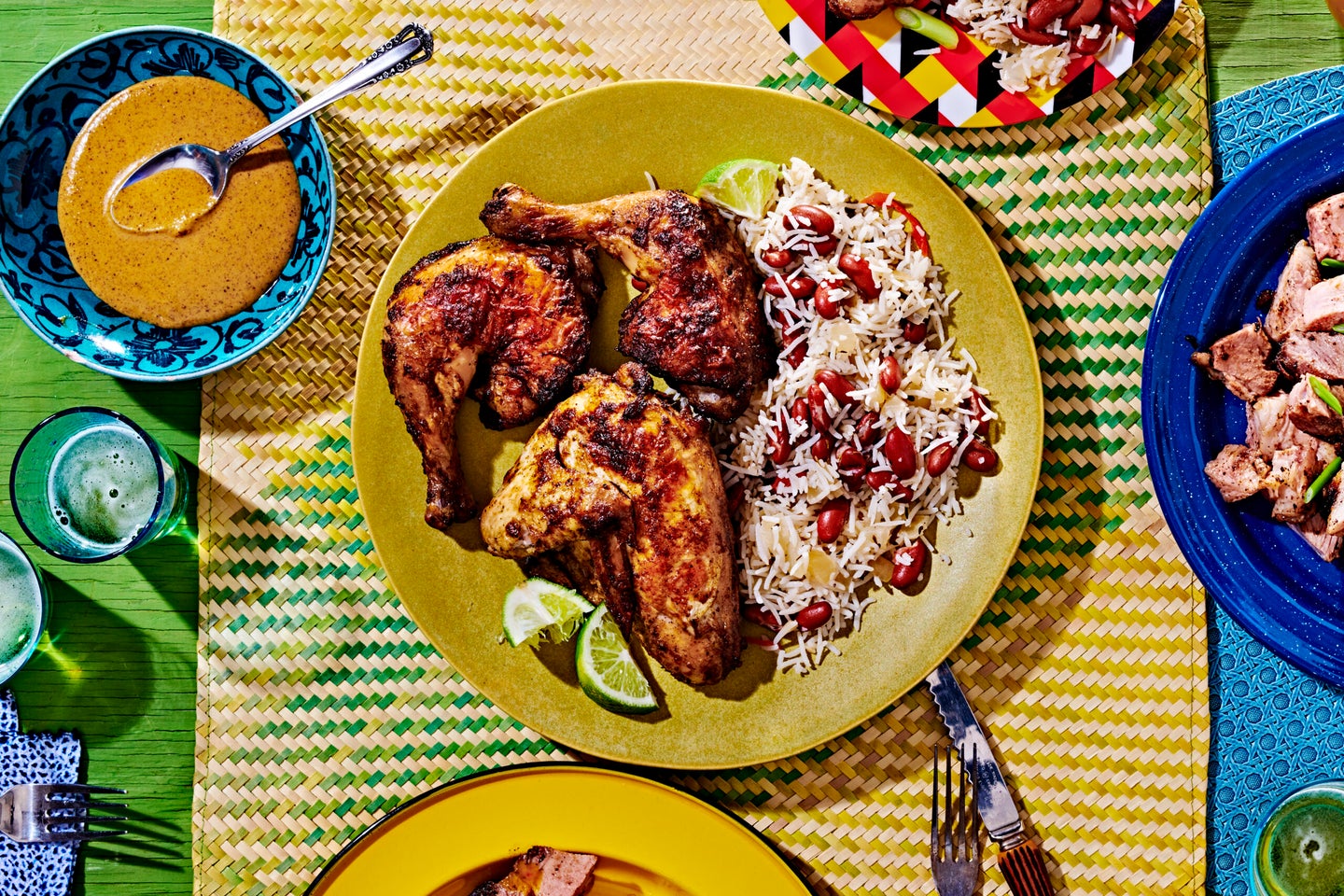 Charred over glowing coals or cooked with open flames on a gas grill, smoky, caramelized chicken is anything but bland. And if you throw together a spice rub, whip up a tangy sauce, or make a stuffing with fresh herbs, the humble yard bird soars. There's a world of ways to grill chicken, either whole or its tender parts: Jamaicans invented jerk, Texans boast about barbecue, Nigerians have peppery suya, and the Mughals introduced yogurt-based tikka to India in the 16th century. And let's not forget satay, kebabs, yakitori, or souvlaki. 
A welder named George Stephen invented the first modern barbecue grill in 1952 for Weber in Mount Prospect, Illinois, and American backyards haven't been the same since. So, get grilling: Here are our favorite grilled chicken recipes from the archives, for the next time you're fired up for wings, salads, or bánh mì.  
These juicy skewers get their complex flavor from a marinade infused with chaat masala and ginger-garlic paste. Get the recipe >
Chicken pieces slathered with rosemary-honey sauce pair sweetly with a tart, nutty salad of oranges, dates, and pistachios. Get the recipe >
In Jamaica, pimento wood is essential for those dark, crusty edges that define jerk chicken. The zesty marinade for this island-style recipe includes Scotch bonnet peppers, allspice berries, and Jamaican rum. Get the recipe >
Cured pork 'nduja and the chile paste called bomba di Calabria heat up the brick-red marinade for these char-grilled chicken wings. Get the recipe >
A bright, citrusy dressing makes this simple seared chicken a flavorful weeknight favorite. Before serving, top the charred corn, bean, and red cabbage salad with queso fresco. Get the recipe >
This Texas-style take on a Cantonese classic uses beet powder to give it a naturally bright red color and a kick of sweetness. Get the recipe >
Chicken and creamy, ripe avocado make a great combo in any sandwich, but a Vietnamese version seals the deal with Andrea Nguyen's "Any Day Viet Pickle," a crunchy đồ chua of daikon and carrot. Get the recipe >