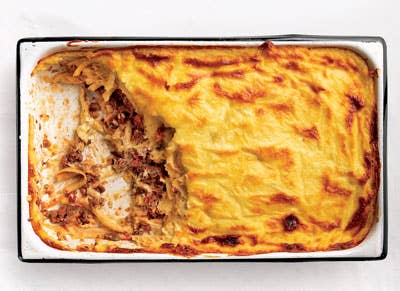 Pockets and layers of tender dough conceal ingredients like creamy ricotta, savory beef stew, squash, and earthy mushrooms in 12 recipes for ravioli, tortellini, and lasagne.
Tangy tomato sauce, bolstered with mushrooms, zucchini, and squash, tops these tender ravioli filled with spinach and cheese.
No one will miss the meat in this creamy, vegetable-laden lasagne with perfectly al dente noodles.
Plenty of pesto tops Ligurian-style ravioli filled with a cremini mushroom mixture.
Pumpkin's earthy sweetness is highlighted with honey, Italian almond cookies, and cinnamon for an indulgent filling, then packaged in delicate ravioli in a sage and brown butter sauce.
Rich _daube de boeuf_ stew forms both the filling and the sauce for these ravioli.
Baked Manicotti
A little nutmeg added to the ricotta filling for this classic baked pasta imparts a subtle note of spice that complements the rich flavors of the dish. Get the recipe for Baked Manicotti »