Summer Vegetarian Mains
Meat-free entrées can be wonderfully satisfying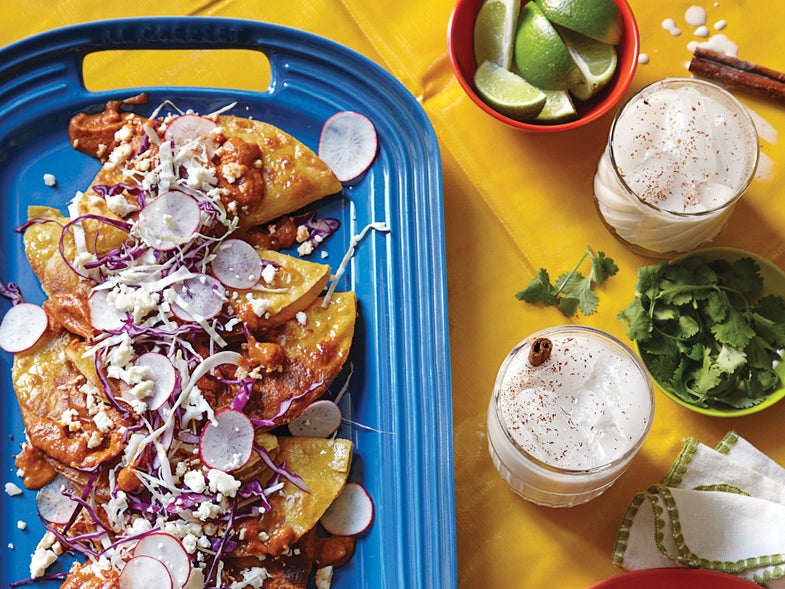 We've shared vegetarian summer appetizer recipes for taking advantage of the season's bountiful produce. Don't stop there—there's no reason you need to bring in meat for your entree. We've rounded up vegetarian summer main course recipes that are as satisfying as any meat dish.
Summer is cookout season, which means hamburgers. Veggie burgers have a reputation for being bland and dry, but they don't have to be. Vegetarians and carnivores alike will love our umami-rich portobello burger topped with blue cheese and sautéed red onions; our quinoa burger with carrot, celery, arugula, and beans; and our black bean burger made with cumin, paprika, coriander, and both poblano and chipotle chile and served with salsa fresca and an avocado crema.
At once hearty and refreshing, pasta salad is a perfect summer main. Our Greek pasta salad pairs rotini with crunch cucumber, juicy tomato and briny feta. Slightly bitter rapini gets balanced by tangy goat cheese in an orecchiette salad. Or go for an Asian twist by dressing Chinese egg noodles with peanut butter, sesame paste, and chile-garlic paste. Peanuts, cucumber, and carrots give the creamy dish a great crunch.
Hot pasta dishes can also showcase summer produce. Great heirloom tomatoes deserve the best treatment—make your own fettucine to toss with cherry tomatoes, basil, and olive oil. Baby artichokes become crisp-tender when simmered and grilled, and need little more than lemon juice and olive oil to make a wonderful spaghetti dish.
Find all of these recipes and more in our collection of vegetarian summer mains.