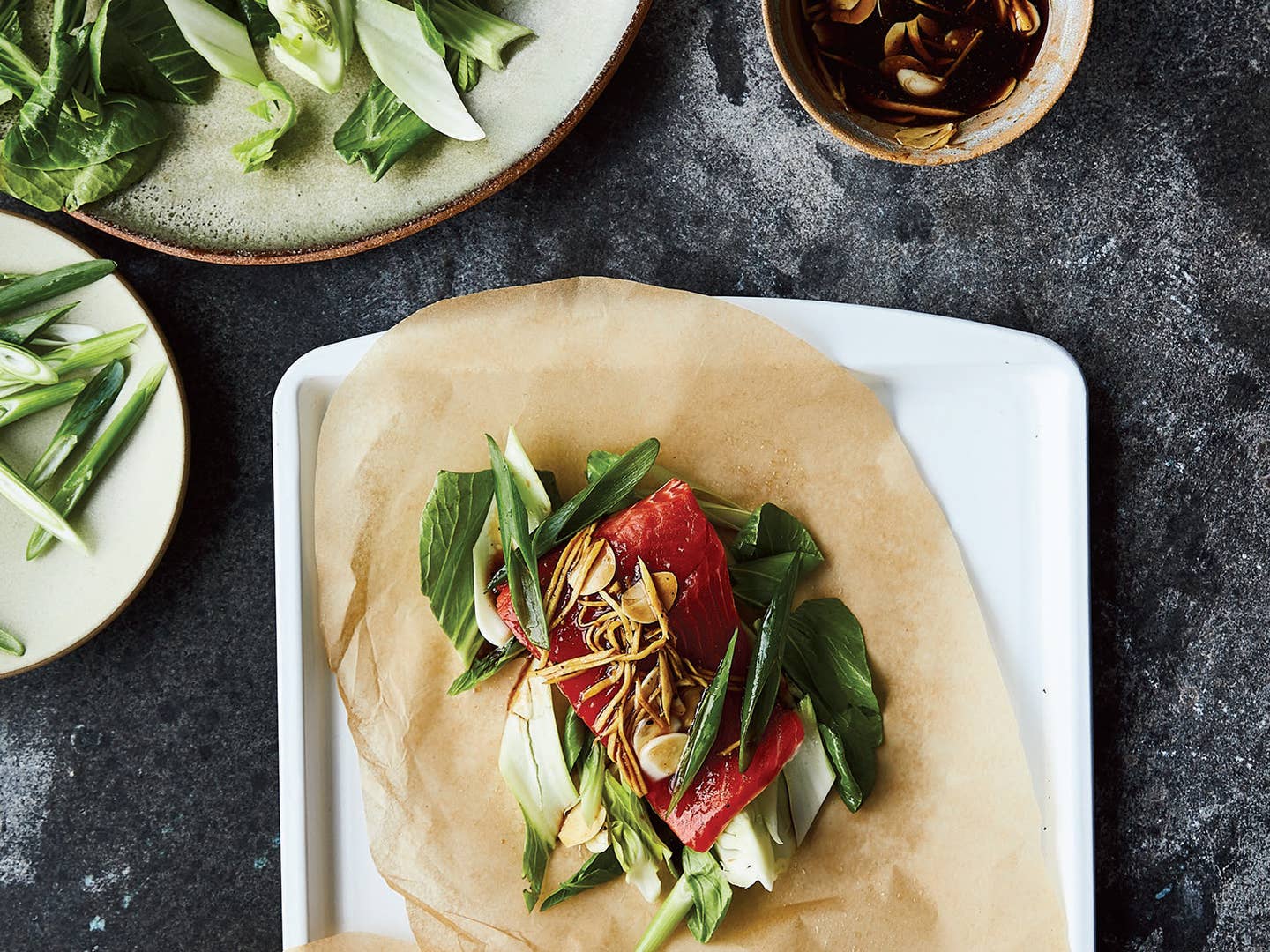 Techniques
How to Cook Legit Vietnamese Food Using Ingredients from Your Local Supermarket
Vietnamese cuisine is flexible, versatile, and with cookbook author Andrea Nguyen's tips, totally doable on a weeknight
There's never been a better time start cooking Vietnamese food. First of all, Vietnamese ingredients are more accessible than ever: most mid-sized American cities now have at least one Asian market, but even major supermarkets stock plenty of southeast Asian pantry basics: rice stick noodles, soy and fish sauce, maybe even some ready-to-use lemongrass paste.
Then there's the wealth of educational resources out there, from blogs to books, breaking down the nuances and guiding principles of Vietnamese cuisine. Take, for example, the foundational flavor structure of Vietnamese dishes: most adhere to a Buddhism-inspired balance of five elements: sour, bitter, sweet, spicy, and salty. But in the age of information overload, if you must choose only one cookbook, Vietnamese-American culinary queen Andrea Nguyen's Vietnamese Food Any Day is a bona fide classic. It's the first modern Vietnamese cookbook written with the express goal of "liberating the American home cook." That means cooking pho broth in a pressure cooker for two hours, rather than simmering a pile of bones for 24. Or baking fish in parchment paper to preserve moisture, rather than using a traditional Chinese-style bamboo steamer.
It's worth noting that these adjustments aren't "concessions" to some lesser, diluted form of Vietnamese cooking. Nguyen points out that Instant Pots are readily available in Vietnam, and that many Vietnamese-American cooks, including her own mother, have embraced technology in the kitchen. What makes Nguyen's food "authentic" isn't a strict adherence to traditional recipes, but rather her deep understanding of Vietnamese flavors and culinary techniques, and her ability to apply them to new situations, using readily available ingredients.
Here are a few of Nguyen's tips for cooking Vietnamese food, any day.
Shop Like a Vietnamese Auntie
"Shop like my mother, a sharp woman in her eighties, and demand service," Nguyen writes. "If you can't get what you want, it's time to try another market or look online."
Nguyen treats shopping like a scavenger hunt, asking staff to help her find the best cuts of meat and tough-to-find ingredients. She also advises that most Asian products sold under a store's house label are often the same or comparable to their name-brand counterparts.
For condiments, which are used for both cooking and dipping in Vietnamese cuisine, Nguyen lists several brands that are widely available at supermarket chains, such as Red Boat or Three Crabs fish sauce, which she often uses as an umami booster and salting agent. Marukan rice vinegar might find its way into a dipping sauce for snacky fried bites, and Maggi Seasoning, an old-school European import with a deep, meaty flavor, is fused with cultured butter for stirring into garlic noodles or spreading onto banh mi. If you plan to master Vietnamese food, add these condiments to your pantry—along with spices and fresh herbs, they will form the building blocks of your flavors.
No Steamer? Go En Papillote
While pho and banh mi may still be the most recognizable Vietnamese dishes, Vietnam is a predominantly coastal country known for its bounty of seafood. Steamed fish is a popular staple, typically enjoyed with leafy greens and steamed rice. Stateside, a fillet of salmon or halibut can stand in for the basa, tilapia, and snakehead found in Vietnamese markets.
Pressure-Cook Your Stocks and Stews
Today's contemporary pho restaurants tout their 24-hour broth as if each hour spent simmering brings the dish closer to heaven, but, in a pinch, a pressure cooker or multicooker will achieve comparable results in a fraction of the time. Nguyen includes recipes for pressure-cooker chicken stock and vegetable stock, which serve as a base for various soups, and she also uses the time-saving appliance for the sole pho recipe in the book—a fantastic smoked turkey pho.
Turkey pho isn't a particularly traditional option, but as Nguyen explains, "Vietnam's national dish, pho noodle soup, is surprisingly flexible and democratic." (Just look at California's "dry," sautéed chicken pho, or Houston's crawfish version.) Smoked turkey is widely available year-round, and it adds an extra dimension of flavor, helping you to produce a complex albeit unorthodox broth. A pressure cooker can expedite the process. And remember: you can cook up a large batch and freeze the stock concentrate for up to three months.
Then there are the stews. Typically cooked in clay pots, homestyle comfort food like braised pork and eggs in coconut caramel—the preparation is known as kho—are nostalgic triggers for most Vietnamese. In the book, Nguyen cuts the prep time in half with the help of a pressure cooker.
If you don't own a Chinese bamboo or metal steamer, Nguyen advises you to "take a cue from the French and bake it in parchment paper." Parchment offers the fish a similar level of moisture while also allowing you to include seasonings like oyster sauce, soy sauce, ginger, and scallions. To serve, Nguyen suggests splitting the parchment open at the table and adding cooked rice directly into the packet to soak up the flavorful juices.
Yes, she went there: for a delicious eggplant with smoky scallion oil, Nguyen zaps the entire vegetable in the microwave. It's "the best way to effortlessly and evenly cook the purple orbs to a wonderful plush texture and sweet flavor," she writes.
Use Store-Bought Rice Crackers and Puff Pastry
There are some components you just don't need to spend time and effort to make. Take, for example, the puff pastry used for bánh pa tê sô, a popular meat pie introduced to Vietnam by the French. Nguyen, who says she can "rarely afford those kinds of morning calories or the time to make from-scratch dough" makes mini versions of the dish using frozen puff pastry.
For herb-shellacked clam, a classic Vietnamese snack, Nguyen uses canned clams and chops mushroom into the mix to add umami and structure. In Vietnam, the dish is traditionally served with homemade rice crackers (bánh đa), but it can be tedious to do all of that for a quick snack. Nguyen's solution? Packaged rice crackers are a great substitute, or, if you're feeling frisky, good ol' Mexican tortilla chips.