Recipes
Irish Brown Bread Ice Cream with Butterscotch Sauce
Serves

makes 6 cups

Cook

2 hours 20 minutes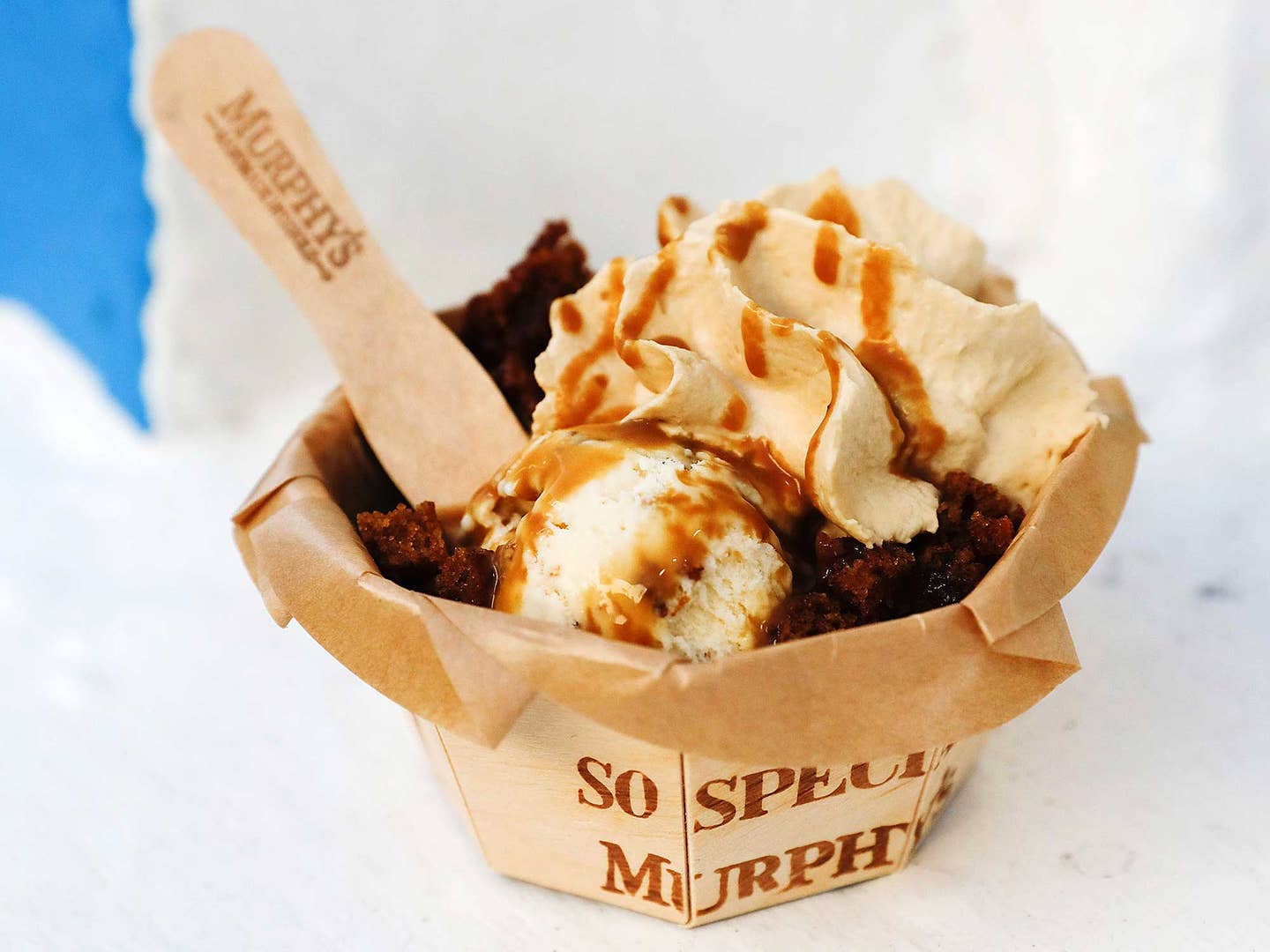 Incorporating a Dingle staple—Irish brown bread—and a rich butterscotch topping, this ice cream has the comforting flavors of honey-drizzled toast in each bite. Brothers Kieran and Seán Murphy of Murphy's Ice Cream credit a former neighbor and regular, Vera O'Keefe, with the idea of caramelizing day-old crumbs in syrup. The bread recipe was adapted from the cookbook of a now shuttered local restaurant, Eden. You'll have a few slices left over to enjoy on their own.
An eclectic community of chefs, poets, publicans, artists, and ice cream makers have turned a once sleepy seaside village into an unlikely food destination
Ingredients
For the Irish brown bread
Unsalted butter, for greasing
3⁄4 cup all-purpose flour, plus more for the pan
1 tsp. baking soda
3⁄4 tsp. kosher salt
3⁄4 cup plus 2 Tbsp. whole-wheat flour
1⁄4 cup plus 2 Tbsp. wheat bran
1⁄4 cup wheat germ
1⁄4 cup steel-cut oats
1 tbsp. dark brown sugar
1 cup buttermilk
1 1⁄2 tsp. sunflower or vegetable oil
For the ice cream and butterscotch
1 cup whole milk
1 vanilla bean, halved lengthwise
1⁄2 cup plus 1 Tbsp. sugar
4 large egg yolks
2 cups plus 2 Tbsp. heavy cream
1⁄4 cup plus 1 Tbsp. packed dark brown sugar
5 cups finely crumbled Irish brown bread, preferably 1–2 days old
1 1⁄4 cups heavy cream
1 cup dark brown sugar
1⁄4 cup salted butter
1 tsp. kosher salt
1⁄2 tsp. vanilla extract
Instructions
Step 1
Make the bread: Preheat the oven to 375°. Grease the bottom and sides of a 9x5-inch loaf pan with butter, and dust lightly with flour. Set aside.
Step 2
In a large bowl, sift the all-purpose flour, baking soda, and salt. Add the whole wheat flour, wheat bran, wheat germ, 2 tablespoons oats, and the brown sugar; stir to combine, then form a well in the center. Pour the buttermilk and oil into the well, then mix to form a wet dough (do not overmix).
Step 3
Transfer the dough to the pan. Sprinkle the top with the remaining oats, and bake until a cake tester inserted in the center comes out clean, about 45 minutes. Let the bread cool 5 minutes, then remove from the pan and transfer to a wire rack to cool.
Step 4
Make the ice cream: In a medium saucepan over medium-high heat, add the milk and vanilla bean. Bring the milk to a simmer, then remove from the heat. Stir for about 1 minute, then remove and discard the vanilla bean.
Step 5
In a medium bowl, whisk the sugar and egg yolks until thickened and pale yellow. Slowly stream in the warm milk, whisking constantly, until just combined (do not overmix).
Step 6
Return the mixture to the saucepan; cook over low heat, stirring constantly, until the custard is just thick enough to coat the back of a spoon, 25-30 minutes. Remove and let cool. Stir in the cream.
Step 7
In a small saucepan over medium heat, melt the brown sugar and 1 tablespoon water until the sugar crystals have dissolved, 2-3 minutes. Stir in the 5 cups bread crumbs and turn off the heat; let cool. (Save any remaining bread for another use.)
Step 8
Pour the custard base into an ice cream maker and churn according to the manufacturer's directions. Once almost fully thickened (about 40 minutes), add the prepared bread. Remove; freeze in a covered container until ready to serve.
Step 9
Make the butterscotch: In a medium saucepan over medium heat, add the cream, sugar, butter, and salt. Cook, stirring constantly, until the sugar dissolves and the mixture is smooth, 5 minutes. Remove from heat and stir in the vanilla. Serve the butterscotch sauce warm atop the ice cream, with whipped cream, if using.