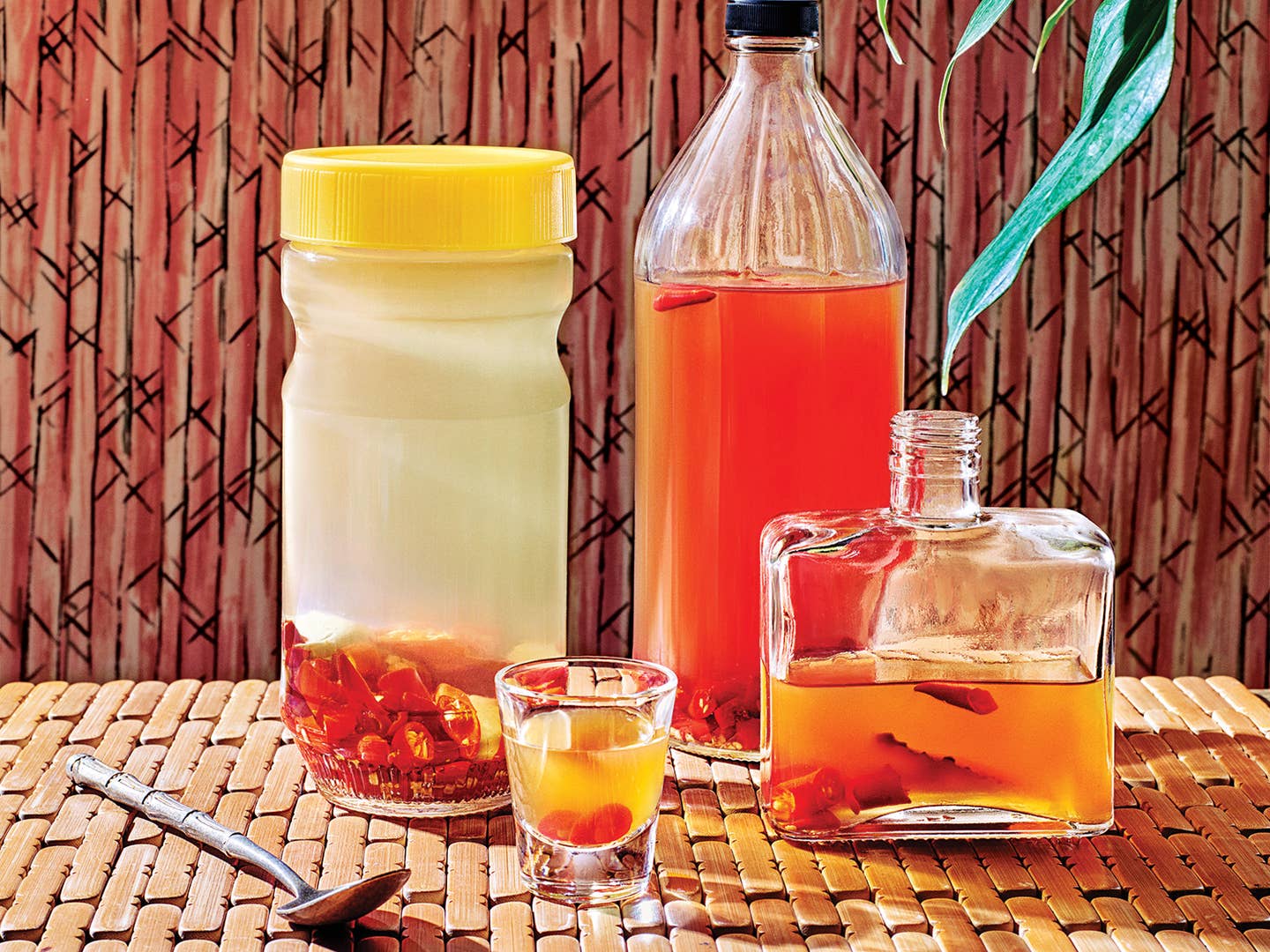 Recipes
Who Needs Hot Sauce When You Have Hawaiian Chile Pepper Water?
This spicy, vinegary condiment is absolutely worth making at home
Every refrigerator in Hawai'i has at least one batch of chile pepper water in it. When I was a kid, in the town of Hilo, on Hawai'i's Big Island, my dad and I would save old glass jars or cool-looking whiskey bottles for making and storing our own. Around the dinner table, my father and uncles would take little gulps of it from a shot glass, or else sip it from a ramen spoon in between bites of the meal.
Somewhere between a condiment and a chaser, chile pepper water can be drizzled over food like hot sauce, but most people prefer to sip it alongside rich dishes, like local-style beef stew or lau lau—a steamed roll of pork or fish wrapped in taro leaves.
Chile pepper water originates from the native Hawaiians, or Kānaka Maoli, who made it by blending water, sea salt, and fiery indigenous chiles called nioi. The salt catalyzes the fermentation, so more flavor develops over time, and a jar can keep for months. Traditionally, native cuisine was seasoned very simply. But depending on the island they dwelled on, some groups would flavor their waters with various seaweeds or roasted kukui tree nuts. Later, as different immigrants arrived to work the plantations, the list expanded even more: The Portuguese and Filipinos brought garlic, vinegar, and fish sauce. The Japanese introduced soy sauce. Each family on Hawai'i would blend together these ingredients in their own way, which is how chile pepper water came to reflect the island's many cultures and traditions.
At my restaurant Lineage on Maui, we serve chile pepper water in small flasks at each table, which the guests get to take home. We're also planning to barrel-­ferment and bottle some to sell. When family or friends visit my home, they still sometimes bring a bottle of their own to share, often made with peppers from their backyard.
My dad has been known to have up to 12 different kinds lined up in mismatched bottles his fridge, all with slightly different hues. One or more always gets passed around the table at every meal. And when a bottle is almost empty, someone will add some new chiles to what's left over, which help kick-start the fermentation. Just like that, a new batch begins.