Recipes
Classic Gildas
Salty, spicy, and smooth, this one-bite-wonder is the ideal partner for an icy cocktail.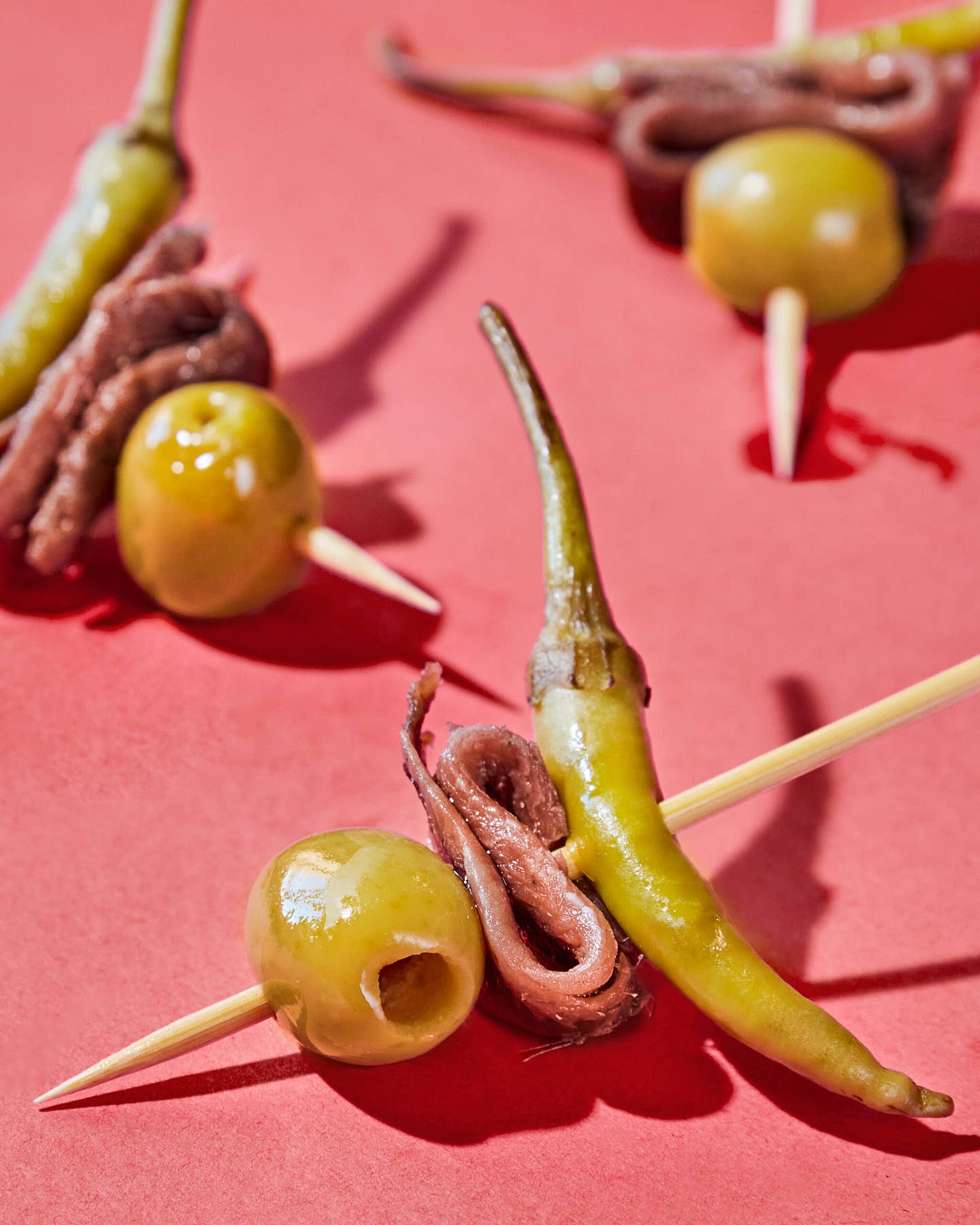 It's always Snacky Hour somewhere, at least according to snack-obsessed SAVEUR senior editor Ellen Fort. Follow along as she discovers the best bites that fall outside the confines of breakfast, lunch, or dinner. Savory, salty, spicy, sweet, sour: everything's fair game during Snacky Hour.
Named after Rita Hayworth's bold, spicy character in the eponymous 1946 film, the Gilda quickly became a classic Basque pintxo. Served on the counters of bars and taverns throughout the region, pintxos are finger foods often pierced with a skewer (pintxo means "spike" in Basque), with infinite combinations of flavors like chorizo and Manchego cheese, tuna-stuffed peppers, or garlicky mushrooms. For the Gilda, the allure starts with salty, umami anchovies offset by the vinegary bite of the peppers, and buttery olives. Use the highest quality anchovies you can find (see our comprehensive guide here); Gildas are simple and thus rely on the very best ingredients to make them shine. Snag top-notch Guindilla peppers, anchovy fillets, and Manzanilla olives online if your local grocery store lacks options. We recommend them served alongside a classic Gin Tonic or Spanish sidra.
Ingredients
8 pickled Guindilla peppers
8 oil-packed anchovy fillets
8 pitted Manzanilla olives
Instructions
Step 1
Making one pintxo at a time, slide a pepper onto the skewer. Next add the anchovy, folding it into an s-shape and piercing it through the middle. Finally, slide on an olive to complete the skewer. Serve cold or at room temperature.