Recipes
Country Captain
This colonial dish speaks to North America's deep historical ties to the Indian Subcontinent.
Serves

serves 6

Cook

1 hour 15 minutes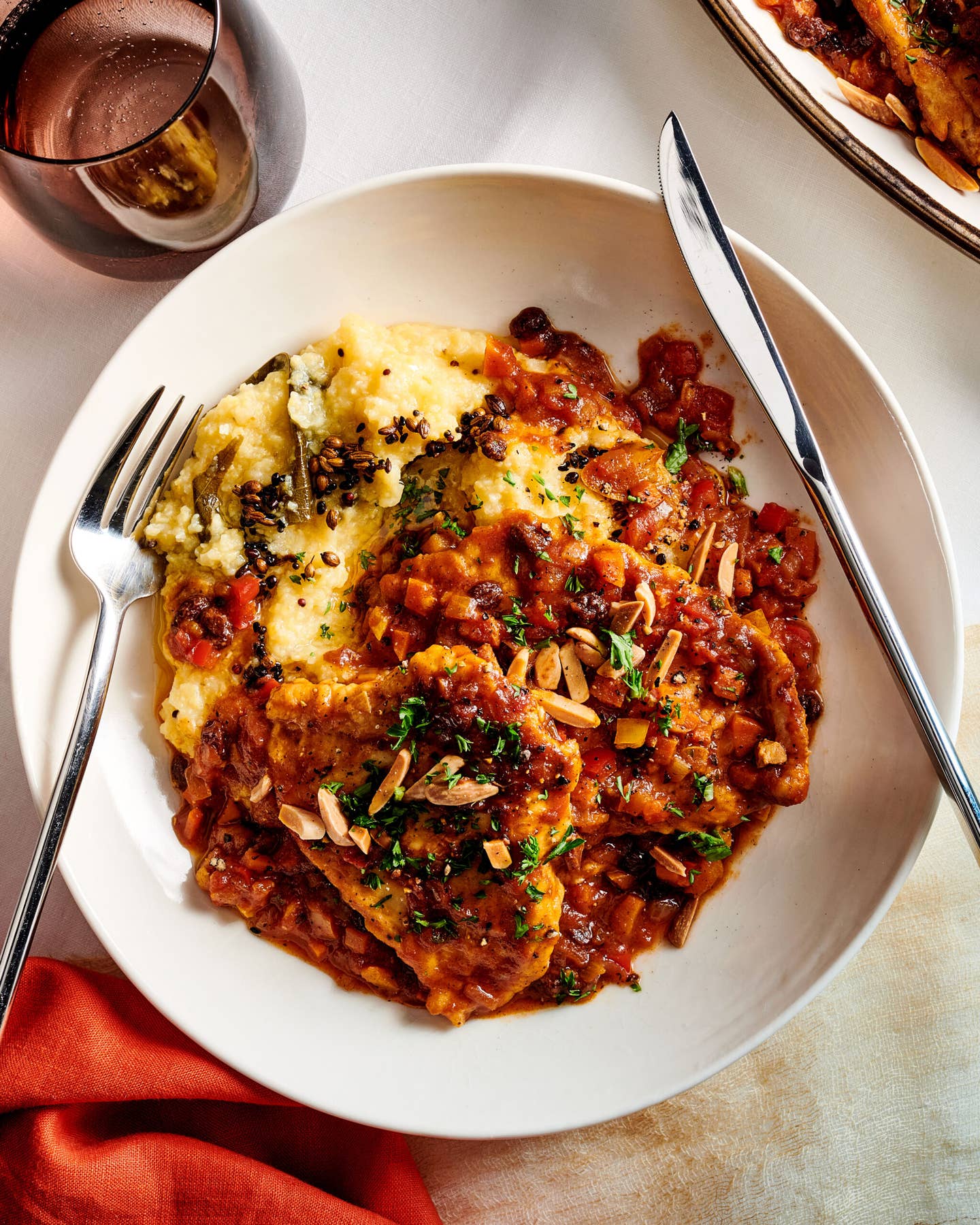 On July 18, 2003 I got to cook at the James Beard House for the first time. It was a dinner celebrating the life and legacy of Chef Bill Neal, hosted by the great Johnny Apple. Preparing that meal were chefs Ben and Karen Barker, Robert Stehling, Bill Smith, and John Currence. (I was there as chef Currence's sous.)
That night we served veal Country Captain to a gathering of esteemed guests. It was the night I first understood how closely connected the place I grew up in and the place I now call home really are.
Country Captain is an iconic Lowcountry dish with direct, unadulterated links to India. It traces its roots to a time when Savannah, Charleston, and other Southeastern ports were the North American gateways for trading spices with the East Indies. These towns were the entry points for black pepper, cinnamon, nutmeg, ginger, cardamon, sugar, and other ingredients that would eventually make their way into the cuisine of the American South. Many of the dishes that use these flavorings are more "Western" in inflection—the spices are subtle with little connection to the dishes of their motherlands. Not so with the Country Captain. Even in its most Southern avatar, this is clearly an Indian American dish. I am forever grateful to Chef Currence for introducing me to this historical recipe, for every time I make it, I am reminded that we have much in common—we need only to look at what we are cooking.
*This recipe is often made using chicken; feel free to swap out the turkey for other poultry, or even pork chops or veal cutlets.
Ingredients
1 cup all-purpose flour
Kosher salt and freshly ground black pepper
12 turkey cutlets* (about 3 oz. each), about ½-in. thick
¼ cup ghee
2 Tbsp. unsalted butter
1 strip thick-cut bacon, finely chopped (¼ cup)
2 large yellow onions, finely chopped (2 cups)
4 medium carrots, peeled and finely chopped (1⅓ cups)
1 large red bell pepper, finely chopped (1 cup)
1 large yellow bell pepper, finely chopped (1 cup)
4 garlic cloves, thinly sliced
2 Tbsp. minced fresh ginger
2¼ cups canned crushed tomatoes
2 medium tomatoes, finely chopped (1⅓ cup)
½ cups dried currants (or substitute dried cranberries or raisins)
2 small dried red chiles (such as árbol) stemmed and broken in half
2 tsp. Madras curry powder
1½ tsp. garam masala
½ tsp. Kashmiri chili powder
½ cup chicken stock
2 Tbsp. finely chopped parsley
¼ cup toasted slivered almonds
Steamed white rice or grits upma, for serving
Instructions
Step 1
Line a large rimmed baking sheet or platter with paper towels and set it by the stove.
Step 2
In a large, shallow bowl, season the flour to taste with salt and black pepper, stir, and set aside.
Step 3
To a large, high-sided skillet over medium-high heat, add the ghee. Working in batches, lightly dust the turkey cutlets in the seasoned flour and, when the ghee is hot, sear lightly, about 20–30 seconds on each side. Transfer the cutlets to the lined baking sheet and set aside.
Step 4
Using paper towels, wipe the skillet clean and set over medium heat. Add the butter and bacon and cook, stirring frequently until bacon begins to brown, about 3 minutes. Add the onions and continue cooking, stirring frequently, until they're translucent and very soft, 6–8 minutes. Add the carrots, bell peppers, garlic, and ginger, season lightly with salt and black pepper, and cook, stirring frequently, until the vegetables are tender, 6–8 minutes. Stir in the canned and fresh tomatoes and another pinch of salt and black pepper, lower heat to medium-low, cover, and cook, stirring occasionally, until the tomatoes start to break down and thicken, about 20 minutes.
Step 5
Stir in the dried currants, dried chiles, curry powder, garam masala, and chile powder, then add the stock. Turn the heat up to medium to bring the mixture back up to a simmer and cook, stirring occasionally, until the currants are plump, about 5 minutes. Slide the reserved turkey cutlets back into the skillet and cook until the meat is heated and cooked through, 4–6 minutes.
Step 6
Garnish with chopped parsley and toasted slivered almonds and serve hot, with steamed white rice or grits upma.