Recipes
Laabify Your Life
Breathe new life into your leftovers with a few flavorful Thai staples.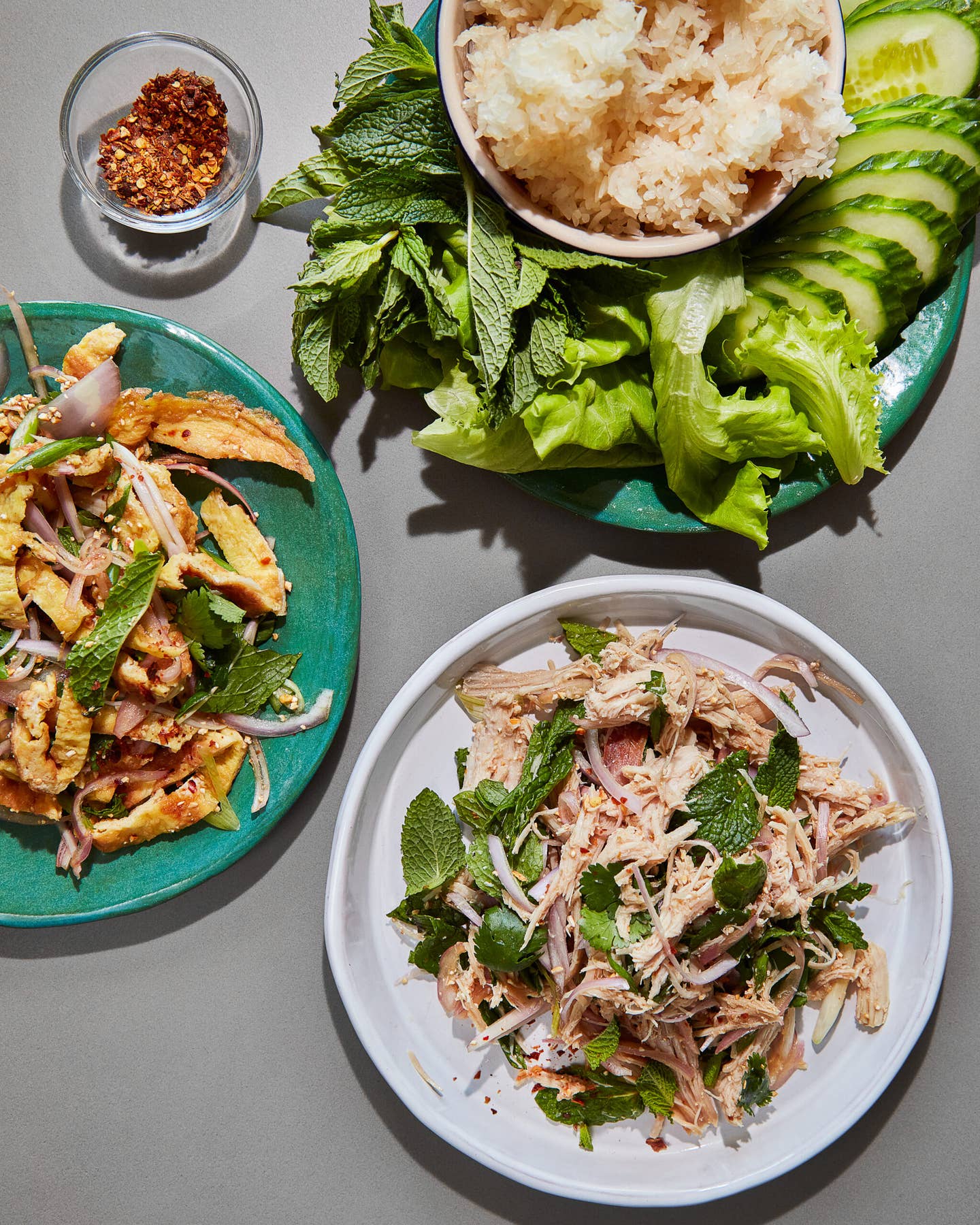 This recipe is brought to you by the SAVEUR Cookbook Club, our passionate community of food-loving readers from around the globe celebrating our favorite authors and recipes. Join us as we cook through cookbooks new and old, and share your food pics and vids on social media with the hashtags #SAVEURCookbookClub and #EatTheWorld.
Cookbook author and host of the YouTube channel Pailin's Kitchen, Pailin Chongchitnant believes that you can laabify anything—from last night's pork roast to slivers of this morning's omelette to a cup or two of vegetables, saved from the crisper drawer. Tart, spicy, and fresh, Chongchitnant's "leftover anything" laab recipe is also guaranteed to "fix" lackluster proteins like dry Thanksgiving turkey, the overcooked ends of roast beef, and under seasoned baked or fried tofu.
Laab is usually served with Thai-style sticky rice, which you can learn how to make here, or you can swap it out for steamed jasmine rice. If you're taking it easy on carbs, you can leave the rice out entirely and instead wrap up scoops of laab in soft lettuce leaves. Roasting whole dried chiles before grinding them to flakes or powder is a popular technique in Thai cooking. Make your own or look for roasted chile flakes at your local Southeast Asian grocery store.
Ingredients
For the laab:
1 Tbsp. uncooked jasmine or Thai sticky rice
5 oz. leftover cooked meat and/or vegetables
1 Tbsp. fish sauce
1 Tbsp. fresh lime juice
Pinch sugar
Roasted chile flakes (store-bought or homemade)
3 Tbsp. thinly sliced shallots
Handful fresh mint, Thai basil, cilantro, and other fresh herbs
For serving:
English cucumber, sliced
Sticky rice or jasmine rice
Romaine or butter lettuce
Instructions
Step 1
To a small dry skillet over medium-high heat, add the rice and cook, stirring continuously, until the rice is evenly dark brown. (Don't walk away from the stove; the rice may start to smoke, so make sure the kitchen is well ventilated.) Transfer the toasted rice to a plate to cool, then transfer to a mortar and pestle or coffee grinder and pulverize to a medium-fine powder with a few larger pieces for texture. Set aside.
Step 2
Thinly slice, chop, or shred your leftovers into small pieces. Decide how best to process depending on the ingredient: Poultry and braised pork is best shredded; beef, pork chops and tenderloin, and egg is best thinly sliced; most vegetables are best coarsely chopped. If cold, heat the leftovers slightly so they are just barely warm or at room temperature (you can do this in the microwave or give them a quick sauté in a skillet.)
Step 3
In a medium bowl, stir together the fish sauce, lime juice, sugar, chile flakes, and shallots, until the sugar is nearly dissolved. Add the leftovers, reserved toasted rice powder, and the fresh herbs and toss to coat in the dressing. Taste and adjust the seasoning to taste with more fish sauce, lime juice, sugar, and chile flakes. Serve the laab warm or at room temperature with sliced cucumber, rice, and lettuce leaves on the side.