Recipes
Sardine Bánh Mì
Fatty fish is a flavorful foil to pickled vegetables and cilantro in this satisfying take on the classic Vietnamese sandwich.
Serves

2

Cook

1 hour 20 minutes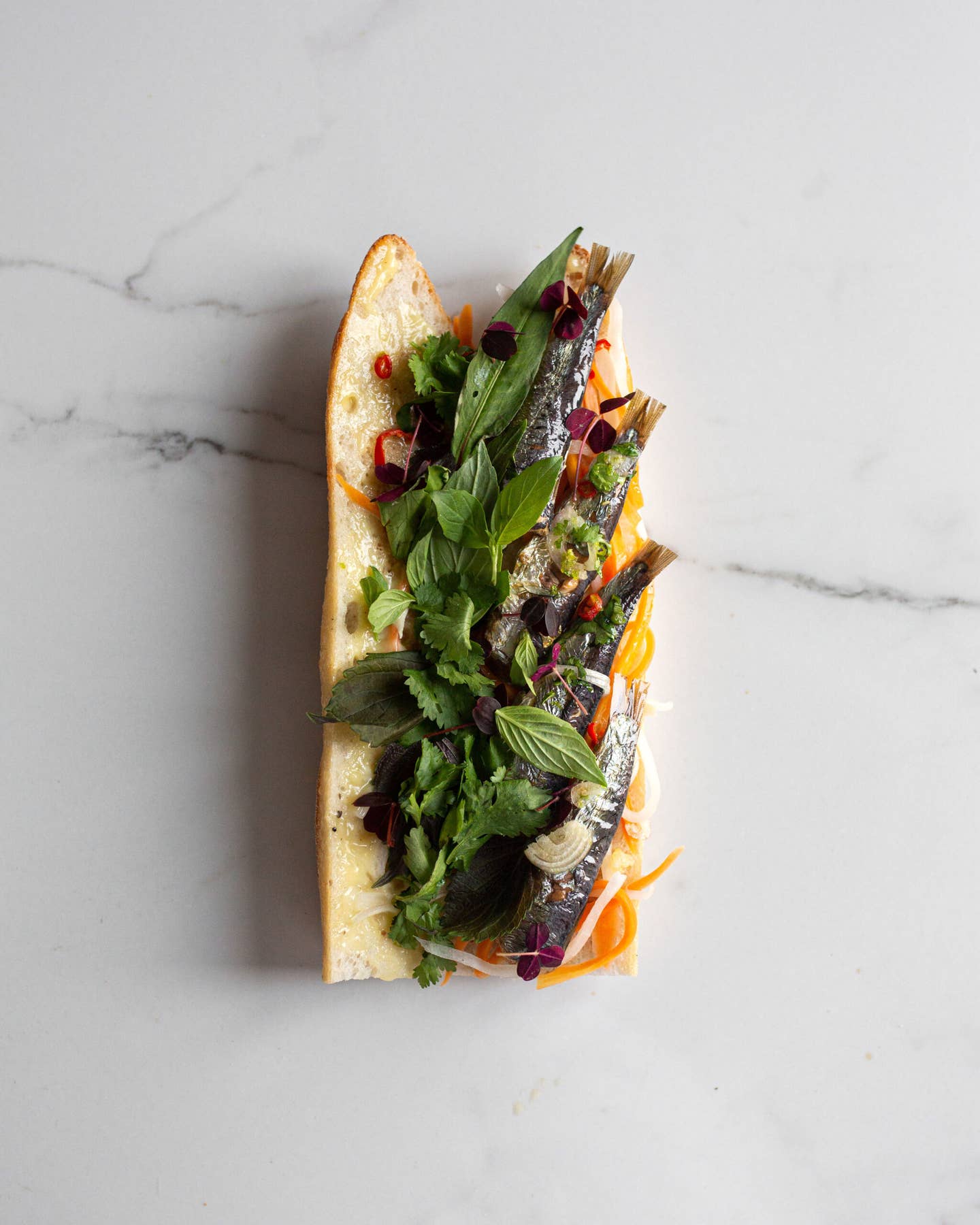 After Shirley Garrier's family left Vietnam and settled in France, her grandmother couldn't find the ingredients to make a classic Vietnamese bánh mì. So she bought French sardines preserved in olive oil, which were cheap but very tasty. It was a revelation. Because sardines are a fatty fish, they balanced out the sourness of the pickled vegetables and the herbaceous cilantro. To this day, Garrier remains proud of the way this sandwich exemplifies her family's cultural background. When she and her partner in life and business, Mathieu Zouhairi, were writing their cookbook, The Social Food: Home Cooking Inspired by the Flavors of the World, they knew this canned sardine banh mi recipe had to be in it.
Ingredients
Two 4.2-oz. cans oil-packed sardines
1 medium shallot, thinly sliced
1 red bird's eye chile, finely chopped
3 sprigs cilantro, finely chopped, plus more for garnish
1 tsp. finely grated lime zest
1 tsp. sugar
2 Tbsp. fresh lime juice
1 Tbsp. fish sauce
1 baguette, split lengthwise
Maggi sauce, to taste
3 Tbsp. mayonnaise
3½ oz. dồ chua (carrot-daikon pickle)
Fresh mint and basil leaves, for garnish (optional)
Instructions
Step 1
To a wide, shallow baking dish or plastic container, add the sardines and their oil. Sprinkle over the shallot, chile, cilantro, lime zest, and sugar, then pour over the lime juice and fish sauce. Cover and refrigerate for at least an hour or up to 24 hours.
Step 2
Sprinkle a few drops of Maggi sauce to taste over the cut side of each baguette half. Spread one half evenly with mayonnaise and top with the dồ chua, followed by the sardines and some of their marinade. Garnish liberally with additional cilantro and fresh mint and basil leaves, if desired. Top with the second half of the baguette and cut the loaf crosswise to make two large sandwiches. Serve at room temperature.