Recipes
Sweet and Sour Pork
Pineapple, ginger, and bell peppers lend the vibrant Chinese American staple its sunny sweetness.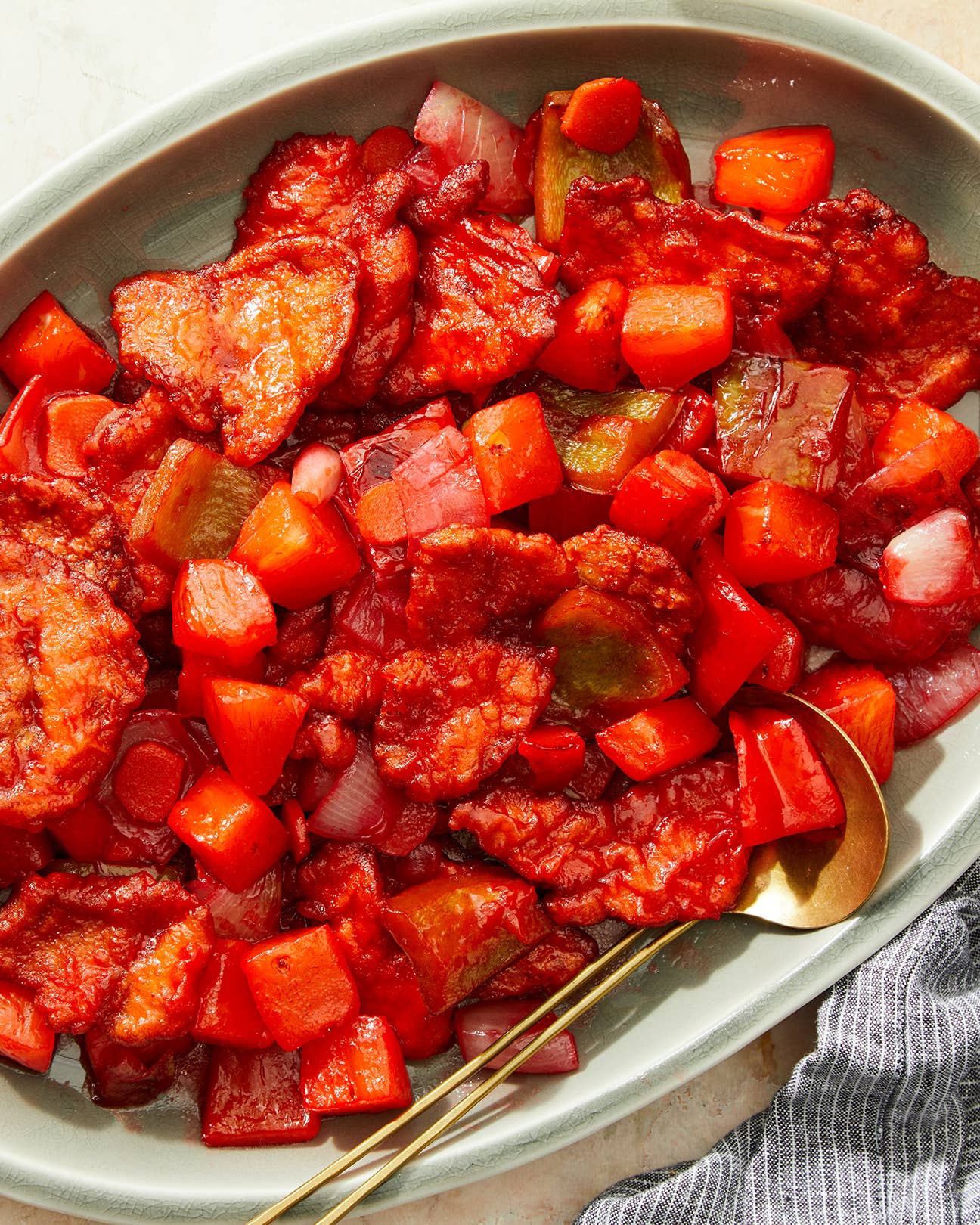 This Chinese American version of the Cantonese dish is based on a recipe from The Chinese Cookbook, the groundbreaking 1972 volume by Craig Claiborne and Virginia Lee. Our version offers a sweet-and-sour sauce that is most typically used on fish, but is just as delicious on twice-fried pork.
Ingredients
1¼ lb. pork loin, trimmed and cut into 1-in. cubes
1 tbsp. dry sherry
2 tbsp. soy sauce, divided
2 tbsp. peanut oil, plus more for frying
1 cup cornstarch, divided
⅓ cups distilled white vinegar
½ cups sugar
Kosher salt
6 drops red food coloring
1 mall onion, cut into 1-in. pieces
½ large ripe pineapple, peeled, cored, and cut into 1-in. chunks
½ small red bell pepper, cored, seeded, and cut into 1-in. pieces
½ small green bell pepper, cored, seeded, and cut into 1-in. pieces
4 thin "coins" of peeled fresh ginger
1 garlic clove, finely chopped
Cooked white rice, for serving
Instructions
Step 1
Using the flat side of a meat mallet, lightly pound each pork cube to a ¼-inch thickness. Transfer to a medium bowl, add the sherry and 1 tablespoon of the soy sauce, and toss to combine.
Step 2
Into a wok, pour peanut oil to a depth of 1 inch. Heat over medium-high heat until the oil is hot and shimmering but not quite beginning to smoke (375°F on an instant-read thermometer). Line a large plate with paper towels and set by the stove.
Step 3
Put all but 2 tablespoons of the cornstarch into a wide dish. Dredge the pork in the cornstarch, one piece at a time, pressing down with your fingers to coat well. Working in batches, fry the pork in until light golden-brown and cooked through, 4–5 minutes. Using a slotted spoon, transfer to the paper towel-lined plate and set aside to cool slightly.
Step 4
Turn the stove up to high heat and allow the oil to heat a bit further (about 400°F on an instant-read thermometer). Return the pork to the oil in a single batch and fry again until the meat is crispier and deep golden-brown, 1–2 minutes. Remove from the heat, transfer the pork back to the lined plate, and discard all but ¼ cup of the cooking oil.
Step 5
In a small bowl, mix together the remaining 2 tablespoons of cornstarch with ¼ cup of cool water. To a small pot, add the remaining tablespoon of soy sauce, 1 cup water, vinegar, sugar, and salt to taste; bring to a boil over medium-high heat. Turn down the heat to medium-low and stir until the sugar has completely dissolved. Stir in the cornstarch slurry, the food coloring, and 2 tablespoons of fresh peanut oil into the pot and simmer for 1 minute.
Step 6
Heat the wok with the reserved cooking oil over medium heat. When it just begins to smoke, add the onions, pineapple, peppers, ginger, and garlic and stir-fry until the vegetables are crisp-tender, about 5 minutes. Stir the prepared sauce into the wok and bring to a boil. Add the crispy pork and toss to combine. Remove from heat and transfer the stir fry to a serving platter. Serve warm with cooked rice.