Recipes
Stuffed Meatballs and Chestnuts in Saffron Broth (Küfta Bozbash)
Serves

serves 6

Cook

2 hours 30 minutes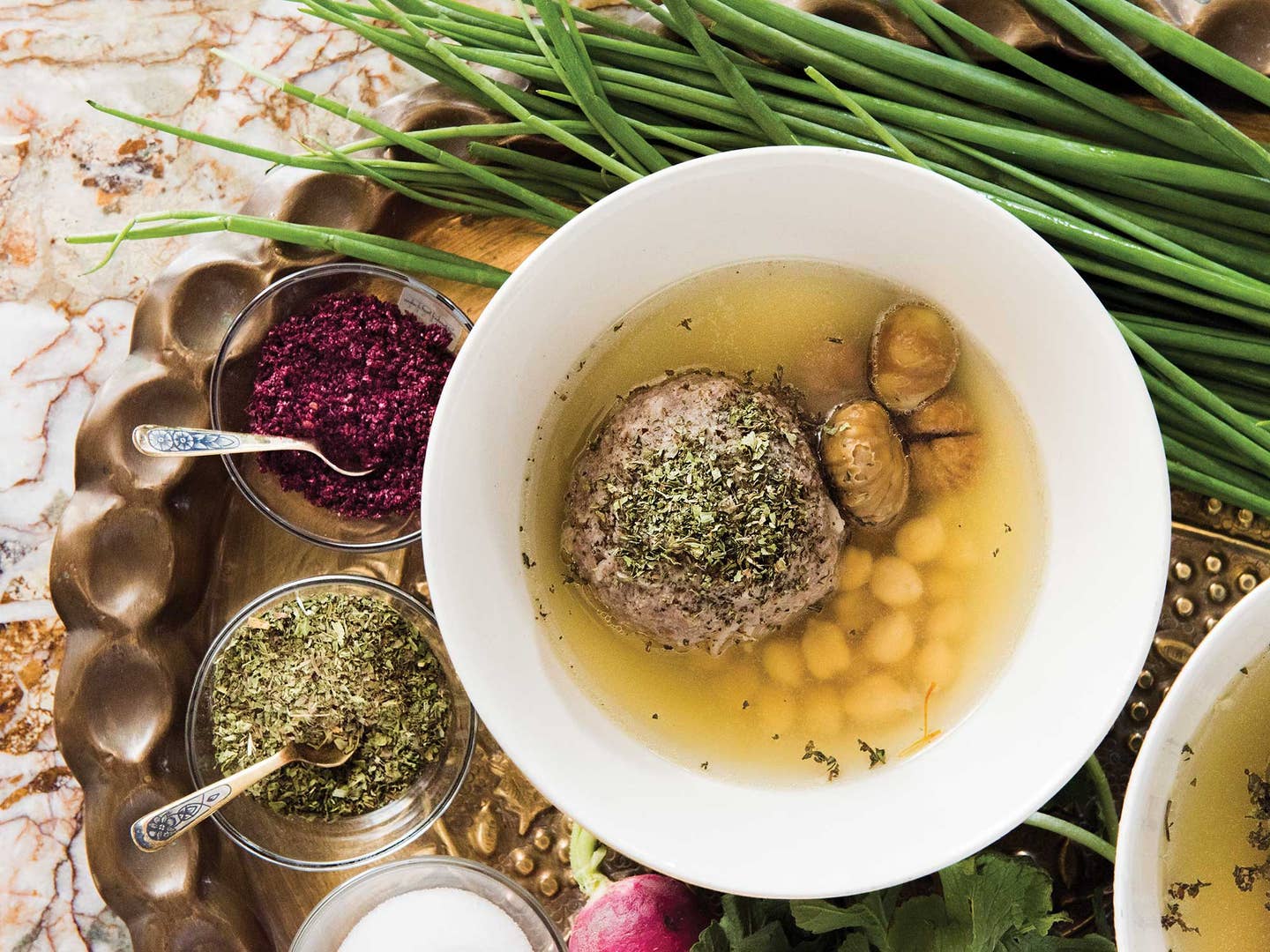 Made with a simple broth steeped with saffron and fresh mint, this traditional Azeri soup has delicate flavors. Chickpeas, chestnuts, and tender lamb-and-rice meatballs filled with dried fruit give it heartiness, and garnishes of radishes, scallions, and red onion add texture and crunch.
Ingredients
For the meatball filling
1⁄4 cup golden raisins
6 dried apricots
5 pitted prunes
2 tbsp. unsalted butter
1 small white onion, chopped (1 cup)
1⁄3 tsp. ground cinnamon
1⁄3 tsp. ground turmeric
Juice of 1/2 lemon
Kosher salt
Freshly ground black pepper
For the meatballs and soup
1 lb. ground beef or lamb
1 medium white onion, grated (3/4 cup)
2 tbsp. short-grain rice
Salt
Freshly ground black pepper
1 pinch crumbled saffron steeped in 2/3 cup hot water
8 cups beef, chicken, or lamb broth
20 peeled cooked chestnuts
One 16-oz. can chickpeas, drained
6 sprigs mint, tied in a bundle
Dried mint, for garnish
Minced or thinly sliced red onion, for garnish
Thinly sliced radishes, for garnish
Thinly sliced scallions, for garnish
Instructions
Step 1
Make the filling: Add the dried fruit to a heatproof bowl and cover with hot water; let rest until plump and softened, about 20 minutes, then drain.
Step 2
In a large skillet over medium-low heat, melt the butter. Once foamy, add the onion, cinnamon, turmeric, drained fruit, lemon juice, and 1 1⁄4 cups water; season with salt and stir well. Bring to a low simmer, then cook until the onion and fruit are very soft and almost falling apart, about 40 minutes. Mash the mixture with the tip of a wooden spoon. Season with salt and pepper to taste and let cool. (Can be done up to 2 days ahead; cover and refrigerate until ready to proceed.)
Step 3
Make the meatballs: In a large bowl, combine the ground meat, onion, and rice; season generously with salt and pepper and stir vigorously to combine. Cover and chill for 2 hours or up to overnight.
Step 4
Set a bowl of very cold, salted water next to a workstation. Retrieve the meatball mixture and form into six 2 1⁄2-inch balls, dipping hands into the salted water to help shape and smooth them. Form a 1-inch indentation in each, then fill with 2 teaspoons of the prepared filling. Cover the filling with the meat and smooth the meatballs into neat spheres again with wet hands.
Step 5
In a medium (8-inch) pot, bring 5 cups water to a simmer. Gently add the meatballs to the pot and simmer until the meat and rice are cooked, about 20 minutes. Turn off the heat and skim the cooking liquid.
Step 6
Meanwhile, in a medium (10-inch) pot, combine the saffron liquid and the beef broth and bring to a boil over high heat. Add the chestnuts and chickpeas and bring to a simmer; partially cover the pot and cook until broth is fragrant and chestnuts are tender, 15–20 minutes. Add the mint bundle, then cook 10 minutes more. Remove the mint. Transfer the meatballs to the broth (discard the meatball cooking liquid) and simmer for 5 minutes more.
Step 7
Divide the meatballs and broth between 6 bowls, being sure to distribute the chestnuts and chickpeas evenly. Garnish with dried mint. Serve with the red onion, radishes, and scallions for topping.