Recipes
Turmeric Chicken Curry
A fragrant mix of five whole spices lends this colorful dish from chef Romy Gill layers of flavor and texture.
Serves

serves 4

Cook

45 minutes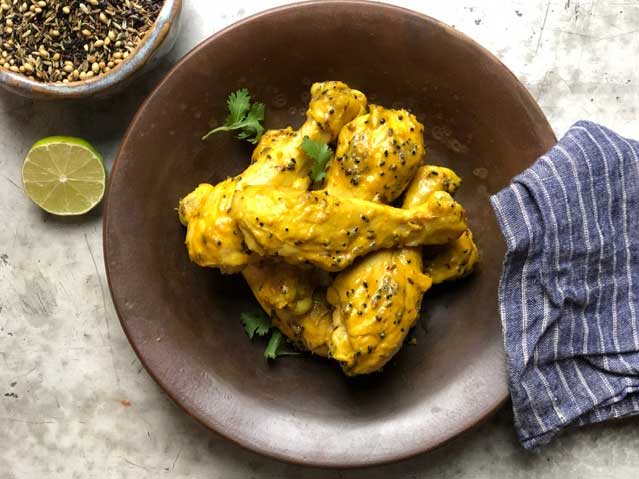 A generous helping of puréed ginger, garlic, and fresh turmeric, along with a sprinkling of toasted Indian five-spice (panch phoron), add plenty of color and fragrance to these braised chicken legs. According to British-Indian chef Romy Gill, this comforting Bengali-style dish is the ultimate hangover meal.
Ingredients
One 3-inch piece fresh ginger (2½ oz.), peeled and coarsely chopped
2 medium garlic cloves, peeled
One 3½-inch piece fresh turmeric (¾ oz.), peeled and coarsely chopped
3–4 Thai green chiles, stemmed
2 Tbsp. canola oil
1 Tbsp. fresh lime juice
Kosher salt
8 large chicken drumsticks, skin removed (2¼ lb.)
Steamed basmati rice or roti, for serving
Instructions
Step 1
In a blender or small food processor, add the ginger, garlic, turmeric, chiles, and 2 tablespoons cold water. Process, scraping down the sides of the machine with a rubber spatula as needed, until a fine paste forms. Set aside.
Step 2
In a large skillet over medium-high heat, add the oil. When the oil shimmers, add the panch phoron and cook until the spices begin to pop and sizzle, about 30 seconds. Add the ginger paste, lower the heat to medium, and cook, stirring occasionally, until the paste starts to thicken and becomes fragrant, about 5 minutes. Stir in the lime juice and 2 tablespoons water, season with salt, and cook just until the mixture begins to bubble. Add the chicken and stir well to coat. Turn down the heat to medium-low, cover, and cook, stirring occasionally, until the chicken is cooked through and tender, 20–25 minutes.
Step 3
Transfer the chicken and all of the sauce to a serving platter. Serve hot, with basmati rice or roti on the side.