Techniques
Why It's Time to Stop Cutting Your Salmon Into Fillets
This is the secret to juicier fish, easier cooking, and a more impressive dinner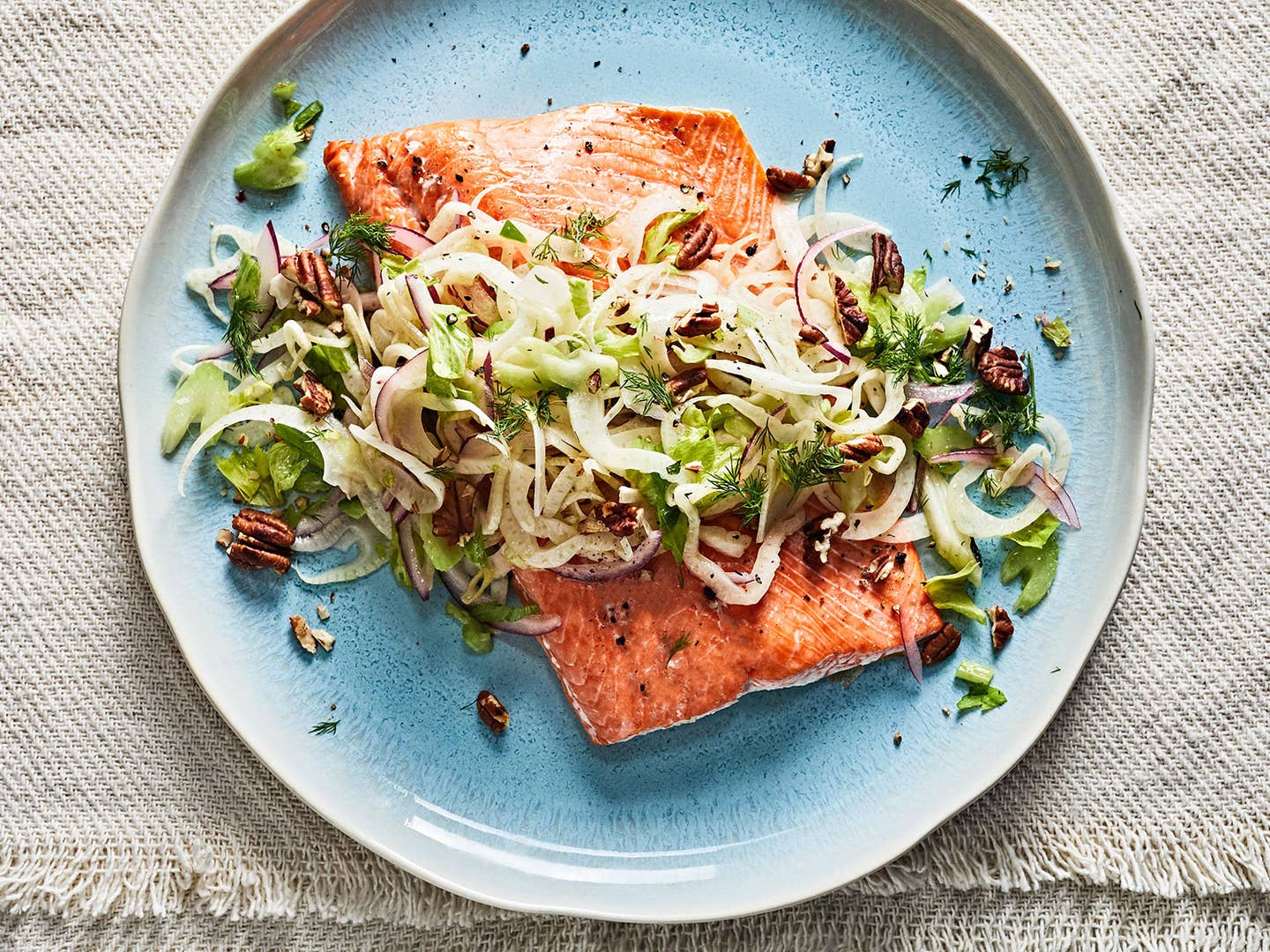 If cooking fish for dinner was a guaranteed home run every time, we'd probably all be doing it a lot more often. Though finding a good place to buy high-quality fish—which can be half the battle—is arguably easier than ever today, seafood does come at an increasingly higher price tag than ever, too. What arrives at the dinner table needs to be worth the spend, and sometimes—if you don't fully know what you're doing—it isn't. This may factor into why Americans are still around 30 times more likely to buy and eat chicken than fish, and, in turn, are overall less confident about cooking fish in general.
When it comes to salmon in particular, there is a way to help ensure that dinner is a success every time: that is, by using a larger cut and forever foregoing those skinny individual fillets.
The reasons are many, and aesthetic is a small but important one: Just like serving a bone-in roast or a whole chicken—as opposed to meat or poultry cut up into parts—a heftier cut of salmon presents more impressively every time and also seems more special occasion-worthy for dinner parties. More importantly, salmon cooked in larger, family-style pieces benefits the cook in ease and the eater in flavor and texture. Using a broader piece protects the interior of the fish, keeping it from drying out in the oven, or on the stovetop or grill, and the hands-off method of cooking I've outlined below means less chance of broken or torn skin come serving time. Plus, buying from places that sell bigger cuts—rather than precut, packaged, or frozen fillets—means you're more likely to be purchasing fish that's fresh, and from a source with a lot of turnover. The fishmongers that have these larger sizes available tend to be the ones that break down the whole fish themselves, meaning you're starting out with better-tasting product overall. In other words, if you buy in bulkier pieces, you'd be instantly better at cooking fish, and probably cook a lot more of it.
I first learned that salmon fillets were more trouble than they were worth when working on a cookbook with chefs Greg Denton and Gabrielle Quiñónez Denton from Ox restaurant and Bistro Agnes in Portland, Oregon. Called Around the Fire, the book chronicled the chefs' love for cooking over an open flame, inspired by Gabi's roots in South America—where asado cooking is common. Their Grilled Side of Salmon recipe, which used a full half of a filleted salmon instead of dividing it into individual servings—is one of the most show-stopping yet easiest recipes in the book. It calls for grilling the salmon skin-side down and waiting to flip until the very last moment, which gently heats the fish through to medium doneness while imparting char and crispiness to the skin. At the end, the chefs merely tip the salmon onto the skinless side for a moment, just to give it a light kiss of heat.
Besides being tender, delicately flavored, and easier to make, large-scale pieces of salmon are just more fun to serve. You can place them on a platter and present them whole, with a spatula for family or guests to portion out their own pieces. This style of fish begs to be topped with pretty things. In this case, I make a crunchy, refreshing salad of shaved fennel, herbs, and toasted nuts. But thinly sliced radishes and cucumbers would work too, as well as warm or cool grain salads, or even lightly dressed lettuces.
Ever since my lesson from the Dentons, I've been buying salmon in large pieces. Here's my best advice for making the most of one.
Buy From the Fish Counter
It is a lot easier to find wild fish sold in large pieces at the fish counter than it is in the freezer section of the grocery store. Usually, most fishmongers will keep some big cuts or full sides lying around, but consider calling ahead to make sure.
Choose a Hefty Piece of Skin-On Fillet
If the salmon available at the fish counter is on the petite side, a whole side will only come out to about 3 pounds total, which is a manageable size to cook, flip, and serve. If it's a very large fish, a half or even a third of a side will be enough to serve a few people. Always keep the skin on when buying salmon. It adds flavor, picks up char from the grill or pan, helps protect the fish from overcooking, prevents sticking, and is your best chance for keeping the delicate flesh intact.
Remove the Bones as Needed
One of the most common deterrents from buying and eating fish, bones are admittedly a nuisance. Some fishmongers will automatically pull them out for you, which is wonderful (if they don't, try asking!). But if you are forced to do it yourself, use a sturdy, broad-sided bone tweezer and a steady hand to pluck the bones from the skinless side of the fillet.
As this preparation method involves cooking the fish mostly on its skin side, I prefer to leave it plain or season lightly with salt—spices applied to the skin may burn, and most people won't be eating the skin anyway. Season the skinless part and the sides of the salmon lightly with salt, then flavor with anything from a dry spice rub to pesto to finely chopped herbs.
You may have heard of albumin, the white coagulated proteins that are prone to quietly oozing out of salmon fillets if the heat is too high or the fish is overcooked. A gentler cooking temperature helps prevent this phenomenon, and allows the fish to cook more evenly without stripping it of its natural moisture. You'll have the best results with moderate heat: no higher than 375°F in the oven, and medium on the grill.
Avoid moving the piece of salmon as it cooks. This can cause breakage of the skin or flesh, especially if the fish is jostled before the skin is well cooked or seared. You'll know the salmon is ready when the top looks just cooked and no longer glossy, and a paring knife or metal skewer inserted into a thick part of the fish feels just slightly warm to the touch—a sign that it's been cooked to a medium doneness. You can also cut a small slit into the thickest part of the fish and check for doneness visually. The interior should no longer look raw but still be juicy and soft.
While salmon is bursting with flavor when properly cooked, it doesn't have much natural acidity or texture variation. For some brightness and contrast, I like to serve the fish with a crunchy vegetable dish, chilled or warm, strewn across the fillet. This recipe calls for a refreshing, nutty slaw of shaved fennel, celery, and toasted pecans. But you could also try a raw or lightly cooked green bean salad, any variation on panzanella, or a lentil salad containing some crisp vegetables. Sauces like Italian-style salsa verdes, coconut curry sauce, or even a fresh chunky summer tomato sauce would be delicious too, but as they won't have the same crunch factor, you'll want to serve a side dish with some texture.
Ingredients
⅓ cup pecans (1 oz.), chopped
1 lb. skin-on wild salmon fillet (such as coho), bones removed
Kosher salt
1⅓ cups thinly sliced fennel (from 1 medium bulb), fronds reserved
Packed ¼ cup very thinly sliced red onion (1 oz.)
1 medium inner stalk celery, stalk thinly sliced on the diagonal and leaves chopped
2 Tbsp. fresh lemon juice
2 Tbsp. plus 1 tsp. extra-virgin olive oil
Freshly ground black pepper
Instructions
Step 1
Preheat the oven to 350°F, with a rack in the top third. Meanwhile, toast the pecans: In a small, dry skillet, add the nuts. Cook over medium-high heat, tossing or stirring occasionally, until lightly browned in places and nutty smelling (avoid burning), about 6 minutes. Transfer to a bowl.
Step 2
Transfer the salmon skin-side-down to a parchment-paper-lined baking sheet. Season the skinless side lightly with salt and rub gently to coat. Roast until the outside appears fully cooked and the inside is cooked to medium-rare or medium doneness (it should be just heated through, no longer raw-looking in the center but still juicy and soft inside), about 15 minutes.
Step 3
Meanwhile, in a medium bowl, add the fennel, onion, and celery.
Step 4
Remove the salmon from the oven and let cool for a few minutes. Using two broad spatulas, carefully transfer the salmon to a serving platter.
Step 5
Add the lemon juice, oil, and a generous pinch each of salt and pepper to the bowl with the fennel mixture; toss well. Add the pecans and toss to incorporate. Scatter the salad crosswise across the center of the salmon, top with some of the reserved fennel fronds, and serve immediately.