One Ingredient, Many Ways: Lettuce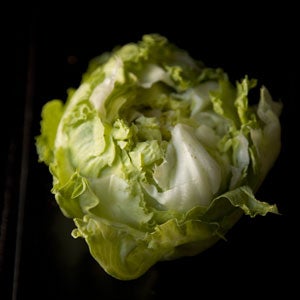 Let us sing the praises of good lettuce. Not arugula, or watercress, or any other dainty-leafed green (though I love them all), but the irreplaceable watery crunch of a sturdy head of lettuce. The foundation of salads from Caesar to Cobb, the sweet crunch on a sandwich or a Tex-Mex taco, and an essential ingredient in any number of other dishes — lettuce wraps, or an Asian-style lettuce stir-fry — too often we take lettuce's many gifts for granted. In May and June, with the farmers' markets just beginning to explode with spring greens, it's the perfect time to renew your commitment to the crisper's favorite vegetable.
Whole heads of lettuce, like whole chickens, have fallen out of favor at the grocery stores in recent years, another casualty of our love affair with convenience. It's not that you can't find a head of romaine or green leaf in the produce aisle, but next to boxed baby romaine and bags of triple-washed salad greens, the leaf in its original form has come to seem cumbersome by comparison. But when it comes to the pure joy of crunch and refreshment, a whole head is worth those extra five minutes with the salad spinner. When you buy a head of lettuce, wash and spin it dry immediately, then store the leaves in the fridge in plastic bags lined with paper towels. The lettuce will stay fresh longer and be ready whenever the craving strikes.
If you plan to use iceberg lettuce, which is sweet and mild in flavor — a perfect foil for strong-flavored cheeses and dressings — and adds a perfect crunch to tacos and sandwiches, try our simple technique for coring a whole head in under 3 seconds:
SALAD
Iceberg Wedge with Blue Cheese
This simple salad topped with creamy blue cheese dressing is an American classic.
Salad Nicoise
An iconic composed French salad is as much a work of art as a meal.
Caesar Salad
Savory, crisp and tangy, the Caesar salad is an uncompromising classic.
Shredded Beef Salad
Shredded Boston lettuce lightens up this Argentine meat and potatoes salad.
Romaine Salad with Plum Ginger Dressing
Fans of carrot-ginger dressing will love a stone-fruit variation atop a simple green salad.
Green Salad with Toasted Pita Bread
Toasted pita wedges make a delicious crouton for a mixture of romaine and mint.
Mixed Green Salad with Green Goddess Dressing
Top fresh Boston lettuce with this rich, tangy dressing.
Cobb Salad
This composed salad was all the rage in the 1940s at The Brown Derby in Los Angeles, where it was invented.
Canlis Salad
Canlis restaurant in Seattle pioneered this tasty mix of Romaine, tomatoes and crunchy herbed croutons.
NOT SALAD
Vietnamese Lettuce Wraps
A fragrant and satisfying appetizer, bundles of pork, shrimp, and scallion are great dipped in nuoc cham, a sweet and spicy Vietnamese sauce.
Stir Fried Iceberg Lettuce
Stir-fried lettuce maintains its crunch in a sweet and spicy Chinese side dish.
Stuffed Romaine Leaves with Avgolemono Sauce
Lettuce leaves stuffed with ground meat and rice are topped with a bright lemon sauce.
Iceberg Slaw
Shredded iceberg lettuce replaces cabbage in a tart slaw.
Puffy Chicken Tacos
Serve flavorful Tex-Mex-style tacos with shredded iceberg lettuce for crunch and lightness.
Fresh Peas with Lettuce and Green Garlic
Butter lettuce pairs with fresh green peas and green garlic for a dish that tastes just like spring.
Lobster Ceviche with Limestone Lettuce
Bibb lettuce is a perfect base for yuzu-marinated lobster ceviche.
The Gatsby
A spicy bologna and French fry sandwich (yes, really) gets a bit of crunch from shredded lettuce.
Leah Koenig is a freelance writer and author of The Hadassah Everyday Cookbook: Daily Meals for the Contemporary Jewish Kitchen.