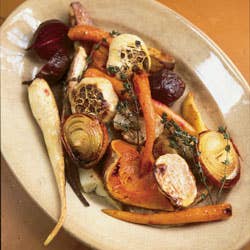 A guide to our favorite fall dishes.
As the temperatures drop in many parts of the country, we long to snuggle up inside, away from the frosty outdoors. This is the perfect excuse to spend some time in the kitchen, cooking up warm and soothing dishes. Autumn cravings tend to lean towards the traditional classics, so here are some timeless fall recipes that you'll love.
Soups are a favorite way to warm up in the cold months. Of course, there's nothing more symbolic of this than chicken and noodle soup. This easy recipe can take on any variation that you'd like to add to it. Another basic recipe, potage parmentier or potato and leek soup, is hailed by Julia Child as "simplicity itself." With only five ingredients to this smooth, creamy version, we couldn't agree more.
Turning on the oven helps to warm up the house, so any entree that requires some oven time does double duty. Macaroni and cheese, meatloaf, pot roast and chicken pot pie all fit the bill while pleasing children and adults alike. Shrimp and grits may not require any bake time, but it will keep you stirring over a warm stovetop for a while, and is excellent for brunch as well as dinner.
Sides need to be able to stand up to hearty fall entrees. Roasting autumn vegetables brings out their deep flavor, and mixing buttermilk into mashed potatoes makes them extra rich and creamy.
We love baking in the fall, especially when we're using seasonal ingredients. Tarte tatin, an apple dessert with a flaky crust, is the perfect example, as is pumpkin nut bread. This quick bread can be easily varied with the substitution of other winter squash, such as acorn or butternut, in place of the pumpkin. While Texas sheet cake may not take advantage of ingredients from fall's harvest, you'd be hard pressed to resist its moist, chocolaty goodness—which may make it the most comforting dish of all. —Sarah Bode-Clark