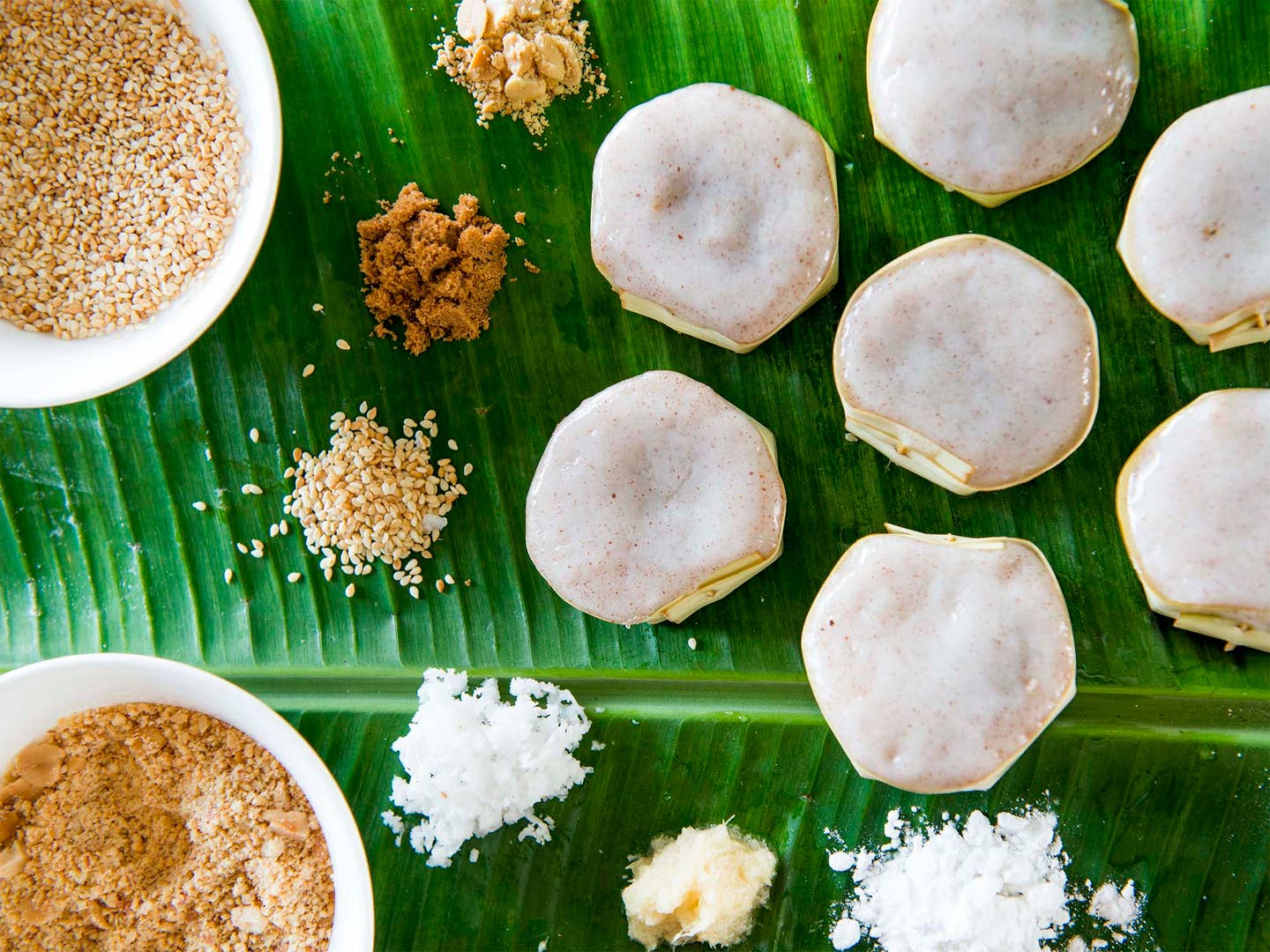 Recipes
Our Best Asian Dessert Recipes to Try Today
From Thai pandan jellies to Japanese street-style milk toast, explore a diverse world of sweetness with our favorite Asian desserts
If you've mastered classic American desserts and French desserts, perhaps it's time to add some new flavors into your proverbial cake mix. From China to Japan and Thailand, traditional Asian desserts are as varied as the cultures and peoples from which they come. With the former, a diversity of Chinese cultures has yielded a wealth of ingredients used in desserts such as mochi, glutinous rice, and red beans. In the canon of Thai sweets, find a complex array of confectionary building blocks that range from pandan to cassava root and coconut (pro tip: here's how to crack open a coconut to make your own homemade coconut milk).
It would be overwhelming to try to master such a vast collection of cuisines, but we've rounded out some of our favorites to help you get a taste. From Thailand's khanom chan to a Vietnamese ca phe-inspired ice cream and a Japanese street-style milk bread, here are some of the best Asian dessert recipes to try right now.
Black sticky rice, which like wild rice is unhulled, makes a rustic rice pudding loaded with far more flavor and texture than usual. This version from chef Peerasri Montreeprasat at Sugar Club, a Thai grocery and cafe in New York, adds in cubes of nutty taro and is sweetened with palm sugar.
Plan in advance: The sticky rice needs to soak overnight, and the pudding and coconut cream topping are best served chilled. For the richest topping, which should have a notably salty kick to balance the pudding, chill the coconut milk can in the refrigerator ahead of time. That thick layer of coconut cream that sets at the top of the can is what you're after.
Some Thai cooks, Montreeprasat included, soak the taro for this dessert in lime mineral water to help the root retain its shape and crisp texture even when fully cooked. The extra step makes a slight difference, but one we think you can skip if you take care to not overcook the taro. Get the recipe for Thai Black Sticky Rice Pudding with Coconut Cream »
Think of these silky, chewy, coconutty gummies as richer, more flavorful Jello jigglers, made with a steamed batter of coconut milk with sticky rice flour and tapioca and arrowroot starches. It's a labor of love: to form the neat layers, you have to let the previous layer steam enough until set but still a little tacky before adding the next. The cake also benefits enormously from making your own pandan extract; though you can buy pre-made extract in Thai groceries, it won't compare to the unique sweet herbal fragrance of the fresh leaves. (You can buy fresh or frozen pandan leaves online or in well-stocked Thai groceries.)
Peerasri Montreeprasat, the chef at Sugar Club, a Thai grocery and cafe in New York, stresses the importance of wiping down the lid of the steamer during cooking to avoid any water dripping onto the top of the cake (at Sugar Club she does this every few minutes). And about that food coloring: It's optional, but it's the best way to keep the green layer of the cake looking bright, not olive drab. Get the recipe for Thai Steamed Coconut-Pandan Cake (Khanom Chan) »