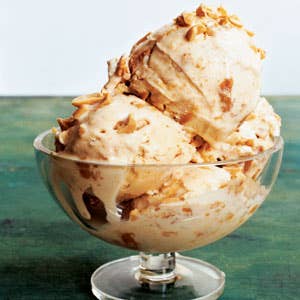 SAVEUR magazine gives you the recipes for cool and creamy desserts. The refreshing frozen treats include ice cream, gelato, pies, and granita.
Though this recipe takes some advanced planning (you need to allow around 2 weeks for the bananas to ferment), it's well worth the wait. The fermented, sweet tang of bananas blends with bitter chocolate for a tropical spin on the classic pudding. It's easier, too, as the pudding is set with gelatin rather than egg yolks, which also lets the banana flavor shine through. Get the recipe for Fermented Banana Chocolate Pudding »
If you're tired of wintery cakes and cookies by March, it might be time to break out the ice cream.
For added decadence, top this ultra-peanutty ice cream with chocolate sauce or hot fudge.
Cooking the rhubarb quickly is the secret to this compote from pastry chef Michael Laiskonis. By peeling the rhubarb before dicing and tossing it into a hot sugar syrup, he minimizes the cook time, preserving the rhubarb's bright flavor. Get the recipe for Rhubarb Compote »
This rich, creamy chocolate pudding pie is pure nostalgia.
Steep it for Killer Custard and Ice Cream
Often used in southeast Asian curries and Indian rice dishes, pandan leaf lends a subtly exotic savory note to this coconut ice cream.
This nearly forgotten recipe comes to us from the beloved Ships Diner in Los Angeles that closed in 1995. The whipped cream filling doesn't require any cooking—no custard here—while some slices of banana and toasted almond add texture and flavor. A fast, easy-to-make pie from a bygone era that deserves a comeback. Get the recipe for Classic French Banana Cream Pie »