Our Hottest Recipes on Pinterest in March
Go make the ultimate noodle-soup breakfast and fancy game-day Buffalo chicken rillettes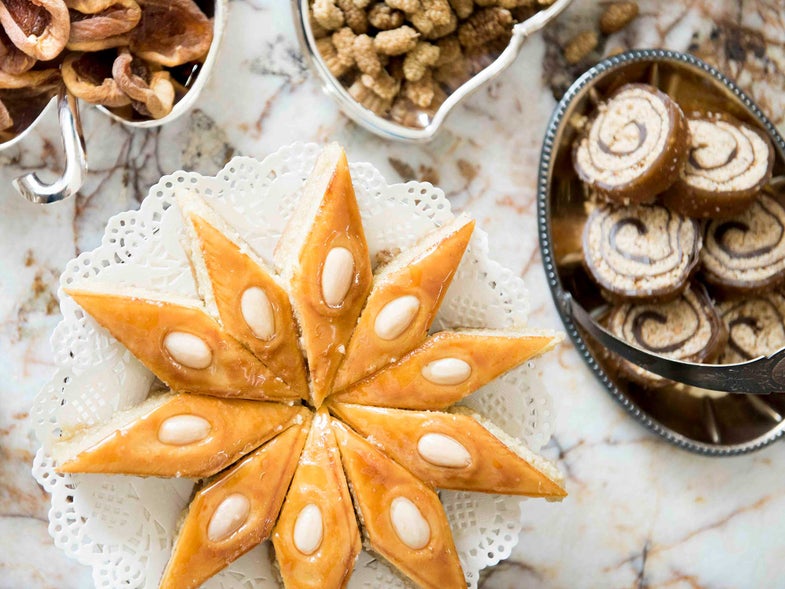 Our Pinterest users went crazy for cheese recipes this March, from the Georgian cheese breads called khachapuri to a chicken pot shepherd's pie. They also loved classic Yunnanese breakfast noodles, called mi xian, from our feature on pu-erh tea and the buffalo chicken rillettes that we made for a fancy Super Bowl party snack. Not following us yet? Now's the time to change that. In the meantime, take a peek at the recipes below for some inspiration.
This traditional Georgian cheese and egg bread is best eaten hot. Use a spoon to stir the yolk and butter into the molten cheese, then tear off a piece of fluffy crust to dunk into the cheesy well. Georgians typically make this savory pastry with a mixture of imeruli and sulguni cheese. We find that a blend of low moisture mozzarella and strong, tart feta gets you very close to the traditional version. Get the recipe for Adjaruli Khachapuri »
Caramelized onions and mushrooms, a pinch of cayenne, and tangy crème fraiche turn this pillowy white bread pudding savory. It makes a delightful brunch, lunch, or dinner with a lightly dressed green salad on the side. For best results, use this homemade white bread. Get the recipe for Cheesy Mushroom and Pancetta Bread Pudding »
Mark Murphy, head of the Dingle Cookery School in Ireland, believes the lamb raised in Dingle to be some of the world's best. "The meat has a slight salt flavor," he says, "due to the Atlantic sea breezes that blow across the peninsula," where the animals feed. Even if you can't get lamb from the source, seaweed lends a soft salinity to the dish. Get the recipe for Seaweed-Crusted Rack of Lamb with Red Wine Sauce »
At Zulya Kazimova's bakery in Baku, pakhlava—the Azeri version of baklava, which she cuts into a diamond shape—is made using 14 layers of a dense yeasted dough rolled out so thinly and painstakingly that it becomes translucent. For home cooks, prepared phyllo dough produces a wonderfully crisp, lighter, and flakier version. To defrost frozen phyllo quickly, set it in a microwave (still wrapped in its plastic packaging) on the defrost setting for about 30 seconds, then rotate the package and repeat. Get the recipe for Almond-Cardamom Pakhlava »
This party snack from Eric W. Bolyard of Compagnie NYC keeps all the best parts of buffalo chicken—juicy meat, hot sauce, and crisp fried bits—in a neat and tidy package.
This popular breakfast in China's Yunnan Province starts with fresh rice noodles and ground meat in a bare-bones pork broth, then gets customized with as many as a dozen condiments. Yunnan mi xian noodles (round and spaghettilike) or mi gan (flat and wide) are traditional, but any size rice noodle works, and dried varieties are fine in a pinch. Find fresh rice noodles in the refrigerated section at most Asian markets. Get the recipe for Yunnan-Style Breakfast Noodle Soup (Mi Xian) »
Catching the drippings trickling down from cooking birds—a trick Joe Beef's Red Morin and Dave McMillan recommend especially midway through roasting, when the fat begins to render and run more rapidly from the skin—adds lustiness to a simple dish of roasted sunchokes and mushrooms. Store-bought duck fat or lard is an easy cheat. Get the recipef or Roasted Sunchokes with Potatoes & Mushrooms »
These savory dumplings are great for sopping up the juices from sauerbraten and other braised meats. Start with day-old pretzels to help the dough crisp up more quickly. Get the recipe for German Pretzel Dumplings »
This open-faced sandwich was created at the Brown Hotel in Louisville, Kentucky, by chef Fred K. Schmidt, who was looking for a unique midnight snack to serve to all the revelers dancing in the ballroom until the wee hours. The classic is slightly updated with the use of sweeter cherry tomatoes instead of large tomato wedges. Get the recipe for Hot Brown »