Recipes
Karela Ma Kheemo (Parsi-Style Bitter Gourd with Ground Chicken)
A quick and soothing Indian dish with a bracing bitter bite.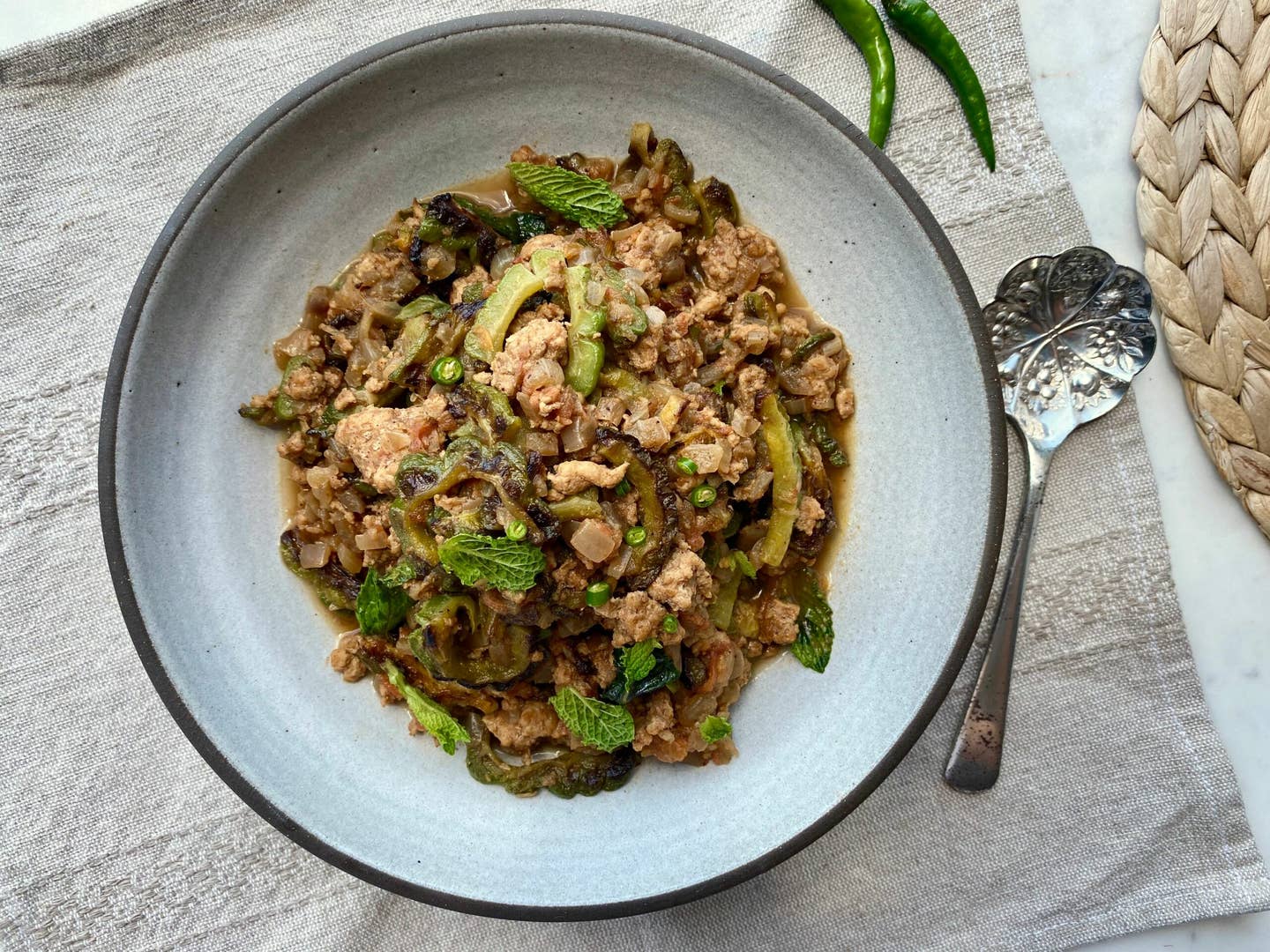 This recipe will quickly convert bitter gourd haters to fans. Salting the gourd prior to cooking draws out much of its bitterness, and a quick crisp-fry provides a pleasant textural contrast to soft ground chicken. The shiver of sour, in this case, from green mango and tomato, and the roasted flavors and warming spices blends are signature elements of Parsi cuisine.
Parsi dhana jeera is a fragrant blend of 12 spices, roasted and ground together to create a versatile seasoning that pairs nicely with chicken, vegetables, and even fish, while Parsi sambhar masala (not to be confused with South Indian sambhar) is loaded with mustard seeds, cloves, and fenugreek. Look for premixed versions of both at South Asian markets, or make your own. (Read more about Parsi spice blends here.)
Ingredients
3 medium bitter gourds (about 1½ lb.)
2 tbsp. kosher salt
1⁄2 cup ghee or vegetable oil, divided
2 medium red onions (about 1½ lb.), finely chopped
1 tbsp. ginger-garlic paste
1 tbsp. raw mango flesh, finely grated
1 raw mango seed
1 tsp. garam masala
1 tsp. Parsi dhana jeera
1 Parsi sambhar masala
1 green bird's eye chile, finely chopped
1 lb. ground chicken
2 medium Roma tomatoes, coarsely grated
1⁄4 cup fresh mint leaves
Instructions
Step 1
Prepare the bitter gourd. Using a knife, scrape the spiny dark green skin off the bitter gourd. Thinly slice the crosswise into rings, then transfer to a colander, sprinkle with the salt and toss to combine Set in the sink until the gourd releases a good deal of liquid, about 20 minutes.
Step 2
In the meantime, in a large skillet, heat 2 tablespoons of ghee or over medium heat. Add the onion and cook, stirring occasionally, until they begin to brown, about 10 minutes. Stir in the ginger-garlic paste, mango flesh and seed, garam masala, dhana jeera, sambhar masala, and green chili, and cook just until aromatic, being careful as not to burn, about 1 minute. Add the chicken, stirring thoroughly to combine with the onion-and-spice mixture. Add the tomatoes, and 2 cups of water and bring to a simmer. Cook, stirring occasionally, until the stew reduces by about a third and thickens slightly, 20–25 minutes.
Step 3
Meanwhile, while the chicken is cooking, use your hands to squeeze as much water as possible out of the bitter gourd. In a large skillet over medium-high heat, and working in batches, add 2 tablespoons of oil and fry the gourd slices, turning occasionally, until crispy and golden brown, about 7 minutes per batch. Add to the chicken, add the mint leaves, and stir to combine. Transfer to a large bowl and serve immediately.