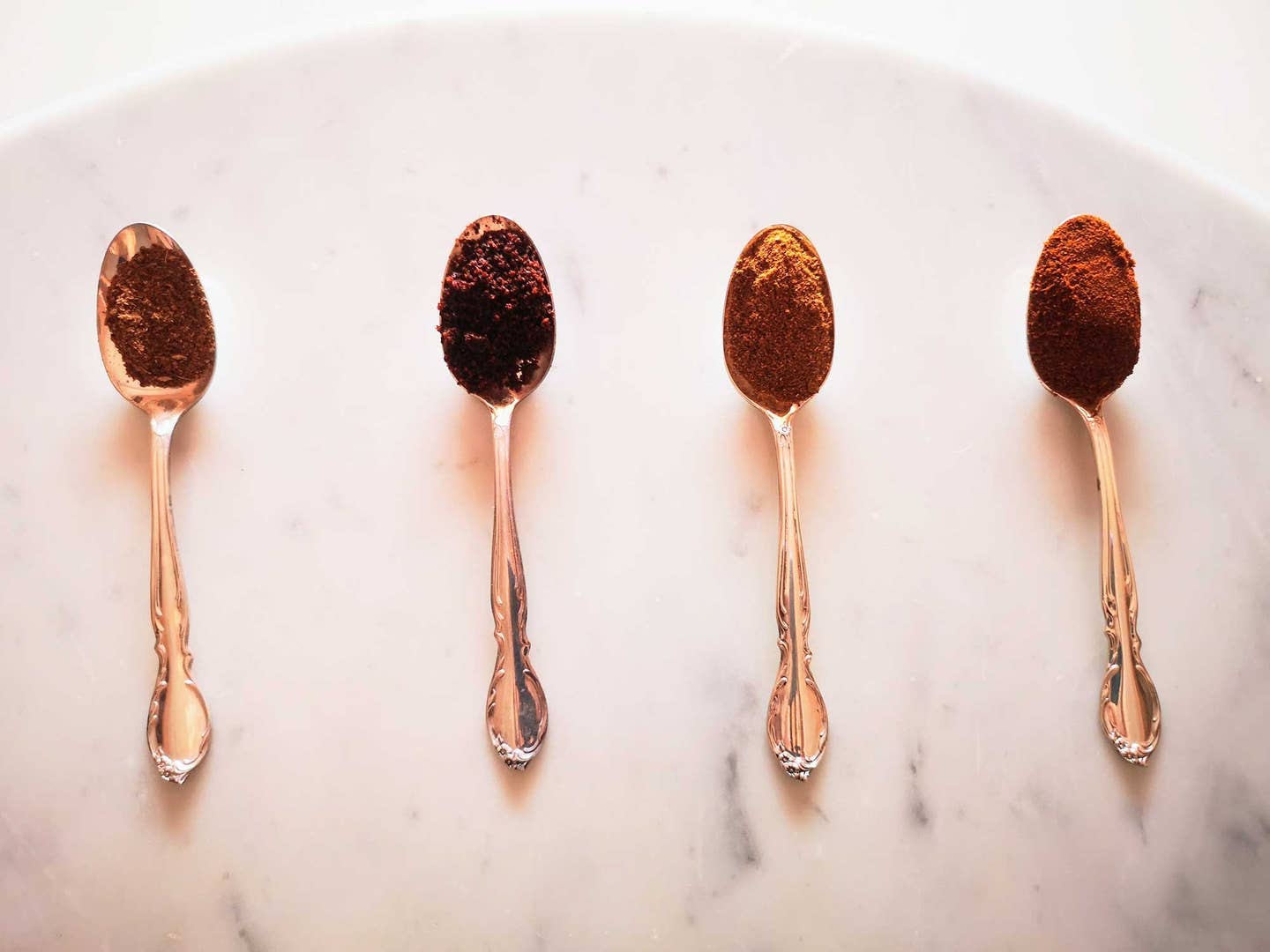 Recipes
The Essential Parsi Spice Blends
These four masalas from writer Meher Mirza form the fragrant heart of the Parsi pantry.
Parsi dishes are powered by spice mixes. Naturally, every household claims its spice blend recipe is best (and every household is correct). None of these recipes have petrified into stone—and therein lies their magic.
Roasting the spices on a tawa (or a griddle pan) before grinding them is not absolutely necessary, but it does release more powerful flavors. Just make sure to keep the heat low to medium, and continually toss the spices until they are lightly browned and aromatic; they shouldn't darken to a deep brown color.
Very few houses still grind their masala using a masala no patthar (curry stone) although there is no doubt that the texture of the masala made in one is far smoother; the usual (speedier) way is in an electric mixer-grinder, where the masala is ground to a fine powder. All the spice blends last for about three months, stored in an airtight container, before they start losing their potency.
Dhana jeera translates to coriander seeds and cumin seeds, but as you can see, the list of ingredients for the Parsi version of this spice mix swell far beyond those two ingredients. Consider this a sort of all-purpose flavoring agent that will liven up even the stodgiest meal. Writer Meher Mirza uses this spice mix as a base for pulses and poultry dishes such as masoor (red lentils), dhansak ni dar (dhansak dal) and mutton cutlets. Ideally, each spice should be roasted separately, since they have individual burning points, but if you're in a rush, you can chuck them in together, keeping close watch to prevent burning and; stirring frequently. Kashmiri chili powder ratchets up the color rather than the heat; feel free to substitute any other non-spicy chile. Get the recipe for Parsi Dhana Jeera »
The most basic version of this Parsi spice mix uses only cloves and cinnamon; other components are negotiable and hew to local and regional tastes. Writer Meher Mirza's grandmother prepared just one type but disliked nutmeg and eschewed it entirely, adding black peppercorns instead, while another relative made two separate versions: one for meat dishes and one for rice. Parsi garam masala works particularly well with vegetable dishes like titori (sprouted field beans), minced meat, and Parsi-style meat pulaos. Get the recipe for Parsi Garam Masala »
Dhansak masala is used primarily in its namesake, that Parsi treasure, dhansak. "Dhansak, the best known of Parsi dishes, has probably evolved from the Iranian khoresht esfenaj, a dish cooked with meat, lentils, and spinach. As tastes changed, spices were added to the dish to make dhansak what it is today," says Bhicoo Manekshaw, doyenne of Parsi cooking, in her book Parsi Food and Customs. However, dhansak masala is more versatile than its name implies—you'll find it used in everything from Bombay duck cutlets to eggplant and meat buriani. Get the recipe for Parsi Dhansak Masala »
Don't confuse this with south Indian sambhar—a cavern of difference yawns between them. Parsi sambhar masala is added to dhansak, but it also finds its way into other vegetable and meat dishes such as dhansak or sambharya bheeda (an okra dish). My grandmother would pound the spice into smithereens every morning on the masala no patthar (curry stone), but we've embraced simpler ways, relying on the electric spice grinder. Get the recipe for Parsi Sambhar Masala »