Rhubarb Passover Chremsel with Beet Preserves
For this year's Seder, serve these sweet-tart fritters with a side of eingemachts.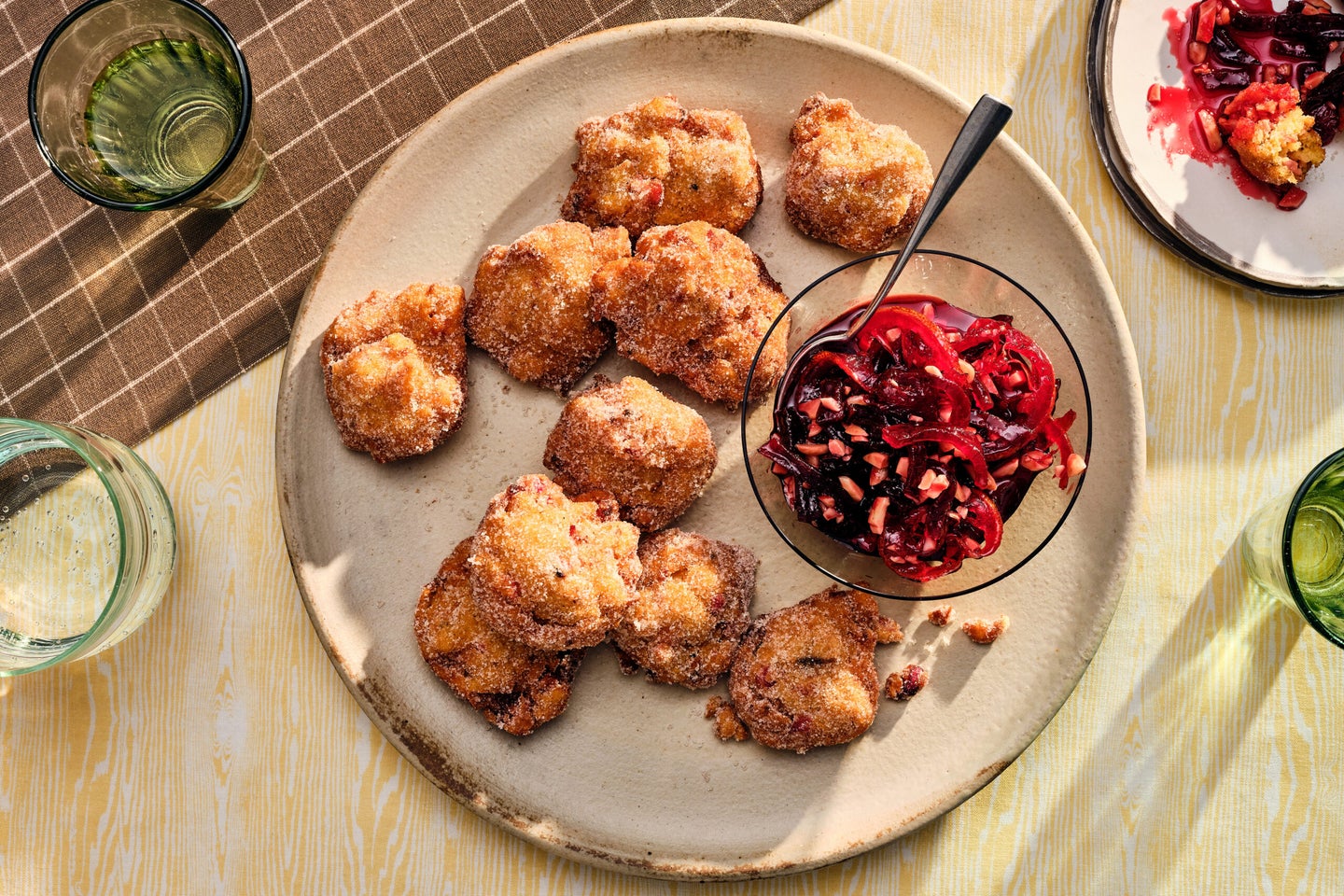 Eingemachtes can refer to a variety of jams and confections. This beet version comes from baker Ellen Gray's grandmother, Dorothy, who served the treat as a part of her Passover Seder. Chremsel (sweet matzo fritters) were a fixture on Gray's other grandmother, Minnie's table. Here, she swaps out the traditional dried fruit filling for a seasonal rhubarb. Paired together, the two dishes make for a fresh and modern take on old-school Ashkenazic Passover dessert. 
Featured in "Our Favorite Passover Dessert Recipes Offer a Chance to Pause, Reflect—and Try Out New Ingredients."
Ingredients
For the beets:
1 1⁄2 lb. medium beets, rinsed, tough ends removed
1 1⁄3 cups sugar
1⁄3 cup honey
1⁄2 tsp. ground ginger
1 medium orange, peeled and segmented
1 medium lemon, washed, thinly sliced, seeded
1⁄2 cup finely chopped almonds
For the chremsel:
3 sheets plain matzo
2⁄3 cup sugar, divided
1⁄2 tsp. ground cinnamon
1⁄2 tsp. ground cardamom, divided
1 tsp. finely grated lemon zest
1 tsp. finely grated orange zest
Pinch kosher salt
Pinch freshly ground black pepper
3 large eggs, separated
1 medium rhubarb stalk, finely diced (¾ cup)
1⁄4 cup cup matzo meal
2 tbsp. finely chopped almonds
1 tbsp. fresh lemon juice
Vegetable oil or other neutral oil, for frying
Instructions
Preheat the oven to 400° F. Place a small plate in the freezer.
Wrap each beet individually in aluminum foil, then place on a large baking sheet, transfer to the oven, and cook until fork tender, about 1 hour. Remove beets from the oven and set aside to cool to room temperature.
When the beets are cool enough to handle, use dry paper towels to rub off and discard the skins. Slice the peeled beets into fat matchsticks, then transfer to a medium pot. Stir in the sugar, honey, ginger, and ¼ cup of cold water, then set over medium heat, bring to a simmer, and cook, stirring occasionally with a silicone spatula, until the liquid has reduced by half, about 30 minutes. Turn the heat down to low, then stir in the orange segments and lemon slices. Continue cooking, stirring frequently, until the mixture has turned concentrated and jammy, and the spatula leaves a line at the bottom of the pot without coming right back together, about 30 minutes more.
To test for doneness, retrieve the plate from the freezer, place a spoonful of jam onto the plate and return the plate to the freezer. Wait two minutes, then remove the plate and gently move the jam with your fingertip. If the jam forms a skin and wrinkles, it is ready and ready to be removed from the heat. If not, return the plate to the freezer, and continue cooking for an additional 5 minutes, then test again.
Once ready, remove the jam from the heat and set aside to cool to room temperature. Once cooled, stir in the almonds, then transfer the jam to sterilized jars, cover tightly, and refrigerate until ready to serve, or store for up to 2 weeks.
Make the fritters: One sheet at a time, run the matzo under lukewarm water just until softened (about 2 minutes), then place in a colander and gently squeeze the excess water out. Set aside.
In a small bowl, whisk together 1⁄3 cup of the sugar, cinnamon, ¼ teaspoon of cardamom, lemon and orange zests, and the salt and black pepper. In a large bowl, whisk the egg yolks, then gradually whisk in the sugar mixture. Stir in the reserved softened matzo, along with the rhubarb, matzo meal, almonds, and lemon juice.
In a medium clean bowl, whip the egg whites until stiff peaks form, taking care not to overbeat. Using a silicone spatula, gently fold the whipped whites into the matzo mixture just until incorporated. Cover and refrigerate the batter for 30 minutes.
Meanwhile, make the cardamom sugar. In a small bowl, combine the remaining sugar and the remaining cardamom powder. Set aside.
Line a large baking sheet with paper towels, and set it by the stove.
Fit a heavy-bottomed pot with a deep-fry thermometer and add oil to a depth of 2 inches. Cook over medium-high heat until the oil reaches 375°F.
Retrieve the batter from the fridge, and working in batches, carefully drop the batter by rounded tablespoons into the oil (avoid crowding the pan) and fry, turning once, until crispy and golden brown all over, 45–60 seconds per side. Using a slotted spoon, transfer the fritters to the lined baking sheet to drain.
Gently toss the fritters in the cardamom sugar and serve warm, with the beet preserves on the side. (Leftover fritters can be reheated on a parchment-lined baking sheet in a 325° F oven just before serving.)