Recipes
Salmon Confit With Watercress Remoulade
A natural spring pairing for an elegant, Irish-inspired dinner.
Serves

serves 4

Cook

1 hour 30 minutes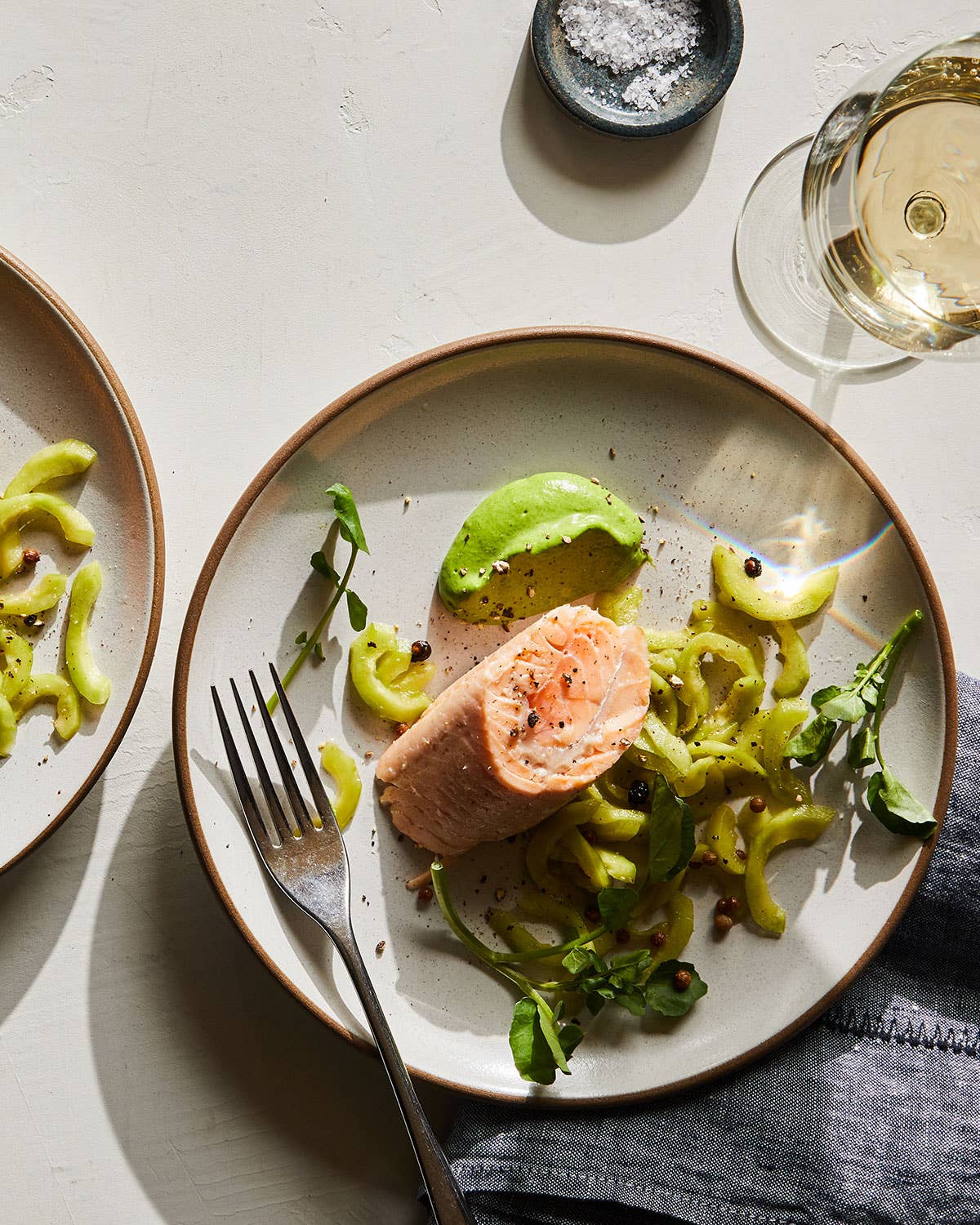 Once home port for a famous Irish pirate queen, Clare Island is now known for a variety of salmon that thrives in Clew Bay, off the Atlantic coast. At Dromoland Castle in County Clare, chef David McCann sources organic Clare Island salmon for his delicate, briny confit, which he pairs with a brightly tart watercress remoulade. We've adapted his sous vide preparation with an easy poaching method. You can substitute wild-caught Atlantic salmon from a fishmonger. Pair salmon confit with McCann's fast cucumber pickles.
Ingredients
For the salmon:
1 cup sea salt
¼ cups plus 3 Tbsp. sugar
1 tbsp. extra-virgin olive oil
1 lb. skinless fresh salmon filet
For the cucumber pickle:
1 tbsp. plus 2 tsp. sugar
2 tsp. black peppercorns
2 tsp. coriander seeds
2 tsp. white wine vinegar
1½ tsp. fine sea salt
1 large cucumber, peeled, seeded, and sliced
For the watercress remoulade:
Kosher salt
7 oz. watercress (6 cups)
2 egg yolks
2 Tbsp. Dijon mustard
1 cup extra-virgin olive oil
Freshly ground black pepper
Instructions
Step 1
Prepare the salmon: In a large bowl, combine the salt, sugar, and 6¼ cups of water. Add the salmon and set aside to brine at room temperature for 45 minutes.
Step 2
Fill a large, wide pot halfway with water and set over low heat to simmer.
Step 3
Remove the salmon from the brine, transfer to a cutting board and pat dry. Using a sharp knife, butterfly the fish lengthwise to an even ½-inch thickness, so it is easier to roll. On a clean work surface, lay out a large sheet of plastic wrap slightly wider than the fish; position the salmon in the center of the sheet, then roll up the fillet lengthwise. Roll the fish tightly in the plastic wrap to make an even cylinder shape, then roll the cylinder in a second sheet of plastic wrap to ensure a tight seal. Carefully transfer the salmon to a zip-top freezer bag and add the olive oil to the bag; pressing out as much air as possible, tightly seal the bag, then transfer to the simmering water and poach until the salmon is pale pink and firm, 15–20 minutes. Fill a large bowl halfway with ice and water and set it by the stove. Transfer the salmon to it once cooked to stop the cooking process.
Step 4
Meanwhile, to a small pot set over high heat, add the sugar, black peppercorn, coriander seed, white wine vinegar, and 1 cup of water. Once boiling, turn off the heat and set aside to infuse and cool to room temperature. Add the cucumber slices, and set aside.
Step 5
Fill a medium pot halfway with water, season with salt, and set over high heat. Once boiling, add the watercress and blanch until wilted, about 1 minute. Set a colander in the sink and drain the watercress, then transfer to a blender and purée on high until smooth.
Step 6
In a medium bowl, whisk together the yolks, mustard, and vinegar until well combined. Very slowly whisk in the olive oil until emulsified, then whisk in the watercress purée; season to taste with salt and black pepper.
Step 7
To serve, unwrap the chilled salmon roll and discard the plastic wrap. Using a sharp knife, slice the roll crosswise into 4 portions. Place each portion in the center of a plate, then spoon some of the watercress remoulade around the fish, arrange the pickled cucumbers on the side, and finish with freshly ground black pepper.