Recipes
English Sticky Toffee Pudding
Our failsafe formula for Britain's moist, gooey date-and-caramel dessert.
Serves

8–10

Cook

1 hour 35 minutes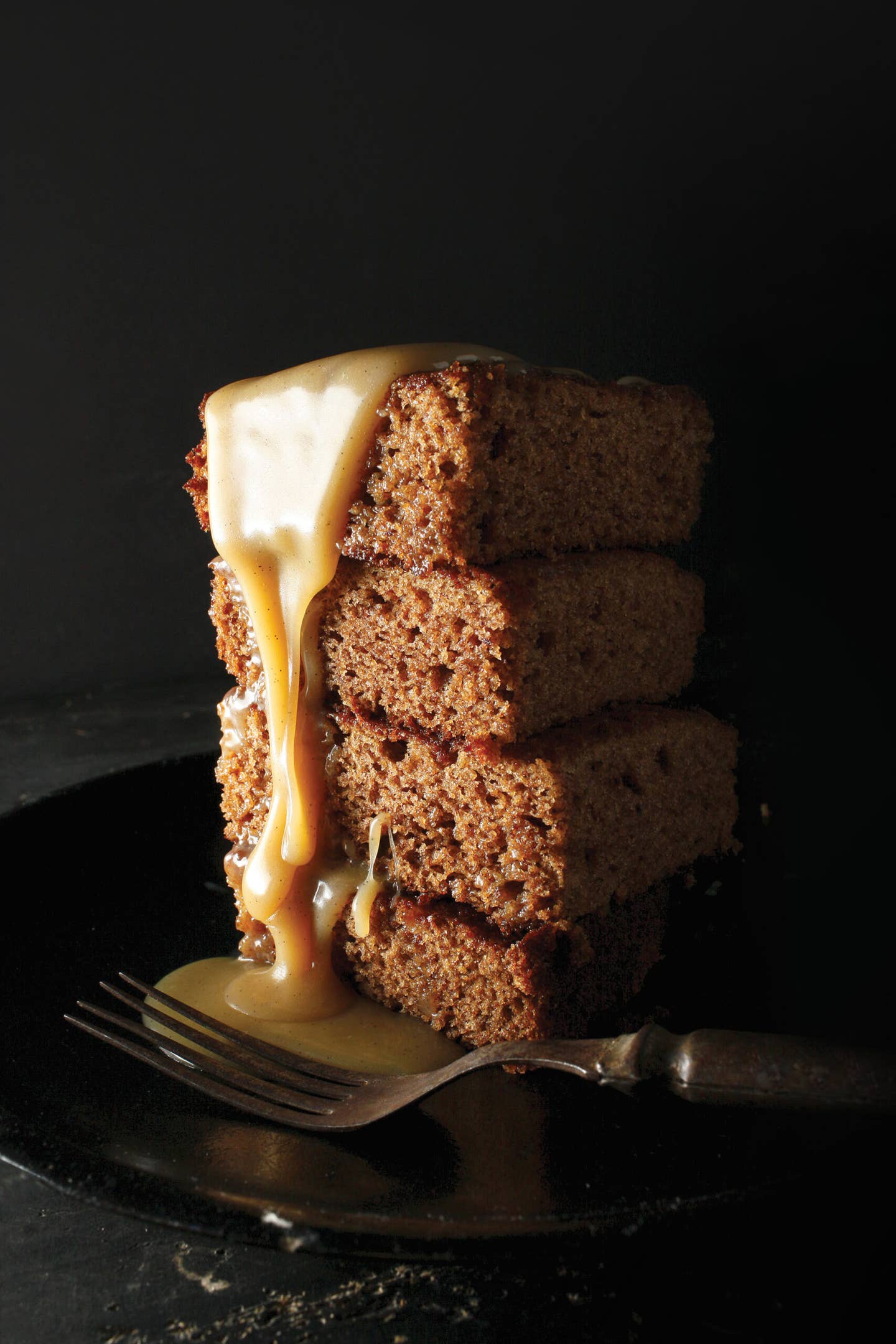 Ingredients
For the pudding:
1 cup stout beer, preferably Guinness Extra Stout
1 tsp. baking soda
10 large pitted Medjool dates
2 cups all-purpose flour
2 tsp. ground cinnamon
1 tsp. baking powder
1 tsp. freshly grated nutmeg
½ tsp. kosher salt
1 cup plus 2 Tbsp. sugar
6 Tbsp. unsalted butter, softened, plus more for greasing
1½ tsp. vanilla extract
3 large eggs
For the toffee sauce:
1 cup packed light brown sugar, or dark brown sugar
16 Tbsp. unsalted butter
1 vanilla bean, split lengthwise, seeds scraped and pod reserved
½ cup heavy cream
1 Tbsp. fresh lemon juice
¼ tsp. kosher salt
Instructions
Step 1
Make the pudding: Position a rack in the center of the oven and heat to 350°F. Butter a 9-by-13-inch baking dish and set aside. In a small pot, bring the beer to a boil, then stir in the baking soda and dates and set aside. When warm to the touch, transfer to a food processor and purée.
Step 2
Meanwhile, in a medium bowl, whisk together the flour, cinnamon, baking powder, nutmeg, and salt. Using a stand mixer fitted with the whisk attachment, beat the sugar, butter, and vanilla until fluffy, about 3 minutes. Add the eggs one at a time, beating well after each addition. Using a silicone spatula, scrape down the sides of the bowl. On low speed, slowly add the dry ingredients alternating with the reserved date mixture. You should have a smooth batter. 
Step 3
Scrape into the prepared baking dish and bake until a toothpick inserted into the center comes out with no crumbs attached, about 30 minutes. Set aside to cool for at least 1 hour before serving.
Step 4
Make the toffee sauce: In a pot set over medium heat, bring the sugar, butter, and vanilla seeds and pod to a simmer. Cook until the sugar is dissolved, about 5 minutes, then remove from the heat. Stir in the cream, lemon juice, and salt, then strain and set aside to cool until warm to the touch.
Step 5
To serve, cut the pudding into squares and drizzle with the sauce.