Recipes
This Seafood Pasta Is the Be-All, End-All Supper for a Crowd
Featuring fresh tomatoes, two types of chiles, and a smorgasbord of seafood, it's our editor-in-chief's go-to dinner party dish
Serves

serves 6

Cook

40 minutes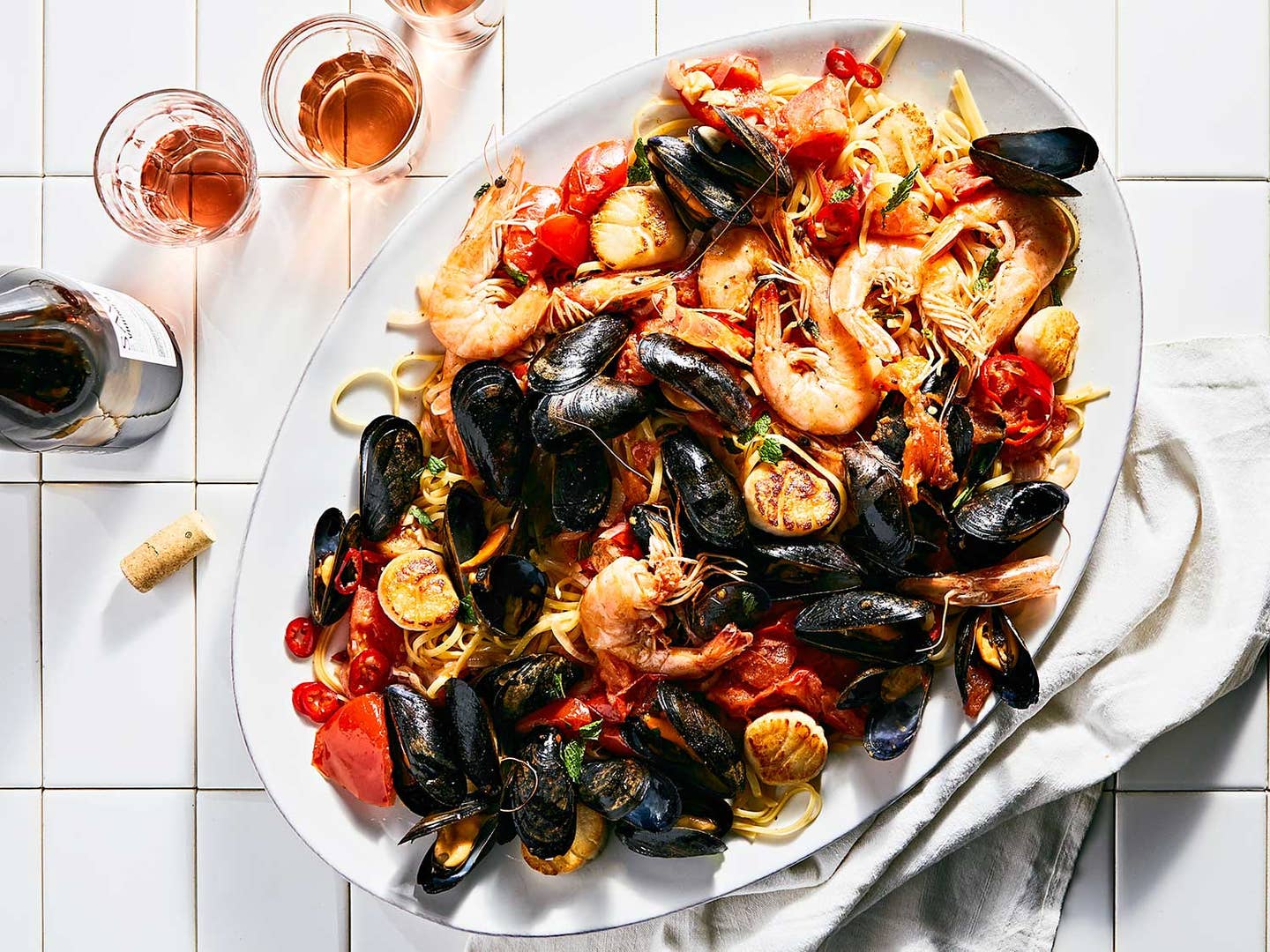 In the northeastern U.S. where I grew up and still reside, summer and seafood go hand in hand. From family vacations spent on the shore plucking the meat from jumbo blue crabs, to heaping pans of clams and mussels tossed on the backyard barbecue on balmy nights, we're a family that lives and breathes seafood—especially shellfish, and especially when the weather grows warm. Even today, I don't let a summer go by without the requisite lobster roll or soft-shell crab sandwich.
We've also long been a crew who knows how to stretch a few ingredients into a feast for many. Part of a family of six in our childhood years, my siblings and I now have spouses and some of us kids, so a standard family dinner starts at a head count of least 14. Even when we were half the size, we knew that pasta was the answer to keeping things easy, affordable, and filling. (We're Italian-American, after all.)
This is why, when it comes to big-batch meal planning, marrying these principles and my love for these two dinner categories—pasta and seafood—was a no-brainer. Choosing my favorite ingredients among them brought me to this unbelievably delicious—and now regularly anticipated—meal at my table. Namely, I went with linguine over macaroni, as it's forever been a family favorite from our Christmas Eve rendition of linguine with clam sauce. I'll eat fresh chiles and crushed red pepper in anything and everything, so those were sure to make an appearance. And I find it hard to walk by a good seafood counter without scooping up a bag of bivalves and some shell-on shrimp. (I eat the shells, too. More on that below.) Finally, when fresh tomatoes are in season and my backyard plants are booming with them, I love to find ways to use up the fruit beyond just a tomato sandwich or tomato salad. All in all, this seafood pasta dish is like an all-star roster of some of my favorite things, period.
There are a few tricks of the trade when it comes to cooking seafood—any seafood—at home. For one, start with great product, which means buying at a store with a lot of turnover (read: fresh fish coming in daily), as well as handling each type of fish in your dish with steps that bring out its best. Here are my fall-back tips for pulling that off with ease and ending up with a killer crowd-pleasing supper.
Scallops add an elegance and a delicate quality to this dish, but they do require an extra cooking step—searing—to reach their peak deliciousness. The bonus: the fond leftover in the bottom of the skillet after searing will add loads of extra flavor to the sauce. To get the best sear possible, you want high heat and little to no moisture, which could stand in the way of the surfaces developing a hard bronze. Thoroughly pat the scallops dry on a few layers of paper towels, season very lightly with salt (most wild seafood is naturally salty), and let them sit out for a few minutes at room temperature before searing. Then get your pan piping hot before adding the scallops—they should let out a loud sizzle the moment they come into contact with the oil in the pan.
Seafood has so much flavor itself, but to take that taste from straightforward to sensational, aromatics go a long way. In this dish I feature a few, from thinly sliced red onion—which has a little extra sweetness and adds a slight tinge of color to the dish—to white wine, which helps give balance and brightness to a big pile of pasta. I also sneak in oil-packed anchovies, and though I swear you and your guests will never taste or be able to identify them in the sauce, they'll add a saltiness and an unbeatable depth of flavor to the fresh tomatoes as they melt down in the pan. Finally, good olive oil is an aromatic itself: I use it twice, to sear the seafood and to finish the pasta at the end, so its flavor and aroma shines through.
Leave the Shells On (And Use Them to Flavor the Sauce)
It's a widely known fact among chefs that most of a shellfish's flavor resides in its hard outer covering. French chefs in particular use shells to infuse sauces, bisques, and broths, which is why it's best to cook this pasta sauce with fresh, shell-on seafood.
While you can't necessarily eat the shell on most sea creatures, shrimp are unique in that theirs are completely edible—you just have to take the leap. You can bite right into a full shrimp shell, and eat the full head or at least the partly crispy, partly unctuous "meat" inside. Look for wild-caught shrimp that are very clean, with no thick black vein running through their backs. If they do come with some cleanup required, use a very sharp knife, such as a paring knife or small chef's knife, to slice open the back of each shrimp (leaving the shell intact), then clean out the vein as needed.
Cooks have been touting the "rule" for years that you should finish cooking your pasta in the sauce so the flavors and ingredients meld. While I agree that that's good for many dishes (see bolognese), in this case it threatens making a mess of the dish's presentation and tousling the delicate seafood. Instead of tossing them together in the pot, pour the sauce atop the pasta in a rimmed platter, then use tongs or two forks to gently shimmy and shift the pasta around gently on the plate to coat it in the sauce. Don't forget to drizzle more olive oil on top at the end—a "sauce" in its own right.
Ingredients
Kosher salt
1 lb. mussels
6 large sea scallops (about 9 oz.)
2 Tbsp. extra-virgin olive oil, plus more for serving
1⁄2 medium red onion, thinly sliced
Freshly ground black pepper
1⁄4 cup plus 2 Tbsp. dry white wine
4 tomatoes on the vine (about 1 lb. 10 oz.), coarsely chopped, juices and seeds reserved
4 large garlic cloves, thinly sliced (2 Tbsp.)
2 oil-cured anchovy fillets, finely chopped
3⁄4 lb. jumbo head-on shrimp
1 lb. dried linguine or spaghetti
1 Fresno chile, thinly sliced (or to taste)
Crushed red chile flakes, for serving (optional)
1⁄4 cup fresh mint leaves, chopped
Instructions
Step 1
Bring a large pot of generously salted water to a boil. Meanwhile, clean the mussels and scallops: Run the mussels under cold water, lightly scrubbing the shells. Using your fingertips, look for any "beards" (they'll feel like coarse, thin hairs) protruding from where the shells meet. If you find any, pull them away and discard. Remove the "foot" from each scallop by pulling away the thin white strip on the outside and discarding. Pat the scallops dry all over, and season very lightly with salt.
Step 2
Be sure all of your ingredients are prepped and set by the stove. In a large, deep (ideally 14-inch) skillet over medium-high heat, add the oil. Once shimmering, add the scallops. Cook, undisturbed, until browned, about 6 minutes. Flip and cook until browned on the remaining side, 3 minutes more. Transfer to a plate. Quickly add the onion to the skillet and season lightly with salt and pepper. Lower the heat to medium and cook, stirring occasionally, until softened, about 1 minute. Add the wine, tomatoes and their juices, garlic, and anchovies; stir to combine. Add the mussels and shrimp; raise the heat to medium-high. Cover and cook, shaking the skillet occasionally, until the mussels are fully opened, about 6 minutes.
Step 3
Meanwhile, add the pasta to the boiling water and cook, stirring frequently, until just al dente.
Step 4
Stir the seafood mixture in the skillet and add 2 to 4 tablespoons of the pasta cooking water if needed for sauciness, then cover and continue cooking 2 minutes more. Uncover, add the scallops and Fresno chile to taste, and stir well.
Step 5
Drain the pasta and transfer to a large, rimmed platter. Pour the seafood mixture over the top, gently shifting the pasta with tongs to coat in the sauce. Sprinkle with chile flakes, if desired, then top with the mint, a few glugs of oil, and more black pepper. Serve immediately.