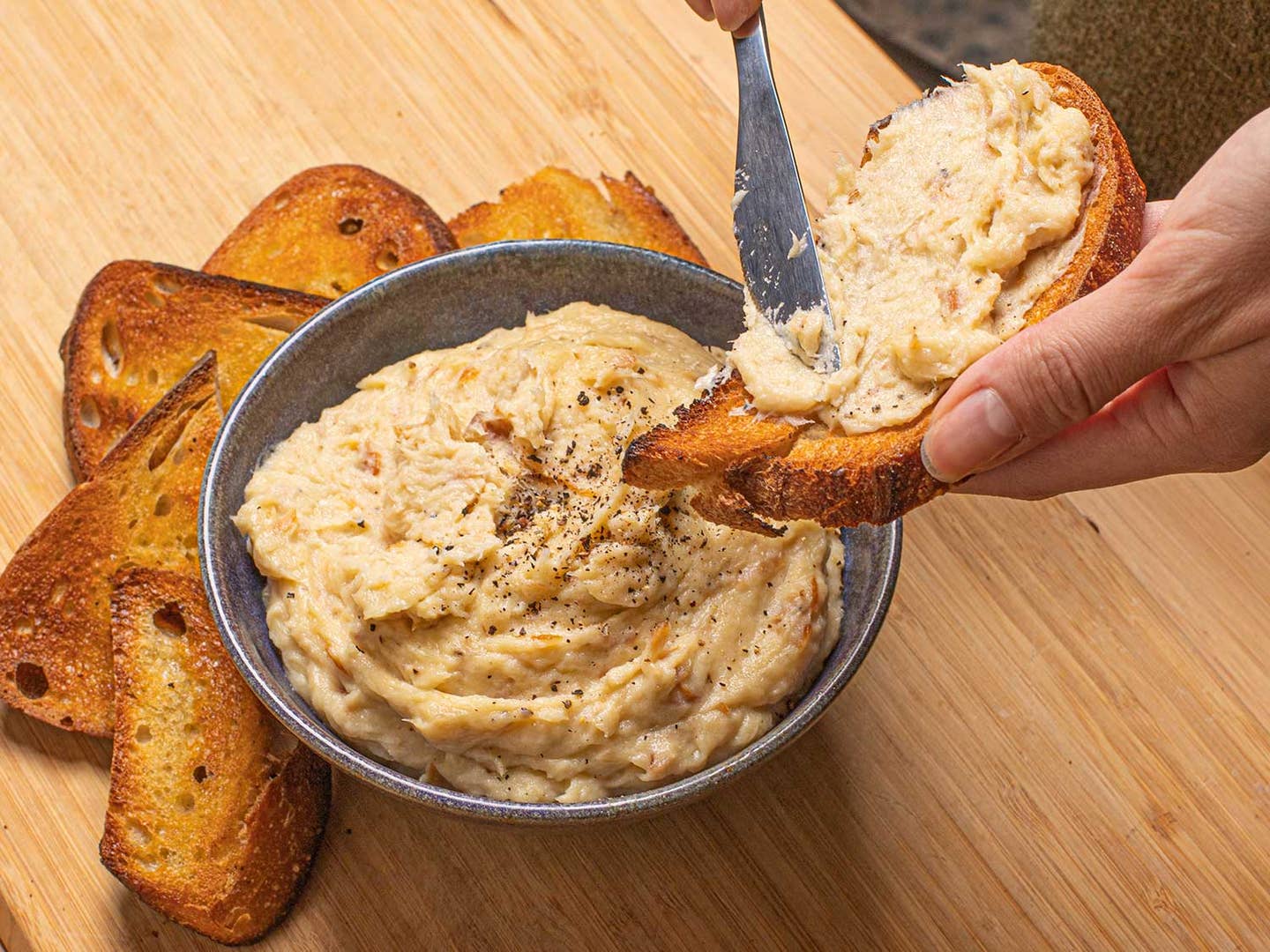 Recipes
The First 'Fish' in This Year's Feast Is a Creamy Appetizer
Adapting to the year's circumstances, columnist Josh Cohen puts a New York spin on an Italian classic.
A monkfish head is shocking if you've never seen one before. Much wider than its body, it looks like a prehistoric sea monster with sharp, jagged teeth and eyes gleaming with malice. As a young chef, I once served an entire roasted monkfish, head still attached, garnished with garlicky steamed clams as part of a Feast of the Seven Fishes. Guests were encouraged to taste the succulent meat from the cheeks of the fish. It was ostentatious and delicious, two words that perfectly capture, for me, the vibe of this holiday feast.
The Feast of the Seven Fishes is a distinctly Italian-American tradition that has been gaining traction among a broader community of chefs, seafood lovers, and revelers. I belong to all three of those categories, so this culinary ritual is something I get particularly excited about each year. Its roots can be traced back to the Roman Catholic custom of abstaining from meat on Christmas Eve, although in Italy the meal is called La Vigilia and any mention of the Feast of the Seven Fishes would likely be met with blank stares. The difference in name is merely semantic, though; if you're celebrating this tradition, your dinner table will look similar from Naples to New Jersey, a notion which I love.
Whether you've been preparing opulent seafood dinners on Christmas Eve for years or you're hopping on the Seven Fishes bandwagon for the first time, the true essence of this meal is togetherness and celebration. At the end of the day, that's all that matters—especially this year, when many holiday gatherings will be scaled down and shared only among our immediate families. And yet, I really believe that even though the gatherings are smaller, the menus can still be ambitious in style and enticing.
In a normal year, a Feast of the Seven Fishes might include fritto misto, cold marinated octopus salad, fish soup or a brothy shellfish dish, seafood pasta, and whole roasted fish. For many families, eel and baccalà are also mainstays, the former served either fried or marinated, and the latter braised with tomato and olives, fried as croquettes, or whipped and served as a dip. For those seeking the vibrancy of a seafood feast but on a smaller scale this holiday season, consider replacing the most labor-intensive recipes with some easy wins like raw oysters, a Caesar salad (the anchovy in the dressing counts!), or salmon or tuna crudo made with sushi-grade fish dressed simply with olive oil and salt.
Another way to simplify things is to tweak a classic recipe, aiming to make it more convenient without altering the spirit of the dish. Take baccalà mantecato, for example, the savory dip that translates literally to "creamed cod." In Venice, where this dish originates, unsalted dried cod called stockfish is used, although idiosyncratically, Venetians refer to stockfish as baccalà (whereas in the rest of Italy, baccalà means dried salted cod). Either way, the fish must be soaked in water for anywhere from 24 to 72 hours before you can use it. Some might consider it sacrilegious to replace the cod in baccalà mantecato, but smoked trout makes an excellent substitute. This easy swap can save you significant time and effort, plus the unique smoky flavor of the trout will add a new dimension to your meal.
I began experimenting with smoked trout in place of dried cod because, in New York where I live, smoked fish is plentiful and ubiquitous. It seemed appropriate to cook like this, not least because true Italian cooking is fiercely regional, shining a spotlight on the best local ingredients. When I was cooking in Italy at the beginning of my career, my favorite aspect of the cuisine was how recipes were slightly malleable based on what fresh herbs might be growing in your garden or what the local fisherman may have caught that morning. From town to town you might see slight variations on a classic recipe, but each was understood to be authentic.
In this way, my Italian-style smoked trout dip is more than just an opportune replacement for baccalà. It's a delectable appetizer worth showcasing at your next Feast of the Seven Fishes. Although non-traditional, the recipe still somehow feels quintessentially Italian, because it melds together a few humble ingredients to create something much greater than the sum of its parts, and because it's a reflection of the ingredients that I grew up with.
The preparation of this dish couldn't be simpler. A diced potato gets simmered in milk along with a bay leaf and two cloves of smashed garlic, and when fully cooked, the potato gets whipped with smoked trout and a splash of the milky cooking liquid. Finished with a thin stream of olive oil while the ingredients get whipped, the resulting texture is soft and almost mousse-like. A perfect match for crostini or crudités, the light and airy texture of this dip belies a deeply savory flavor that's utterly satisfying.
If you're looking for a Feast of the Seven Fishes recipe that's both a crowd pleaser and a time saver, skip the monkfish head and serve this trout dip instead.