Our Best Summer Plum Recipes
The waxy little stone fruits are in season for a short while, take advantage of them while you can.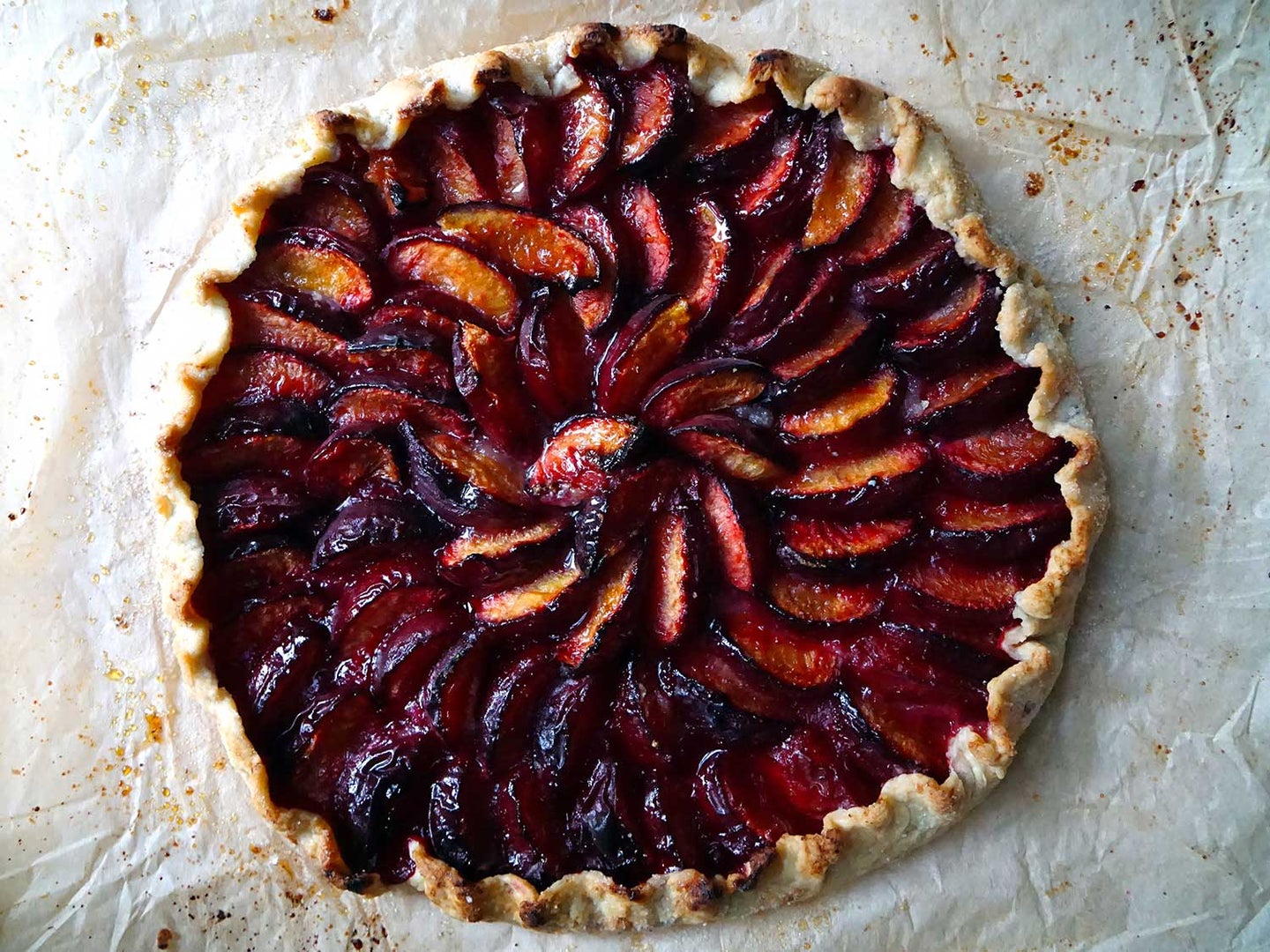 As peach season wanes and the late summer sun shines brightest, plums arrive in their multicolored splendor. The drupes owe their dominance on the fruit stands to their wax blooms—the natural coating that gives them their glaucous appearance—which grants them a long shelf life perfect for sealing in their sweetness. Likely the first fruit ever bred, for as long as there have been plums, humans have sat under their shade and wondered of recipes and ways to make them sweeter. Second in cultivation only to apples, the hundreds of varieties of plums stretch across the aisles. Name any color on the visible spectrum. There is probably a plum of it.
Two main categories divide the plum world. The larger, plump Japanese varieties usually come in shades of red. Thin, tart skins break into sweet, supple flesh that segments onto the tongue, perfect for pies and cobblers. The European varieties, in contrast, are smaller and firmer. Their honeyed flavor balances well in tarts and custards. Most are freestone, meaning they free from their pits easily, providing a great source of fruits to jar into jellies, jams, and preserves. 
The hybridized pluot—a cross of plums and apricots—is a strikingly sweet success in mankind's curious cross pollination experiments. Use its botanical sweetness where you would a normal plum for a slightly apricot-accented dish. Should you be so lucky to happen upon the inviting allure of the greengage plum: ready yourself. The pinnacle of plums possesses nectar so sweet, they need no embellishment. Savor them as is, in all their glory, and rejoice. Plum season is here.
While a slice of this summer fruit tart needs no embellishment, a scoop of vanilla ice cream doesn't hurt. Get the recipe for Plum Galette »
Warming, caramel-scented Armagnac custard bathes fresh, barely-cooked Italian plums in this quick, simple dessert. Get the recipe for Brûléed Italian Plums with Armagnac Custard »
Get the recipe for Rye Crêpes with Black Plum Flambée »
At once rustic and refined, this technique amplifies the inherent sweetness of the fruit. The mascarpone-mint leaf combo brings a rich yet uplifting twist. The more ripe your fruit, the better it will caramelize. Look for freestone peaches that will let you remove the pits easily. Mallmann says: "Let them burn a bit without touching them. Don't flip and flop." Get the recipe for Burnt Peaches and Plums with Mascarpone and Hazelnuts »
The elusive Italian plum makes a luscious, ruby-colored jam. Get the recipe for Italian Plum Jam »
A light vegetarian lunch, or even savory summer dessert, the sugary pickling brine in this recipe helps the peaches and plums caramelize on the grill. Get the recipe for Pickled Stone Fruit and Burrata Flatbread »
In this salad red wine vinegar balances the sweetness of ripe fruit, while cilantro and basil add a floral note. Get the recipe for Peach and Plum Salad »
The overt sweetness of white chocolate is tamed here by the addition of tart Greek yogurt. Chef John Karangis of Union Square Events serves it as a bed for juicy roasted plums and a sweet, anise-tinged tarragon white wine granita—it's an elegant way to end a summer dinner. Get the recipe for Plum, White Chocolate, and Tarragon Parfait »
Grape jelly intensifies the flavor of ripe plums in this sweet-tart summer pie from Drummond Ranch pie contestant Tracy Harris. Get the recipe for Plum Pie »
The best of summer comes together in this satisfying dessert of grilled pound cake topped with a fruity, herbal compote. Get the recipe for Grilled Pound Cake with Basil-Plum Compote »
This satisfying pastry layers plum preserves and walnuts for a gooey, crumbly cake. Get the recipe for Plum Strudel »
The recipe for this quick and easy tart comes from the fifth edition of Joy of Cooking (Bobbs-Merrill, 1963). Get the recipe for Plum Tart »