We're Plum Crazy About These 11 Recipes
Add a sweet-tart pop to your pies, jams, salads, and more with these crowd-pleasing dishes.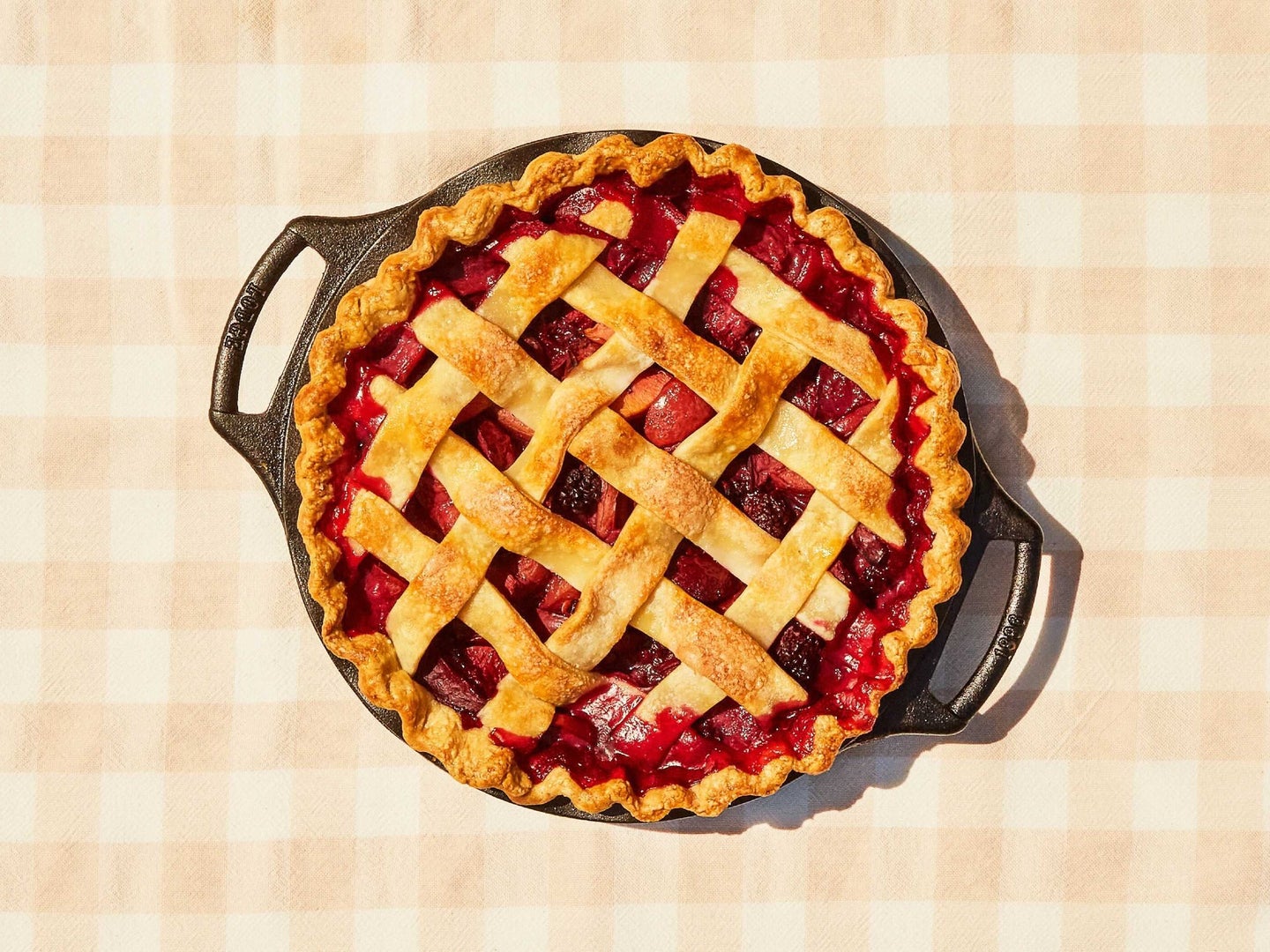 Ripe plums in the icebox signal the coming of autumn, when peaches peter out of our fruit bowls to be replaced by the deep purple stone fruit. This time of year, they're juicy enough to be eaten fresh, baked into pies and crisps, or simmered into jams. 
In many cultures, plums symbolize hope and strength. Japanese umeboshi are tucked into onigiri (rice balls). Li hing mui from China are popular crack seed store snacks in Honolulu and, in powdered form, a sweet-tart addition to tropical cocktails. In the Balkans, locals sip slivovitz, a plum-based spirit that is especially revered in Serbia, where it's the quintessential toast on Slava, the Orthodox Christian feast day honoring each family's patron saint. Pickled plums are an essential ingredient in chamoy, the Mexican condiment drizzled on fruit cups, paletas, and mangonadas. Plums also pair beautifully with roasted meats, and add tartness to salads. And who can resist the damsons baked into pies and other sweet, syrupy treats?   
These are our favorite plum recipes—the ones we sip, bake, and brûlée whenever we're feeling (or want to feel) plummy.
This rustic tart adapted from Alice Waters' Chez Panisse Café Cookbook calls for a combination of plums and pluots (fragrant apricot-plum hybrids), but it's equally comforting when made with one or the other stone fruit. Get the recipe >
Add a splash of this tart liqueur by Girl Meets Dirt founder Audra Lawlor to any fizzy seltzer, or to a tequila-lime cooler. Get the recipe >
In this old-school dessert, barrel-aged plum eau-de-vie infuses the caramelized fruit, which is set ablaze and spooned over warm rye crêpes. Get the recipe >
Tiny Italian plums have a dark-berry sweetness that pairs wonderfully with this simple, French-inspired Armagnac custard. Get the recipe >
Red wine vinegar balances the sweetness of ripe peaches and plums in this easy fruit salad. Try it with finger-licking fried chicken. Get the recipe >
The secret to author Wendy Drummond's prize-winning pie is good old-fashioned grape jelly. The gooey filling is intensely sweet, just right with a dollop of ice cream. Get the recipe >
This delicate preserve redolent of mulling spices is adapted from a recipe by Camilla Wynne's Jam Bake: Inspired Recipes for Creating and Baking with Preserves. Get the recipe >
A rich plum sauce infused with cloves and cinnamon enlivens crisp roast duck in this Bavarian-style recipe. Get the recipe >
This recipe layers ripe figs and plums with Hungarian sonka, a hammy cousin to prosciutto, and creamy Emmi Kaltbach Le Crémeux cheese. Get the recipe >
Instead of standard vanilla, use fragrant almond extract as a flavor booster in this classic fruit pie. Get the recipe >
Schilling Restaurant and Bar is locally famous for this Austrian-style grilled flatbread stacked with pickled peaches and plums. Get the recipe >