One Ingredient, Many Ways: Eggs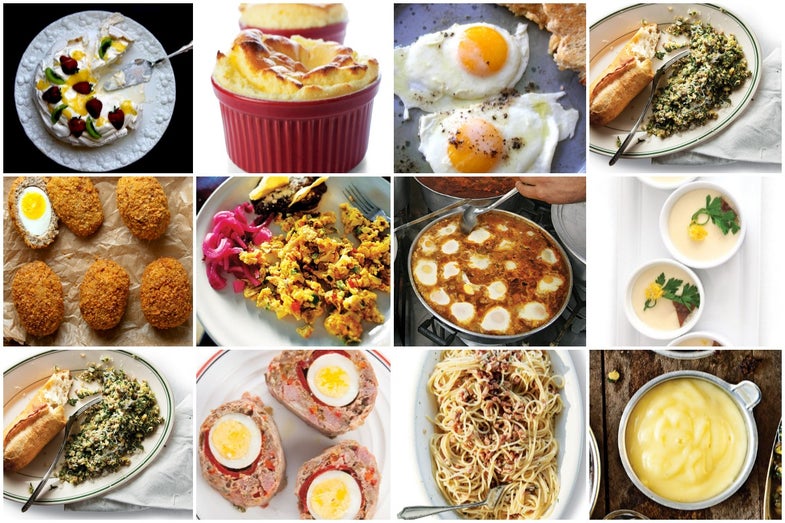 I have lived a regrettable amount of my life as an egg skeptic. Throughout childhood I refused to eat them, any style. Scrambled, fried, poached—whatever, I wasn't having them. Eggs were such foreign territory, I had no idea that cooked yolks could be served either creamy and firm or molten and dripping, though I suspect knowledge of the latter would have concerned me. By high school I had softened to the idea of a cheese omelet. Then college hit, along with a two year stint as a vegan. That meant 730 more eggless days, and an equal amount of time spent convincing myself that I wanted tofu scramble for breakfast. Part of my resistance, I'm sure, came from standard-issue picky eating, of which I had plenty. But I think there was also a fear of commitment because deep down, I surely knew I would eventually come around to eggs. And when I did, I would be a goner.
Over the past decade, I've made up for lost time. After college I survived on a steady diet of sunny side up eggs on toast—a simple and nutritious meal that has nurtured countless young, penny-pinching New Yorkers. It would be years until I beat eggs to airy peaks for meringues and sponge cake, poached eggs in spicy tomato sauce for shakshuka (my current obsession), or strained my rotator cuff with the slow, endless whisking that comes with making homemade mayonnaise. But my love was already solidified like the dense orb of yolk snuggled inside a hardboiled egg.
These days, eggs are a constant presence in my kitchen. I splurge for a carton at the farmers' market whenever possible, and delight in the grassy flavor and extra-rich, stand-at-attention yolks. I also look for new ways to enjoy old favorites. Most recently, I spoke with Janice Cole, author of Chicken and Egg: A Memoir of Suburban Homesteading (Chronicle, 2011). Cole is an unabashed egg fiend—so much so that, for the last six years she has kept a small brood of laying hens in her backyard in Minnesota, and a stack of hatchery catalogues nearby. (Turns out there are 174 different breeds of chicks from which to choose.) Cole's book includes numerous ways to serve up eggs, including a recipe specifically developed for the delightful surprise of discovering two yolks inside a shell: double yolk sour lemon bars.
But the recipe that really caught my eye was one featured on her website for brown butter-basted eggs. They are cooked sunny side up by the unctuous heat of melted butter, which gets spooned over top until the edges grow crisp and crackly, and the yellow centers glisten. Finished with fresh lemon juice swirled in the pan and drizzled over both white and yolk, it's one of the most simple, but most delicious, ways to serve an egg.
See the recipe for Butter-Basted Eggs »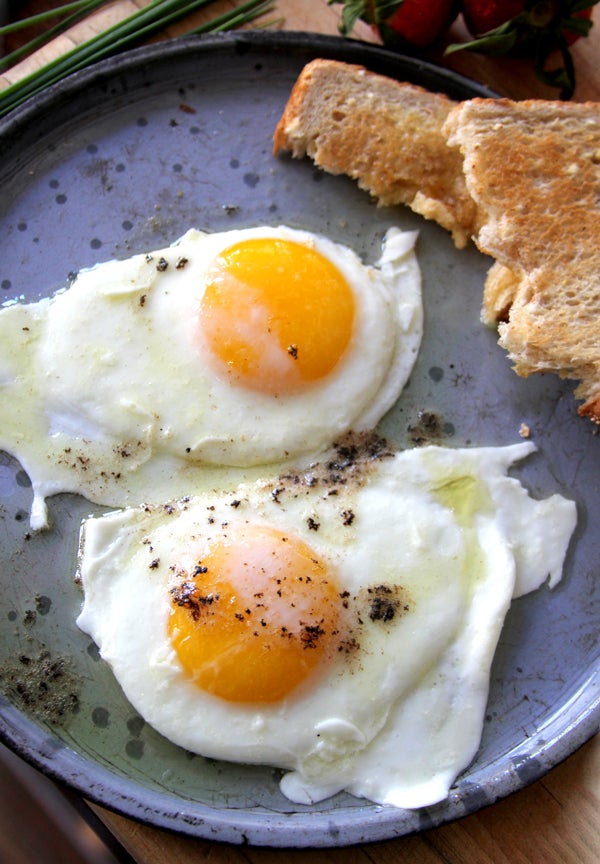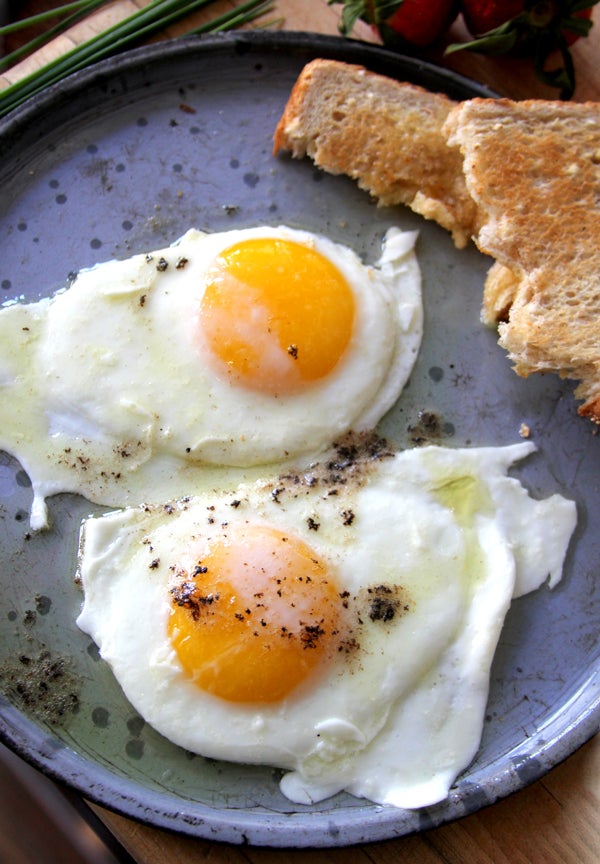 Crispy-bottomed fried eggs make an ideal breakfast. Get the recipe for Butter-Basted Eggs »
Sweet Egg Recipes
Pavlova
This airy, eggy meringue is the perfect base for berries and sliced fruit.
Muscat Spiked Zabaglione
Egg yolks make this sweet wine-spiked pudding extra rich and creamy.
Pineapple Sponge Cake
Turn simple sponge cake into something special with coconut flour and pineapple.
La Tarte Vanilla Rum Custard
Spiked with heavy cream and rum, this egg-enriched pudding makes a decadent end to any meal.
Caramel Apple Strata
Eggs help to soften and bind this sweet, cinnamon and nutmeg scented strata.
Classic Lemon Souffle
Eggs are at their classic best when whipped for a lemon souffle.
Chocolate Souffle
This chocolate souffle is intensely chocolatey without going over the top.
Dutch Baby Pancake
This floppy, oversized pancake gets browned in the oven instead of on the stovetop.
Creme Brulee
This classic French dessert is known for its cracked sugar top – but the eggy custard below is just as important.
Grape Nuts Pudding
Eggs, milk, and Grape Nuts cereal combine in this unusual, creamy and sweet dessert.
Savory Egg Recipes
Breakfast Burritos
Breakfast burritos combine scrambled eggs with other traditional fixings for a delicious breakfast-meets-dinner dish.
Chicken Stew
Doro Watt, a chicken stew with hardboiled eggs, is one of Ethiopia's best known dishes.
Spaghetti alla Carbonara
Eggs get mixed into a thick sauce with other savory ingredients before getting tossed with spaghetti.
Greek Easter Bread
This braided bread has whole, hardboiled eggs baked right into the top.
Route 7 Salad Nicoise
This classic, veggie-packed composed salad gets a punch of protein from hardboiled eggs and tuna.
Baked Eggs with Feta
These baked eggs are flavored with fresh tomato and spiked with salty feta.
Egg-and-Spinach-Stuffed Meat Loaf
Dress up traditional meatloaf by hiding a beautiful layer of spinach and hardboiled egg inside.
Scrambled Eggs with Truffles
Scrambled eggs get an upgrade when flavored with shaved truffles.
Tortilla Espanola (Classic Spanish Potato Frittata)
This simple Spanish egg dish is filled with potato, prosciutto, and peppers.
Deviled Eggs with Smoked Trout
Make this classic hors d'oeuvre even more special by topping it with smoked trout and smoked paprika.
Knife and Fork Egg Salad Sandwiches with Chives
These thick, open-faced sandwiches are piled high with creamy egg salad and spicy chives.
Mayonnaise
Homemade mayonnaise is so gratifying to make – all it takes is some egg, some oil, and a constant, steady whisk.
Shakshuka (Eggs Poached in Tomato Sauce)
This North African egg and tomato dish is popular throughout Israel and, increasingly, in the United States too.
Huevos Rancheros
Top this dish of fried tortillas, eggs, and cheese with freshly made salsa.
Classic Scotch Egg
What could be more satisfying than a hard boiled egg that gets encased in sausage and bread crumbs, then deep fried?
Matzo Brei
The Jewish version of French toast is delicious on Passover and year round.
Egg Cocktail Recipes
Rattlesnake Cocktail
This mix of absinthe, whiskey and simple syrup gets its frothy top from whipped eggwhite.
Vintners Vodka
This sweet, effervescent drink mixes egg white with vodka and floral St. Germain.
Coquito Puerto Rican Eggnog
The Puerto Rican version of eggnog, called coquito, flavors the eggy drink with coconut.
Tom and Jerry
Serve this egg-enriched, sweet and spicy cognac punch during the winter holidays.
Leah Koenig is a freelance writer and author of The Hadassah Everyday Cookbook: Daily Meals for the Contemporary Jewish Kitchen.