One Ingredient Many Ways: Heavy Cream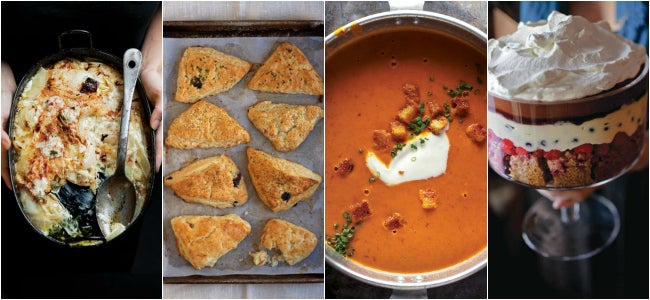 We may earn revenue from the products available on this page and participate in affiliate programs.
As pure as fresh snow and thick as a pair of wool socks, heavy cream belongs to the winter. During this hunker-down, fatten-up season when our hibernation instincts kick-in, indulging in heavy cream seems almost biologically justified. Not convinced? Have another spoonful of freshly whipped cream—that ought to do it.
In the extended season of holiday excess that begins with Thanksgiving's belt-loosening and ends with earnest diet resolutions in the new year, whipped cream is the crowning fluff of decadence on top of cakes, pies, and trifles. (Looking to up the already over-the-top ante? Add a glug of whiskey while whipping!) In its un-whipped state, heavy cream also enhances sweet and savory dishes alike, from pureed soups and vegetable gratins to panna cotta and a rich and rustic maple sugar pie.
SWEET
Portuguese Egg Tarts Egg yolks, milk, and cream form the rich custard filling for these iconic pastries.
Decadent Trifle Heavy cream appears twice in this richly layered dessert: in the gingerbread cake that serves as a base, and the boozy syllabub topping.
Strawberry Ice Cream Heavy cream provides a sturdy base for a luscious, strawberry-flavored ice cream.
Sweet Cream Scones These scones start with butter and flour, as is common with British versions, but then get an added jolt of sugar and heavy cream, like their American cousins.
Oatmeal Lace Cookies Oats, heavy cream, butter, and vanilla combine in these lacey cookies.
Whiskey Cream Irish whiskey and sugar dress up adults-only whipped cream.
Banoffee Pie Classic Whipped heavy cream and grated chocolate shavings top lusciously creamy banana pie.
Indiana Sugar Cream Pie As Indiana's state pie, this rich, nutmeg-dusted custard pie also goes by the name "Hoosier Pie."
Raspberry Brulee Raspberries get folded into sweetened whipped heavy cream in a take on classic creme brulee.
SAVORY
Vichyssoise This French-inspired potato leek soup is thickened with heavy cream and served chilled.
Cream of Watercress Soup Watercress' deep green color is lightened with copious amounts of heavy cream for a rich soup.
Mexico Avocado Soup Serve serrano chile-spiked cream and avocado soup with a sprinkling of chopped tomatoes.
Cream of Tomato Soup A classic tomato soup is enriched with heavy cream and topped with croutons and chives.
Creamed Onion Gratin Soften yellow onions in a custardy mix of heavy cream and cheese.
Fennel Baked in Cream Fennel grows tender and mild in a bath of cream.
Red Cabbage Gratin This purple-hued gratin is impossibly rich and delicious—the perfect decadent treat for the holidays.
Tagliatelle with Poppy Seeds Heavy cream and crunchy poppy seeds add depth and crunch to a simple pasta dish.
Warm Salmon Filets with Fennel Emulsion and Provencal Olive Oil Flavored with heavy cream, pastis and fish stock, these filets go way beyond your typical salmon dinner.
Savory Scones A full cup of heavy cream goes into these golden-brown savory scones. Dress them up by stirring mushrooms, cheese, and caramelized onions into the batter.
Nieman Marcus Chicken Salad The department store classic gets its exceptionally creamy flavor by swapping out some of the mayo for whipped heavy cream.
Kolrabju Salati (Kohlrabi Salad) This creamy slaw combines kohlrabi and grated apple with farmer's cheese and heavy cream.
DRINK
Irish Coffee This warm, after-dinner drink is topped with a cap of whipped heavy cream.
Maple Vodka and Espresso Dessert Cocktail There is nothing subtle about a sweet, creamy, vodka-spiked cocktail.
Leah Koenig is a freelance writer and author of The Hadassah Everyday Cookbook: Daily Meals for the Contemporary Jewish Kitchen