One Ingredient, Many Ways: Parsley
Think outside the garnish with these creative recipes using parsley.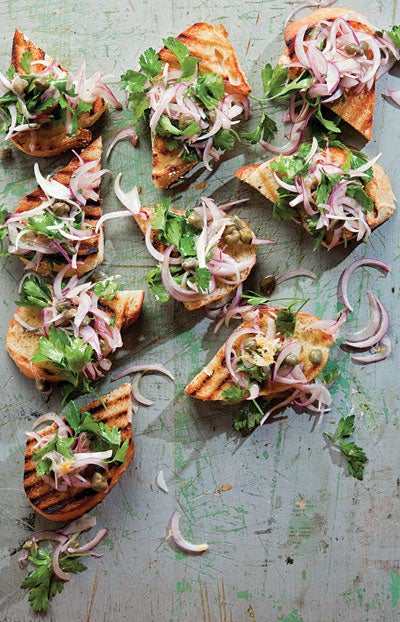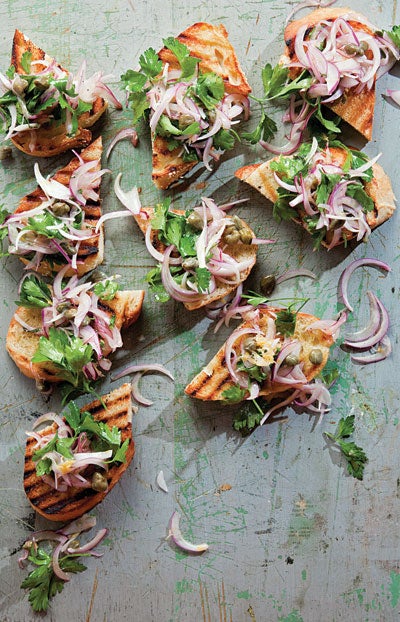 Parsley, that springy green herb that comes in curly and flat-leaf varieties, is almost certainly included on more plates than any other ingredient — as a garnish. And for good reason: With its bright green color and refreshing but subtle bite, parsley makes an ideal last-second addition sprinkled atop savory dishes, or providing a burst of color on the side of a platter. The practice of garnishing food with parsley dates back to Roman times, when banqueters munched on the leaves after meals to freshen their breath — and it's been carried on by restaurants, butcher shops, and home cooks ever since.
But I think it's time for parsley to move from the edges of the plate to the center. This summer, I'm not going to stand for that bunch of parsley rotting, forgotten in the vegetable crisper. After all, like its fellow garnish-turned-centerpiece vegetable, kale, this leafy green is filled with vitamin C and iron. Better yet, its flavor is distinct enough to hold its own as the base for a bright chimichurri sauce, tabbouleh salad, or tempura-style fried herb appetizer, while subtle enough to lend bright flavor to compound butter, chicken salad, or a hearty minestrone.
STARTERS
Parsley Tempura
Parsley gets the tempura treatment for a bright and crunchy appetizer.
Onion Parsley Condiment
This Turkish condiment is perfect with grilled fish and meat.
Rose Petal Salad with Parsley and Mint
A fragrant salad that pairs wonderfully with lamb dishes.
Colbert Butter
Rich, grassy butter and chopped parsley make a delicious compound butter.
Parsley and Pancetta Salad
Parsley is the only green at the base of this rich and flavorful pancetta salad.
Pesto di Prezzemolo (Parsley Pesto with Anchovies)
Thanks to the addition of anchovies, parsley-based pesto is deliciously salty and rich.
Melintzanosalata (Eggplant and Parsley Dip)
Smoky, spicy eggplant and parsley dip is best served with crostini or crackers.
Grune Sosse (German Style Green Sauce)
Tangy buttermilk, sorrel and parsley make up this bright green German sauce.
Chimichurri
The classic Argentinian steak topper relies on parsley for its green color and fresh flavor.
Parsley and Onion Salad
Fresh onions add cool spice to simple parsley salad.
MAINS
Chicken and Parsley Root Salad
Parsley root and leaves come together in a creamy chicken salad.
Ham and Parsley Terrine
A classic Burgundian specialty, this beautiful terrine pairs cooked ham with a bunch of fresh parsley leaves.
Tabbouleh
Fresh mint and parsley leaves flavor this classic Middle Eastern salad.
Chicken Broth with Pasta and Parsley
Food doesn't get much homier than chicken soup packed with parsley and pasta.
Soft Boiled Eggs with Bacon-Infused Sweet Potatoes and Parsley Coulis
Parsley goes upscale for a delicious restaurant dish.
Nick's Minestrone
Parsley-based pesto adds a pop of color and flavor to hearty Italian soup.
Beef Marrow Bones with Fried Parsley
Fried parsley tops this rich and meaty dish.
DRINK
Tomatillo Bloody Mary
Parsley adds an herbal note to a green take on the original Bloody Mary.
Food and Wine: Parsley Gin Julep Cocktails
Brighten your next julep by adding parsley to the mix.
Gourmet: Green Lantern
A refreshing, alcohol-free cooler mixes parsley sprigs with lemon juice, sugar, and seltzer.
Leah Koenig is a freelance writer and author of The Hadassah Everyday Cookbook: Daily Meals for the Contemporary Jewish Kitchen.