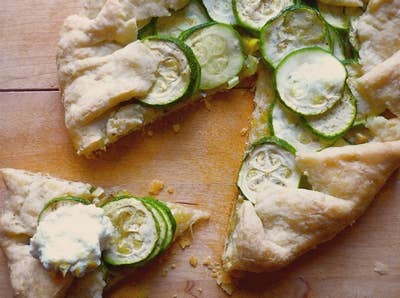 Culture
One Ingredient, Many Ways: Zucchini
The zucchini, staple of summer farmer's markets, is more versatile a vegetable than you may have thought.
Like baseball games and backyard barbecues, the zucchini is a permanent fixture of summer. Well-known to home gardeners as the plant that keeps on giving, zucchini are first harvested in early summer and continue to grow prolifically until the first frost. Come mid-July, it is not uncommon to find an overwhelmed gardener sneaking bagsful of the cylindrical squash onto their neighbor's front porch.
Considering its current ubiquity in American cooking, the zucchini entered this country's culinary consciousness only recently. All squash were originally New World plants, cultivated in Central and South America as early as 7,000 BCE. The French and Spanish explorers, who originally mistook the indigenous squash they discovered as a variety of melon, helped introduce pumpkins and other varieties of squash to Europe by the early 1500s. Italian farmers are credited for developing the modern zucchini from an heirloom variety brought to Europe sometime in the early-1800s. A century later, Italian immigrants arriving in America brought their beloved zucchino (literally "little gourd") back across the Atlantic. Zucchini caught on quickly; by 1941, an issue of Good Housekeeping informed readers that, "If you haven't [yet] tried zucchini (Italian Green Squash), you've missed a lot."
Today, zucchini - both the green variety and its golden-skinned cousin - are supermarket staples. And as summer begins to heat up, the tables at the farmers' market grow heavy with them - first with delicate, egg yolk-orange zucchini blossoms, followed by small, tender fruits that soon grow to resemble huge, caveman-style clubs.
Like all summer squash varieties, zucchinis have tender, edible skin and buttery flesh. They can be baked, roasted, grilled, steamed or deep-fried, and their high water concentration adds moisture to cakes and quick breads. When buying zucchini, remember that taste typically follows size. For cooked preparations, choose smaller, more flavorful fruits. But when sheer bulk is key, as in baking, the larger, comparatively tasteless zucchinis work just fine. The recipes below celebrate the zucchini's culinary range, offering enough diversity to keep the "little gourd" interesting all summer long.
Chocolate Zucchini Cake
Grated zucchini all but disappears in this dark chocolate cake, but helps create an extra moist crumb.
Food52: Zucchini Lemon Cookies
These golden, sweet-tart cookies come beautifully dotted with flecks of bright green.
**Leek and Zucchini Galette **(pictured above)
This rustic summer galette is brightened by a dollop of lemon-scented ricotta.
Marinated Zucchini
Garlic and red wine vinegar soften and add depth of flavor to the zucchini in this deeply satisfying side dish.
Squash Blossom Beignets
Squash blossom season is short, so make these delicate, fried treats while you can. They are so good you might just end up eating them straight from the frying pan.
Zucchini Pie
This custard-rich, egg and zucchini pie is topped with a flaky phyllo dough crust.
NY Times: Zucchini Pasta
Ultra-thin slices of zucchini stand in for fettuccine in this summery pasta dish.
Nola.com: Zucchini Tini
Zucchini's vegetal flavor perfectly offsets sake and gin in this zesty martini.