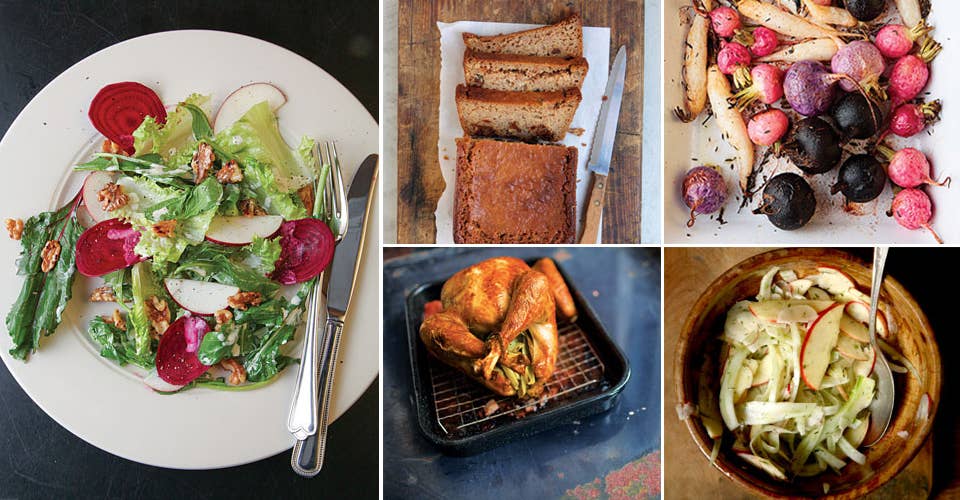 Recipes
Menu: A Farmhouse Thanksgiving
What better way to celebrate the season than a Thanksgiving menu featuring the best of autumn's bounty? Tender roasted radishes, a crisp winter salad, creamy gratin, and a tart cranberry butter are the perfect way to highlight the main event: an herb-brined roast turkey paired with a stuffing brimming with wild rice, hazelnuts, and oysters. As the dinner hour approaches, sip warming cocktails made with bourbon, port, and maple syrup, and finish the meal with a twist on everyone's favorite pie—pumpkin laced with maple and brûléed for dramatic crunch.
To save time the day of the big meal, prepare the fennel, apple, and sunchoke dressing the day before. Its flavors will intensify while melding overnight.
The cranberry butter can be made months in advance if canned properly, or you can prepare it fresh and store it in the fridge a few days ahead. Try the leftovers spread on a turkey sandwich the day after Thanksgiving.
The oyster dressing can be assembled and pre-baked the night before while the turkey is brining, then finished in the oven for an additional 20–30 minutes before serving time.
The gratin and oyster dressing both need to be in the oven about 30 minutes before serving, but they require different temperatures. If you don't have two ovens, or the time to cook them separately, put both dishes in at 400°. When the gratin is finished, the dressing should be warmed through. Then pop the dressing under the broiler to finish browning.
Biting fresh radishes undergo an amazing transformation when roasted, becoming creamy and mellow. Convert even die-hard radish haters with this dish.
The pie should be made the day before, as it's best served chilled. Caramelize a layer of sugar on top right before serving. If you don't have a blow-torch for bruléeing, try one of our other favorite fall pies, or see our gallery of Thanksgiving pies and desserts.