Our Best Fall Pies to Bake Right Now
Pumpkins, apples, and pecans make these autumnal desserts instant classics.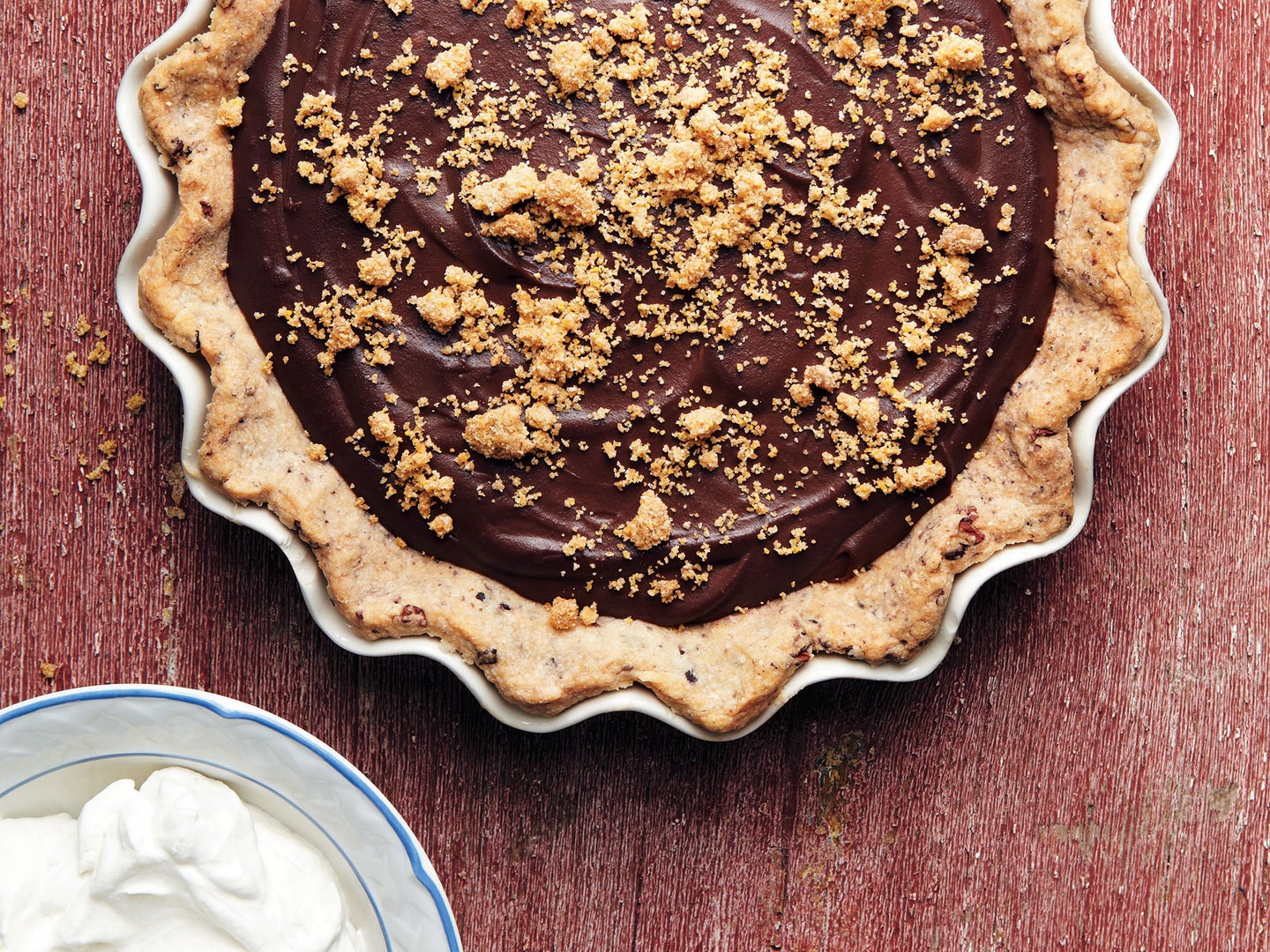 Transitioning from summer pies filled with berries and stone fruits to fall fare such as pumpkin, apples and cinnamon marks the shift in seasons in a delicious way. To let those cold weather ingredients shine, an easy, flaky dough is in order. Then, get creative with your baking repertoire—layer juicy apples into a classic autumnal dessert, or toast pecans for a nutty, buttery pie that's as warming as the first sweater of the season. Here are our favorite fall pies to back right this minute.
Chef Scott Crawford of the French-style bistro, Jolie, in Raleigh updates the simple Southern custard pie by adding cacao nibs to the butter crust and sprinkling a nutty cornbread crumble on top. Get the recipe >
A crunchy crust and pudding-like filling make this chocolate cream pie a standout. Get the recipe >
Rosemary adds a subtle, herbal undertone to a gooey caramel sauce that gets stirred into tart apples in this sophisticated yet all-American dessert. Get the recipe >
With a streusel topping and pie-like dough, this Rosh Hashanah apple dessert is half cake, half pie. Get the recipe >
America's favorite pumpkin puree for fall pies is actually made from squash, so why not turn to the earthy sweetness of fresh butternut squash? It's dead easy to prepare at home and tastes more vibrantly "pumpkin" than anything from a can. Get the recipe >
Kabocha, Japanese pumpkin, makes a lighter pie with a vivid orange color. This pie trades in usual expected flavors for a slightly spicy dose of ginger and black pepper. Get the recipe >
Cinnamon-, clove-, nutmeg-, and vanilla-spiced pumpkin ice cream creates a dreamy blend in a graham cracker crust. Get the recipe >
Baking your own graham crackers for this crust, which forms a great base for other cream pies, is totally worth the effort—it pays off with a deeply concentrated molasses flavor—and the filling of fresh-roasted pumpkin and warm spices puts the canned stuff to shame. Get the recipe >
This genteel fall pie is a lighter and more refined version of plain old pumpkin pie, thanks to egg whites folded into the filling. Get the recipe >
As Indiana's state pie, this rich, nutmeg-dusted custard pie also goes by the name "Hoosier Pie." Get the recipe >
Shoofly pie—a molasses-filled, crumb-topped concoction from Pennsylvania Dutch country—was supposedly given its name because its shiny, sweet, and aromatic filling attracted flies that needed to be politely asked to leave. The pie, which is sprinkled with buttery crumbs that sink into the molasses and give it a cakelike consistency when baked, is classically served one of two ways: "wet bottom" (cakelike up top and still fudgy below) or "dry bottom" (cakelike throughout). To us, it was a no-brainer to stop baking when the bottommost layer remained gooey and custard-like. Get the recipe >
With a perfect balance of sweetness to acid and the flakiest-ever, all-butter crust, this fall pie recipe makes an epic dessert as well as a next-day breakfast to look forward to. Cooking the applies slightly in advance makes certain they are tender in the finished pie, and freezing the whole pie for a few minutes before baking will help it retain its shape and crimping while it bakes. Get the recipe >