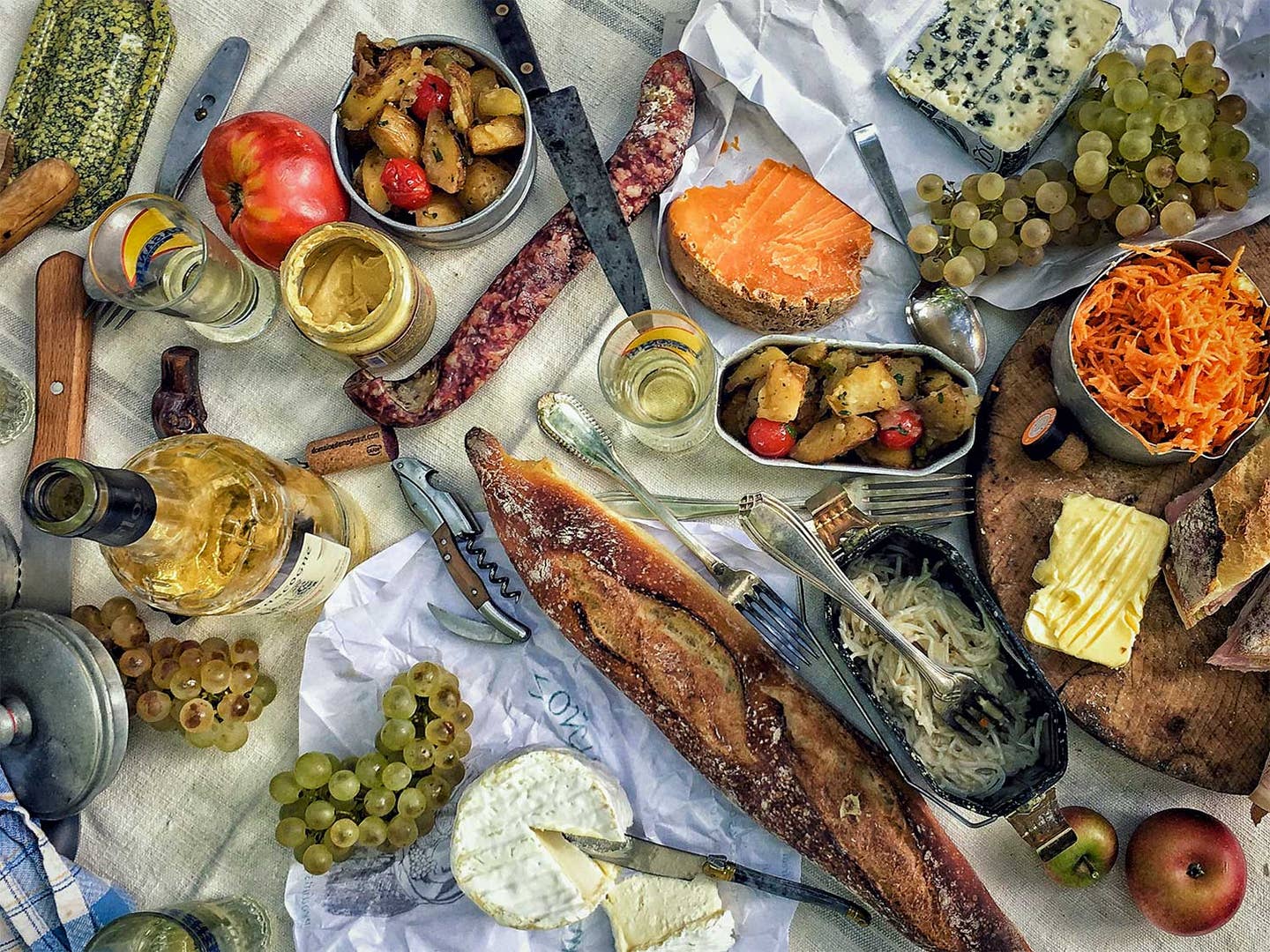 Techniques
How to Picnic Like the French
Here's the formula for a perfect pique-nique, complete with homemade baguettes and all the cheese
Start with a shady grove of trees, a soft grassy patch, and add a pond with a little rowboat. Next tip over a basket lined with grape or fig leaves, spilling peaches, cherries, and figs onto a blue brocade dress doubling as a tablecloth. A pouf of bread sits nearby. No wonder Édouard Manet's painting was quickly renamed from "Le Bain" ("The Bath") to "Le Déjeuner sur l'herbe," or "Luncheon on the Grass." While the food might have seemed like an afterthought to the formally attired men gazing at the nude, it was the start of a 19th-century French trend to romanticize the countryside and its fecundity that would continue onto Instagram today.
The bucolic but scandalous ideal of Manet's pique-nique was quickly followed by Monet, who added substantially to the spread on an actual cloth: two bottles of wine and eau-de-vie, more peaches and plums, a loaf of bread, two sturdy saucissons, a roast chicken, and a towering meat pie. By now the idea of a picnic had taken shape with the urban population. Whereas peasants might have eaten a midday meal or a casse-croûte (snack) in the field, it was the newly industrialized Parisians that defined our idea of picnicking forever. Food stylists today would find it difficult to recreate a more luscious country scene than James Tissot did with his artfully arranged crayfish and empty glass flasks.
So taking our clues from the painterly masters, what is essential to a French pique-nique today? 'Where' is important: a shady, sunny, grassy soft, rock hard, flat, tabled place near water—on a lake, along a river, by the beach. 'Who' is a group of friends and family; people we want to share our time and food with. 'When' is critical because the weather must cooperate so that even a snowshoeing trek on a sunny day can be as acceptable as a perfect May afternoon under a shady grove near a pond. 'What' might seem trivial at this point, but in fact what makes a great picnic is the obligatory tablecloth, whether red-and-white-checked or not, a basket from which all the food magically spills out, and of course, the food. Open to interpretation the food can be as simple as a loaf of bread, some cheese and charcuterie, and a bottle of wine—or elaborate as a towering meat-and-game pie and crystal goblets of Champagne.
Having picnicked my way across France, borrowing idyllic locations like a vineyard wall in Romanée-Conti in Burgundy or along the Canal du Midi by a 19th-century lock house, I know that location matters—it should be at once surprising and pleasant. I scout for a table, a stone outcropping, a well-manicured park. Next, I fill my picnic baskets, sometimes full of antique linens and silver, sometimes paper plates and beach towels, and always something delicious. The end result should be like the best Christmas presents, where more and more surprising treats are disclosed: little glass jars of anchovy-stuffed olives from the Costa Brava; a paper cone of salt-roasted pistachios to nibble on; and at least one great whole cheese to divide and share, or a wedge of deep-blue-veined Roquefort. I like to include something homemade as well, such as a fruit tart or a meat pie, but if time is short, or I am shopping on the road, a rotisserie chicken and the makings of a perfect jambon-beurre sandwich are enough.
In the year 2000, France created a 1000-kilometer-long picnic that ran down the Green Meridian from Dunkirk in Normandy to the Catalan village of Prats-de-Mollo. 600 kilometers of red-and-white tablecloths were provided by the state, and millions of people brought baguettes and wine to share with neighbors and strangers. While this sort of monumental effort might come just once in a millennium, there is something timeless about a picnic that speaks of enough hours to slow down, enjoy life, break bread, and tell a few stories under a shady tree. Here are my five essentials for le pique-nique a la français.
Where's the best bakery in your neighborhood? With high-quality bread available in so many urban areas, it's a good idea to stock a few loaves in the freezer for an impromptu outing. Planning for the weekend? Why not bake a couple four-hour loaves?
High-Fat, Cultured Butter
Buying sweet French butter in a fat wooden tub from the cheesemonger at the farmers' market is a traveler's joy. However, high-fat, cultured butter is now also available in many gourmet shops or online. Taste it on its own—it should be creamy and nutty at once, and the texture at room temperature should be soft but not melting.
A slice of beautifully cooked artisan ham is integral to a proper jambon-beurre. A traditional Jambon de Paris is essentially a barely salty, wet-cured ham. Nothing daring or fancy is needed here: my favorite jambon-beurre comes from my neighborhood bakery and calls for a thick slice of ham, an equally thick slab of butter, and a smaller seeded baguette called a ficelle. It's the ideal ratio of the three elements.
Roquefort cheese is usually in the love-it-or-hate-it category. I prefer it as a savory dessert alongside fresh fruit like a firm pear, or a bunch of muscat grapes. If you aren't sure about the tang, try making a Roquefort compound butter instead—the sweet butter mellows the sharpness of the cheese.
Apples, grapes, figs, or other perfectly ripe seasonal fruits are obligatory. The peak of the season is essential—there's no reason to bring underripe melons or last year's apples to a picnic. Be generous in your shopping habits—fruit in quantity is a luxury of the picnic season. I also look at vegetables in the same way. Fresh crudités of grated carrots and celery root, bunched radishes, and pickled vegetables complete the meal with their savory appeal and crisp textures.