Recipes
Spanish Almond Chicken with Saffron-Wine Sauce
Simmered with garlic and drizzled with smoky paprika oil, pollo en salsa de almendras is one of Iberia's great unsung comfort foods.
Serves

serves 4

Cook

1 hour 30 minutes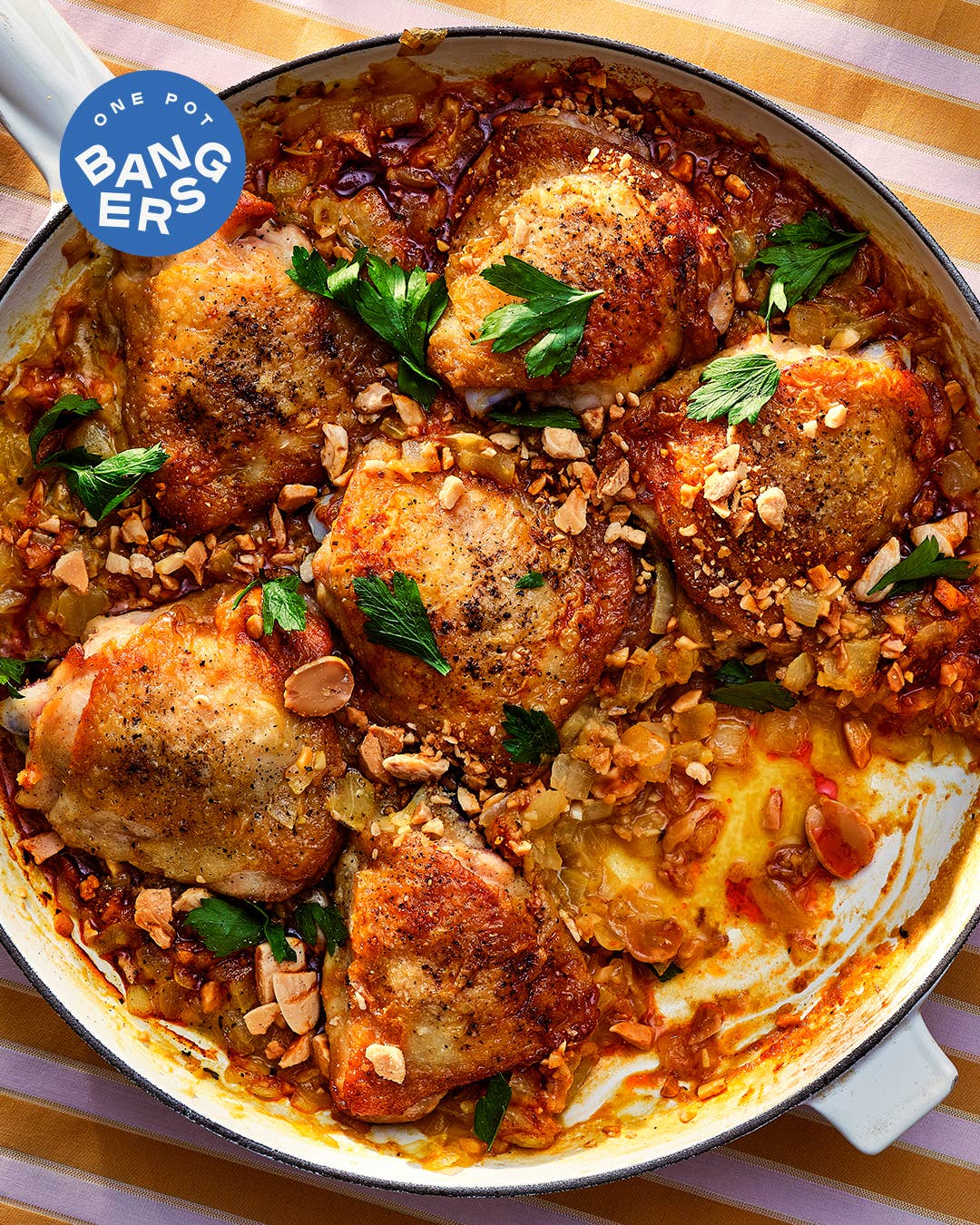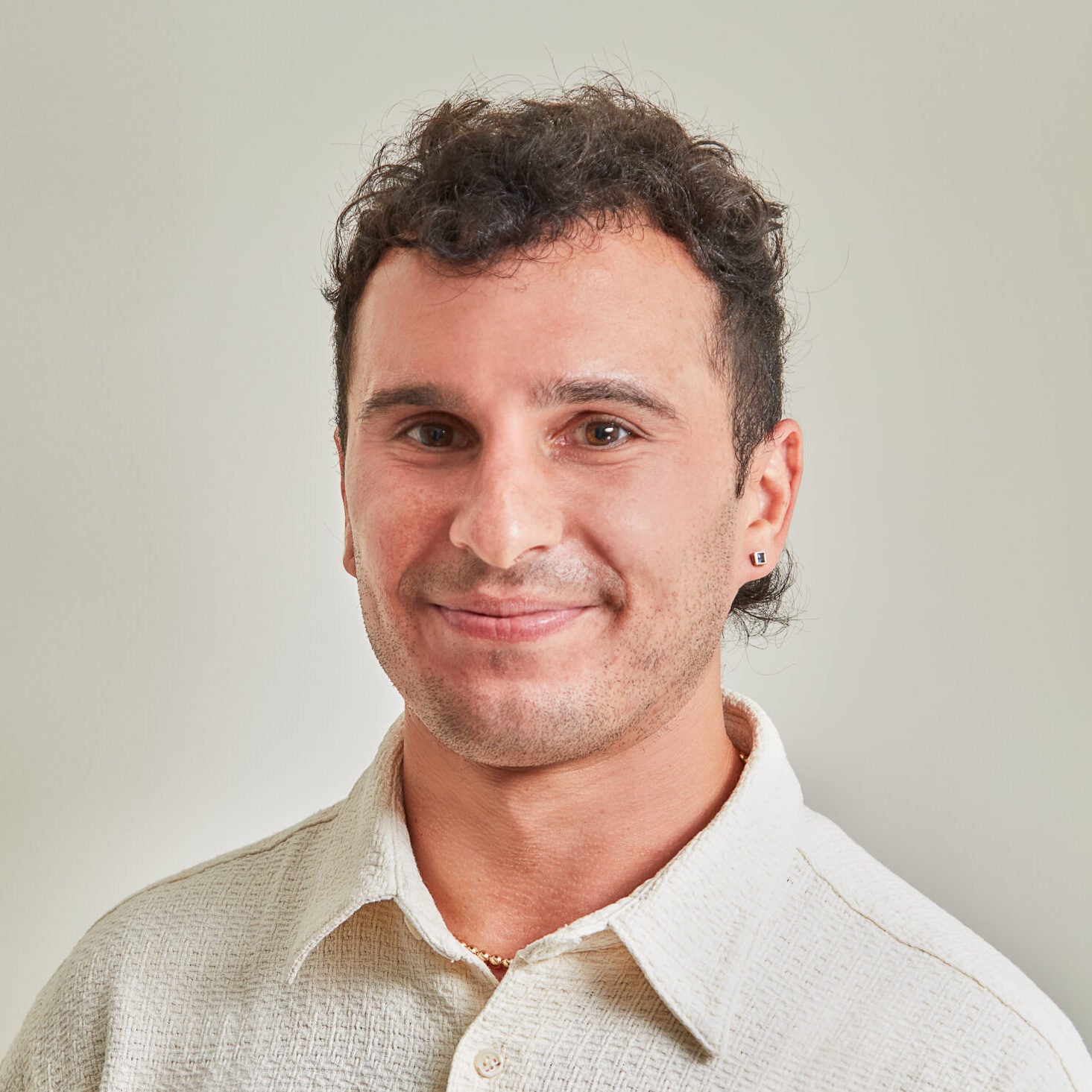 ---
Welcome to One Pot Bangers, Benjamin Kemper's column, where you'll find our freshest, boldest cooking ideas that require just one pot, skillet, or sheet pan. Busy week? We've got you covered with these low-effort, high-reward recipes from around the globe.
When I was 15, I won the lottery with a host mom in Madrid who had not only mastered the Spanish classics—tortilla española, croquetas, gazpacho, what have you—but improved upon a number of them. One such María Ángeles revamp was pollo en salsa de almendras (chicken in almond sauce), an Andalusian stew that, when done right, evokes the heady flavors of Moorish Spain: saffron, garlic, oregano, parsley.
But Spanish restaurants and tapas bars often cut corners when making the dish. They'll nix the expensive saffron, adding food coloring instead, or skimp on the (also pricey) marcona almonds in favor of bland Californian nuts. It's a recipe for mediocrity that results in a thin, gruel-like sauce with neither spice nor soul. Not so my host mom's version, which adds white wine for depth and sherry vinegar for tang. The first night she served it, I wiped the plate so clean with bread that I earned the nickname El Lavavajillas, "the dishwasher."
While the chicken and aromatics in this recipe come straight from María Ángeles' scratchpad, the pimentón oil is all me—without it, the dish goes straight to Brown Food jail. I'm all for dressing food down, but here, the crimson drizzle adds not only color but a campfire-y smokiness that knits the flavors together. Andalusian abuelas may wag their fingers at María Ángeles and me, but as M.F.K. Fisher once wrote, a good meal should "shake people from their routines, not only of meat-potatoes-gravy, but of thought, of behavior." ¡Salud! to that.
Ingredients
¼ cup plus 2 Tbsp. extra-virgin olive oil, divided
1 tsp. smoked Spanish paprika (pimentón)
3 lb. bone-in , skin-on chicken thighs, patted dry
Kosher salt and freshly ground black pepper
2 medium yellow onions, finely chopped
4 garlic cloves, finely chopped, divided
2 tsp. all-purpose flour
1 cup dry white wine
2 cups chicken stock
¼ tsp. dried oregano
Small pinch saffron threads, crumbled
10 oz. roasted salted marcona almonds (about 2 cups), finely ground, plus more, coarsely chopped, for garnish
1 Tbsp. sherry vinegar
Parsley leaves, for garnish
Instructions
Step 1
In a large skillet, stir together 2 tablespoons of the oil and the paprika. Turn the heat to medium and cook, stirring continuously, until fragrant, about 1 minute. Transfer to a jar and set aside. Wipe out the pot and return it to the stove.
Step 2
Season the chicken with salt and black pepper. Turn the heat to high and add 2 tablespoons of the oil. When it's hot and shimmering, add the chicken in batches, skin-side down and cook, turning once, until browned on both sides, about 8 minutes. Transfer to a plate.
Step 3
To the empty skillet, add the remaining oil and the onions and turn the heat to medium-high. Cook, stirring occasionally, until soft and translucent, about 12 minutes. Add three of the garlic cloves and cook until fragrant, about 1 minute more. Stir in the flour and cook until no white streaks remain, about 1 minute. Add the white wine, turn the heat to high, and cook until bubbling and thick, about 3 minutes. Gradually stir in the stock, oregano, and saffron. Add the reserved chicken and any accumulated juices and bring to a boil. Turn the heat to medium-low and cook, partially covered and turning once halfway through cooking, until the chicken is very tender, about 55 minutes.
Step 4
Stir in the almonds, vinegar, and remaining garlic and cook for 3 minutes more. Drizzle with the reserved paprika oil, sprinkle with the parsley and coarsely chopped almonds, and serve.