Our 17 Best Hanukkah Recipes for the Ultimate Fried Feast
Light the candles and the stoves.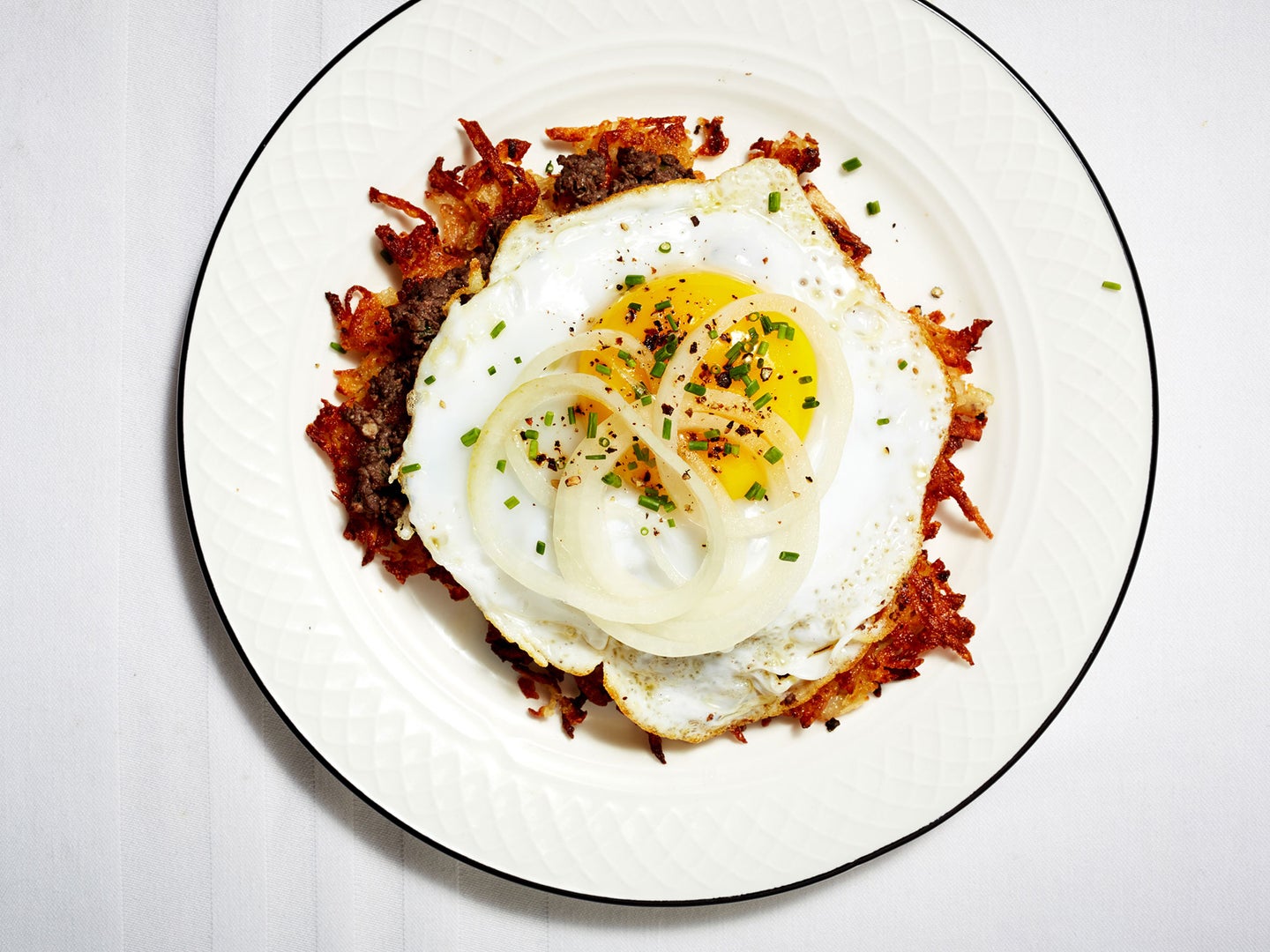 Breaking out the menorah can only mean one thing—the Jewish Festival of Lights is here! Hanukkah, which falls in late November or December, is an eight-day celebration of the victory of a small group of Jews over Syrian armies in the 2nd century BCE, and the subsequent liberation and rededication of the Temple in Jerusalem. Tradition states that when the Jews reentered their temple, a single day's supply of oil miraculously burned for eight days and nights. Because of that, it is customary to celebrate the holiday with plenty of oily—ahem, fried—foods. 
Whether you're observant or not, we're always game to break out a skillet or Fry Daddy for a few Jewish culinary specialties. Eight nights is just about enough time to make all of our favorite Hanukkah recipes, from classic latkes (topped with some chopped liver, perhaps?) to an old-school Yiddish schnitzel, to a boozy Southern riff on sufganiyot. But there's more than fried food to appreciate on this holiday. Fire up the oven for our favorite challah, kugel, and elegant rugelach, too. With our best Hanukkah recipes, we've got you covered for all eight delicious days.
Paprika lends to the burnished skin and earthy sweetness of this roast chicken, its flavor brightened with a squeeze of fresh lemon juice. Set on a bed of pearl onions, carrots, garlic, fennel, and zucchini, the vegetables soak in all the bird's juices as it roasts. Get the recipe >
These latkes are a classic for Hanukkah recipes. The grated potatoes are bound with matzo meal and egg, but the simple addition of jalapeño adds a new kick to this old Jewish classic. Get the recipe >
The use of chemical leavening—baking powder—makes chef Sara Bradely's Kentucky riff on the classic Hanukkah donut recipe quicker and easier than old-school yeasted versions, while drizzling the warm donuts with boozy orange jam eliminates the need for fiddly piping bags. Get the recipe >
Noah Bernamoff tops crispy latkes with chopped liver, fried duck eggs, and pickled onions. Get the recipe >
This sandwich is Eli Sussman's fun take on the fried chicken classic; the horseradish cream offsets the bitterness of the radicchio and the richness of the schnitzel nicely. Get the recipe >
These airy pastries have a dainty elegance due to their flakey cream cheese dough and compact crescent shape. Get the recipe >
This hearty meat and potato casserole is perfect for a filling Hanukkah main. Get the recipe >
Classic sweet rugelach get a Chinese twist with a filling of chestnuts, goji berries, and Chinese five-spice powder. Get the recipe >
Gribenes, the deeply-flavored result of cooking chicken skin and onions down in fat—a byproduct of rendering schmaltz—is perfect fodder for schmearing on this crostini from Wise Sons Jewish delicatessen in San Francisco. Get the recipe >
Learn how to make our classic latkes. Author Joan Nathan, from whom this recipe is adapted, likes hers with applesauce; we find them equally delectable with sour cream. Alternating between onion and potatoes when grating keeps the potatoes from darkening. Get the recipe >
A creamy mashed potato filling is coated in instant mashed potato flakes and potato starch before being pan-fried to a flawless golden crust. Get the recipe >
According to The 100 Most Jewish Foods author Alanna Newhouse, anyone who's frequented an American synagogue or been in the past half-century is familiar with kiddush cookies—a motley crew of sweet, pasty mounds, dabbed with chocolate or colored sprinkles—served after Saturday-morning services. This superlative version is cakey, moist, and can be made up to 5 days in advance, just in time for Hanukkah. Get the recipe >
Braised in an aromatic tomato-based broth, this traditional Jewish-style brisket tastes even better the next day, after the flavors have had more time to mingle. Get the recipe >
Fresh mint, Aleppo pepper, and cumin flavor this humble carrot salad, sweetened lightly by a dressing made with the carrots' cooking liquid, which becomes a concentrated syrup when reduced. Get the recipe >
Carrots are roasted before being topped with crunchy pistachios and a sweet fig vinaigrette in a simple salad from Eli and Max Sussman's Classic Recipes for Modern People. Get the recipe >
Avocado is an unlikely but delicious pairing for smoked whitefish, and this guacamole is a smokier, creamier spin on classic whitefish salad. Get the recipe for >
Actress and cookbook author Suzy Palatin adapted the traditional Belgian method of making frites to land on this superlative potato recipe, which she serves to her chef friends at dinner parties in Paris. The technique involves a double fry—the first to cook the frites through, the second to turn them golden brown. Get the recipe >