Recipes
Our Favorite Indian Dessert Recipes
Here are the sweetest bites to help you celebrate Diwali or cap off your next dinner party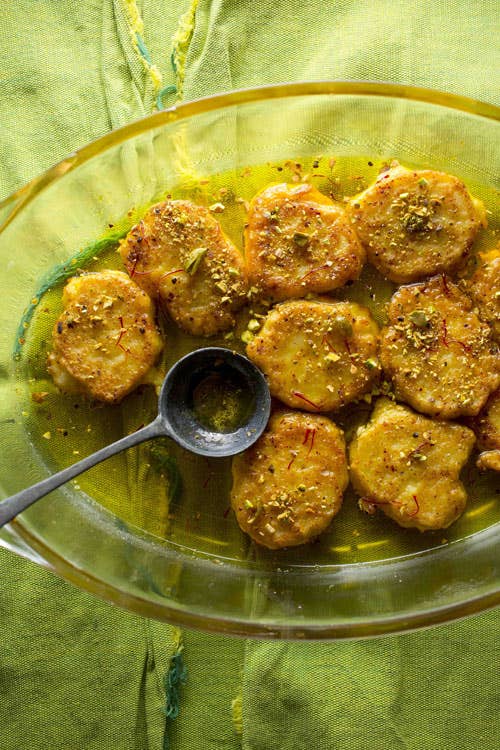 India is renowned for its sweets, or mithai in Hindi-Urdu. Indian desserts, like much of the vast South Asian country's cuisine, vary from region to region, with coconut proving especially popular throughout the tropical south. Take, for example, Goa's rosewater-scented, coconut-and-semolina cake, called baath. In the eastern region of West Bengal (as well as in Bangladesh, just across the border), palm jaggery is incorporated into dense, fudgy sandesh, made from cardamom-scented paneer. And in the central-northern regions—heavily influenced by the Persian techniques and ingredients introduced during the Mughal Empire—elegant court treats like vibrant saffron toast are frequently blinged out with silver leaf.
Though not considered dessert in India, the banana fritters and rice porridges traditionally offered up to the Hindu goddess Attukal Amal during Kerala's Attukal Pongala festival are certainly sugary enough for you to serve after dinner—they make a good breakfast, too.
So whether you're looking for a sweet way to start your day or end a meal, our best Indian dessert recipes make it easy to incorporate the flavors of this complex nation.
Kheer (Indian Rice Pudding)
Fried Banana and Rice Flour Balls (Unniyappam)
Ricotta Pancakes in Cardamom Syrup (Malpura)
Tamil-Style Sweet Rice Pudding
Steamed Cardamom-Spiced Rice Flour Balls (Mandaputtu)
Sevaya Kheer (Vermicelli Milk Pudding)
Punjabi-Style Carrot Pudding (Gajar ka Halwa)
Spiced Indian Cake Balls (Roti Laddu)
Sweet Yogurt with Saffron and Pistachios (Shrikhand)
Shahi Tukra (Royal Toast)
Indian Sweet Coconut Porridge (Pongala)