The Best Asian Salads to Upgrade Your Lunch Routine
Soy sauce and rice vinegar everywhere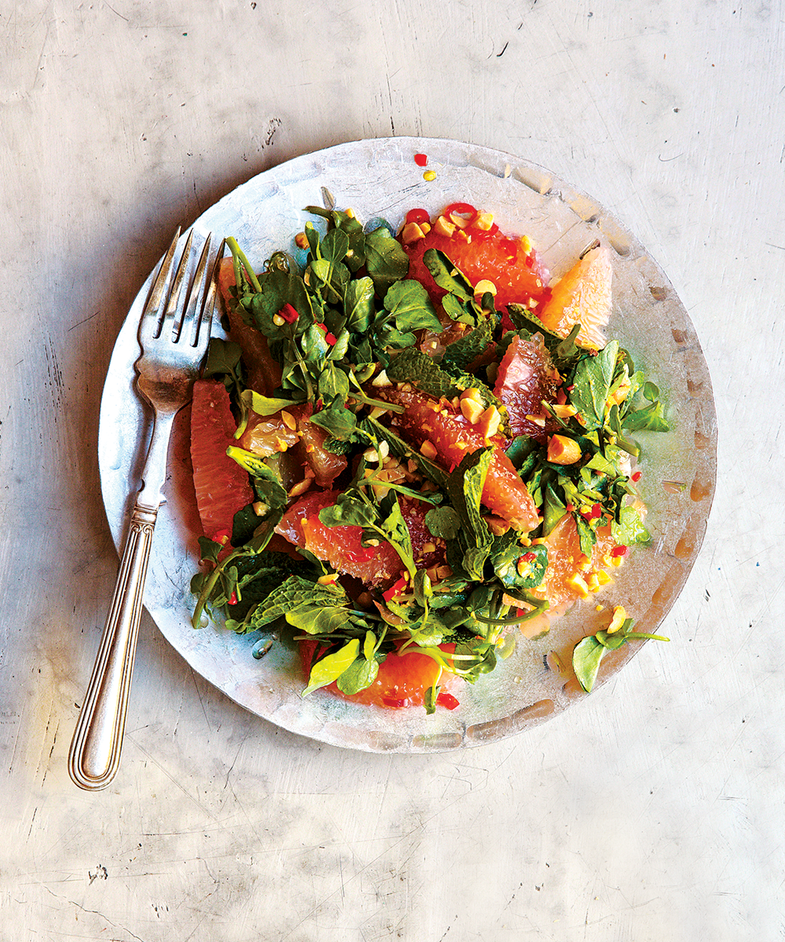 Getting tired of your basic kale salad? Upgrade your weekday lunch routine with easy salad recipes inspired by a world of Asian cuisines.
Making a salad doesn't ever have to be boring. Get creative with Asian ingredients—for example, adding Thai spices to sardines tones down the fishiness while tossing some chilis with diced cucumbers spices up the vegetable for a salad that's perfect for summer.
From seaweed salad with orange and macadamia nuts to a spinach and tofu salad with peanut-miso dressing, here are the best Asian salad recipes to try today.
Due to its long, cold winters and hot, dry summers, Xinjiang is not renowned for its vegetable dishes, but fast-growing produce like spinach and cilantro often make it to the table during the brief respites between seasons. This refreshing salad is a perfect to accompaniment to fatty grilled meats. Use the most delicate cilantro you can find, so the stems can be eaten along with the leaves. Get the recipe for Cilantro and Peanut Salad (Huāshēngmĭ bàn xiāngcài) »
Instead of the cookout-classic pasta salad, serve this refreshing Asian noodle dish zipped up with crunchy vegetables. Get the recipe for Soba Salad with Marinated Cucumber and Ponzu »
Chef Josita Hartanto of Berlin's Lucky Leek mixes three marinated seaweeds with sweet caramelized mushrooms, steamed vinegary rice, and crisp toasted nori in this vegan rice bowl. All of the seaweeds used here can be found online so search them out, as they each contribute a different texture and taste to this salad. Get the recipe for Seaweed Salad with Orange and Macadamia Nuts »
Matchstick ribbons of zucchini and carrot mingle with grassy, fresh herbs, and roasted peanuts in this salad inspired by the flavors of Thailand. A pungent, savory, tart dressing brings the dish together. Get the recipe for Spicy Thai-Style Zucchini Carrot Salad »
This salad makes for perfect drinking food, best with sips of lightweight Asian lager or a gin and tonic. Lightly smashing cucumbers with a rolling pin helps them soak up a tangy, spicy marinade of vinegar, chile flakes, and mouth-numbing Sichuan peppercorns. Get the recipe for Spicy Cucumber Salad »
In this offbeat slaw, raw red cabbage adds a textural contrast to the grilled green cabbage, and a zippy, spicy-sweet-salty dressing goes well with the charred bits. Get the recipe for Charred Cabbage Slaw »
Combining sardines with Thai spices moves the flavor away from purely fishy in this sweet and spicy salad. Get the recipe for Sardine and Lemongrass Salad »
This refreshing salad of soba noodles tossed with winter greens and mixed vegetables is brought together by a tart dressing of miso, ginger juice, and lemon. Get the recipe for Soba Salad with Lemon-Miso Vinaigrette »
Tofu adds creaminess to this spare salad of spinach dressed with peanut butter and red miso paste. Get the recipe for Spinach and Tofu Salad with Peanut–Miso Dressing »
In Okinawa, mozuku seaweed is eaten simply dressed with vinegar and soy sauce in this small appetizer. Get the recipe for Marinated Mozuku Seaweed with Cucumber »
At Seattle's Little Uncle, chefs Poncharee Kounpungchart and Wiley Frank dehydrate Oregon bay shrimp and crush them into a green papaya salad, where the crustaceans amp up the umami flavor. Get the recipe for Thai Green Papaya Salad (Som Tum) »
Sweet pomelo pairs beautifully with chiles, peanuts, and mint in this recipe for a classic Thai salad from Talde in Brooklyn, New York. Get the recipe for Thai Pomelo Salad (Dtam Som Oo) »
Peppery watercress, nutty sesame seeds, and earthy Korean chile flakes are brought together with an easy lemon vinaigrette in this wonderful cold-weather salad. Get the recipe for Watercress with Spicy Chile and Sesame Vinaigrette »
Crisp-tender Chinese long beans pair with silky tofu and an umami-rich dressing for this simple chilled salad from chef Matt Wilkinson. Get the recipe for Tofu, Long Bean, and Crispy Shallot Vinaigrette with Black Bean Vinaigrette »
This recipe calls specifically for gyokuro, a premium Japanese tea that, unlike other green varieties, retains plenty of their flavor after repeated steepings. We recommend the Kanro gyokuro from Ippodo for this salad, which uses the tea leaves left over from one serving of tea and flavors them with soy sauce and sesame oil. Get the recipe for Japanese Tea Leaf Salad »
These tender pork meatballs in a savory broth are served family-style with thin rice noodles, crisp lettuce, and fresh herbs. Get the recipe for Vietnamese Pork Meatball and Noodle Salad (Bun Cha) »
Unripened mangoes are julienned and combined with chiles, garlic, and shallots to form the base of one of our favorite Southeast Asian salads,a refreshing adaptation of the more widely known version made with papaya. Get the recipe for Thai Green Mango Salad (Som Tum Mamuang) »