Our Best Stuffed Pasta Recipes Because It's What's On The Inside That Counts
Fill up on fillings with our best stuffed pasta recipes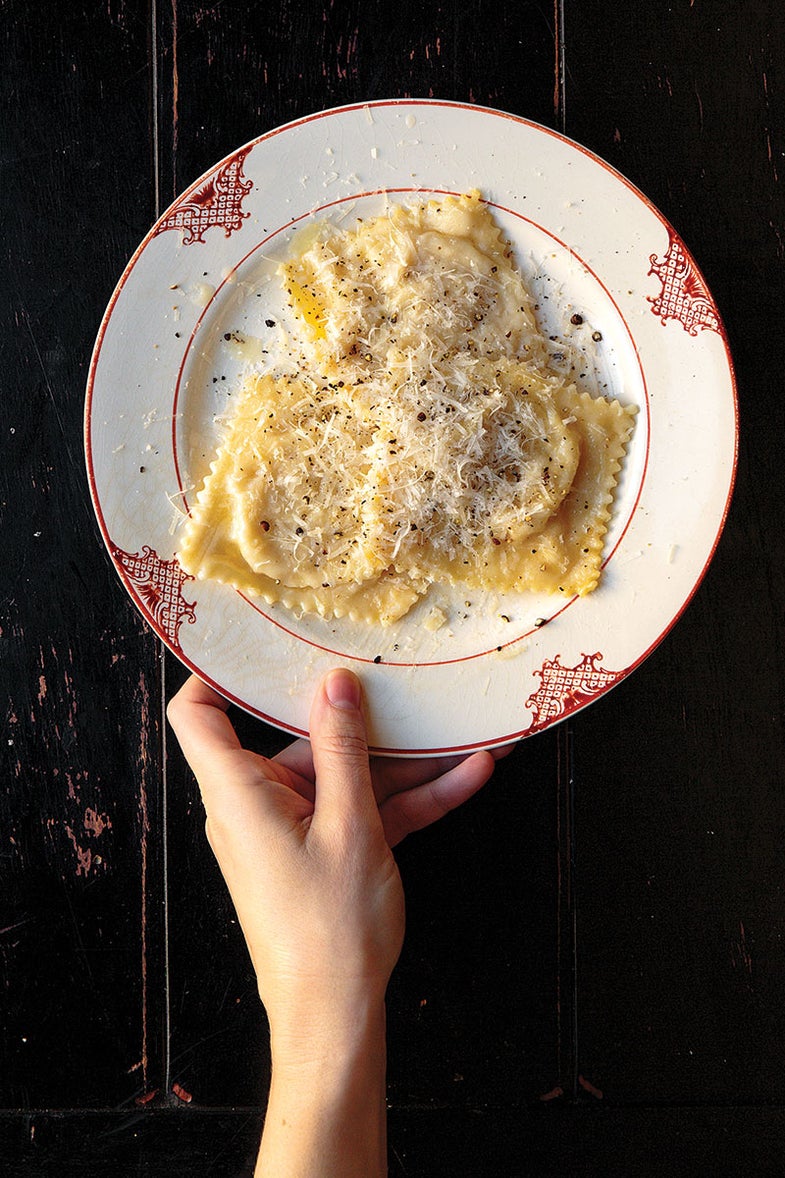 Sure, you could twirl your way to happiness with linguini and fettuccine, but there's an elemental delight to hot pockets of stuffed pasta.
There are certain techniques to master (and perhaps some tools to buy) when making the perfect stuffed pasta. But once you've got the basics down, you've unlocked a world of excellent essential pastas that range from meaty fall dinners to vegetarian-friendly classics.
Ready to start tackling tortellini, balanzoni, and more? From fried ravioli to cazini with lamb ragu, here are our very best stuffed pasta recipes.
Nothing says love like homemade pasta. Lidia Bastianich's recipe mixes tender, sweet Bartlett pears with sharp pecorino and creamy mascarpone to make a rich filling for ravioli. Get the recipe for Pear and Cheese Ravioli (Cacio e Pere) »
These giant fried ravioli are filled with a cheesy mixture of broccoli rabe, sausage, and cherry peppers. Get the recipe for Broccoli Rabe and Italian Sausage Fried Ravioli »
This ravioli-like stuffed pasta is filled with a mix of chicken, spinach, mushrooms, and garlic. Get the recipe for Agnolotti »
These fresh tortellini are made from a mixture of all-purpose flour and subtly sweet chestnut flour, then stuffed with pungent, savory chestnut purée and fluffy ricotta. Resting the dough overnight gives the tortellini a saturated brown color and deep, complex flavor. Get the recipe for Chestnut Tortellini with Shallots and Sage Sauce »
Funke uses a wheeled cutter to make even squares and a piping bag for the mortadella-and-cheese filling, but the perfect shape of these balanzoni? It's all in the fingers. Get the recipe for Spinach Balanzoni With Brown Butter and Sage »
"It's a common misconception that tortelli and tortellini are the same," chef Evan Funke of Felix in Los Angeles says. Unlike round tortellini, tortelli (the proper name for these ravioli-like stuffed pastas) are squares or rectangles simply folded over a filling and sealed. This is a thicker dough and more toothsome, too. A classic autumn condimento is a porcini mushroom sauce. "When it's mushroom season in Italy, you eat porcini until you're blue in the face," says Funke. Get the recipe for Potato and Cheese Tortelli with Porcini Mushrooms »
From the tortelli family, anzelottos are rectangles often with ridged edges. "They're made with a thicker, bright white dough of plain semola flour and hot water, which penetrates the proteins in the rustic flour more easily," chef Evan Funke of Felix in Los Angeles says. "The filling is similarly meager—classically sheep's milk ricotta and dandelion, borage, or whatever greens you could find." And the typical sauce is a humble lightly cooked tomato purée. But the homemade dough and quality ingredients still add up to tons of flavor. Top them with plenty of Pecorino Fiore Sardo, a nutty, lightly smoky, aged sheep's milk cheese from Sardinia. Get the recipe for Swiss Chard Anzelottos with Pomodoro Sauce »
Cazini, half-moons plump with slightly sweet ricotta filling, are balanced by the rosemary, sage, and chile of a lamb ragù. Get the recipe for Cazini with Lamb Ragù »
Homemade ravioli is a great weekend project recipe. Make them on a Sunday and freeze them for the week ahead; you can pop them directly in the boiling water from the freezer—they'll just need an extra minute or so to cook. Get the recipe for Spring Pea Ravioli with Prosciutto & Pea Shoots »