Smoked Cheese, Duck Confit, and 13 More Ways to Make Fall Comfort Food a Real Treat
Put that Provençal squash soup on simmer.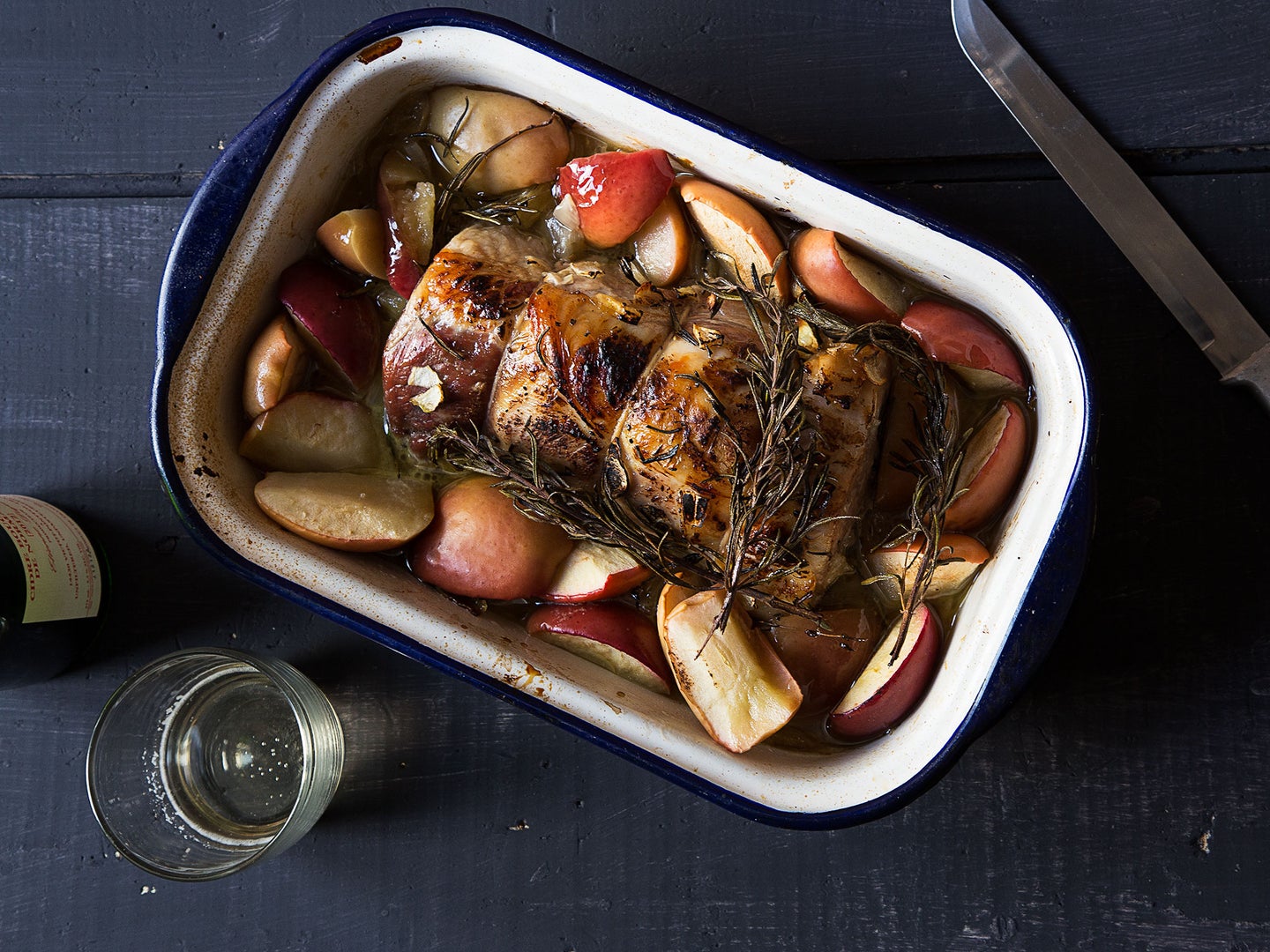 When your potato stash calls more for au gratin than summery salads, you know fall has arrived. Beyond the standard comfort food dishes (see our twist on the classic mac and cheese below), we're looking to the mountains of Ukraine, the shores of Chile, and other regions around the world where home cooks are seasoned pros at elevating humble root veg and simple pasta into memorable meals you'll want to make on repeat until spring arrives. Another reason to welcome that autumn chill? Pies are the vessel for celebrating that last crop of apples and pumpkins.
Traveling through the lower reaches of Gascony, you will be offered a steaming bowl of garbure to begin almost every lunch and dinner. Get the recipe for Hearty Vegetable Stew with Duck Confit and Cabbage (Garbure Gasconne) »
In Crete, boureki is a rich, layered dish typically consisting of potatoes and squash, often topped with a generous amount of cheese before baking. Boureki may be eaten at room temperature, but it is especially irresistible when the cheese is still warm. Get the recipe for Layered Pumpkin and Cheese Gratin Squares (Boureki) »
This soup is a meal in and of itself, full of lots of vegetables, chickpeas, and pasta. Get the recipe for Chickpea and Pasta Soup »
The late Lulu Peyraud explained, in Richard Olney's 1994 cookbook, Lulu's Provençal Table, that "just enough potato to give a little body to the soup, lots of celery to season the squash—no other herbs except for the parsley at the last minute… But I forgot to say that, instead of parsley, this soup is wonderful finished with chopped fresh mint." Get the recipe for Squash Soup (Soupe de Courge) »
In Ossetia these pies are traditionally served three at a time—sometimes round, sometimes triangular, each with a different filling and meant to represent fire, water, and earth—most definitely an ancient tradition, originating in paganism. Get the recipe for Ossetian Beet Top and Cheese Pies »
Pope John Paul II loved this pizza, which features shoulder season produce: Summer and winter squash, bell peppers, and melty, smoky mozzarella. Get the recipe for Butternut Squash and Smoked Mozzarella Pizza »
This sweet potato casserole is an especially festive, over-the-top take on the Thanksgiving classic, topped with a crisp pecan crumble and dotted with marshmallows. Get the recipe for Sweet Potato Casserole with Pecan Crumble »
Nothing says love like homemade pasta. Lidia Bastianich's recipe mixes tender, sweet Bartlett pears with sharp pecorino and creamy mascarpone to make a rich filling for ravioli. Get the recipe for Pear and Cheese Ravioli (Cacio e Pere) »
No rolling pin required for this easy, flavorful pie crust! Simply toss together oats with pumpkin seeds, warm spices, butter, and a touch of whole-wheat flour. Get the recipe for Easy Pumpkin Pie with Press-In Oat Crust »
Fresh apples plus hard cider give this easy mac and cheese a double dose of fall flavors. Get the recipe for Apple & Sausage Macaroni and Cheese »
In Armenia and other nearby Middle Eastern countries, dolma refers to a family of stuffed vegetable dishes, most often wrapped in grape or cabbage leaves. You can use this same meat-and-rice filling—and a similar steaming technique—to hollow out and stuff zucchini, eggplant, tomatoes, or peppers. Get the recipe for Armenian Stuffed Cabbage (Dolmas) »
Known as chupe de centolla, this Chilean crab gratin borders on a cheesy crab dip. While similar South American chupe are always prepared with milk-soaked bread and any combination of shrimp, scallops, shellfish, meats, and cheeses, Patagonia's version relies solely on the massive local king crabs, the hallmark of fishermen's kitchens along Chile's southernmost coast. Get the recipe for The Ultimate Crab Dip »
Soft apples with a hint of tartness balance a bittersweet caramelized crust, spurred on by rich dulce de leche. Get the recipe for Giant Apple and Dulce de Leche Pancake »
To Filipinos, few things taste more like home than arroz caldo. Based on Chinese congee, this rice porridge relies on an easy, flavorful stock that is melded with rice until creamy and rich. Get the recipe for Filipino Rice Porridge with Chicken and Ginger (Arroz Caldo) »
Normans use apples and cider in many savory preparations—with game, poultry, even fish. For this classic pork dish, Jean-François Guillouet-Huard of Domaine Michel Huard, suggests a dry, French-style cider. Get the recipe for Honey Glazed Roast Pork with Apples »
When we received a delivery of wild mushrooms from NYC-based forager Tama Matsuoka Wong, our Test Kitchen team set out to make something simple but exciting, something you could make with any sort of wild mushroom you might find at the market or on your own foraging trip. Get the recipe for Roasted Mushrooms with Chile-Lemon Oil »