Keep Your Cool With These Thirteen Frozen Cocktails
Bring on the blender drinks.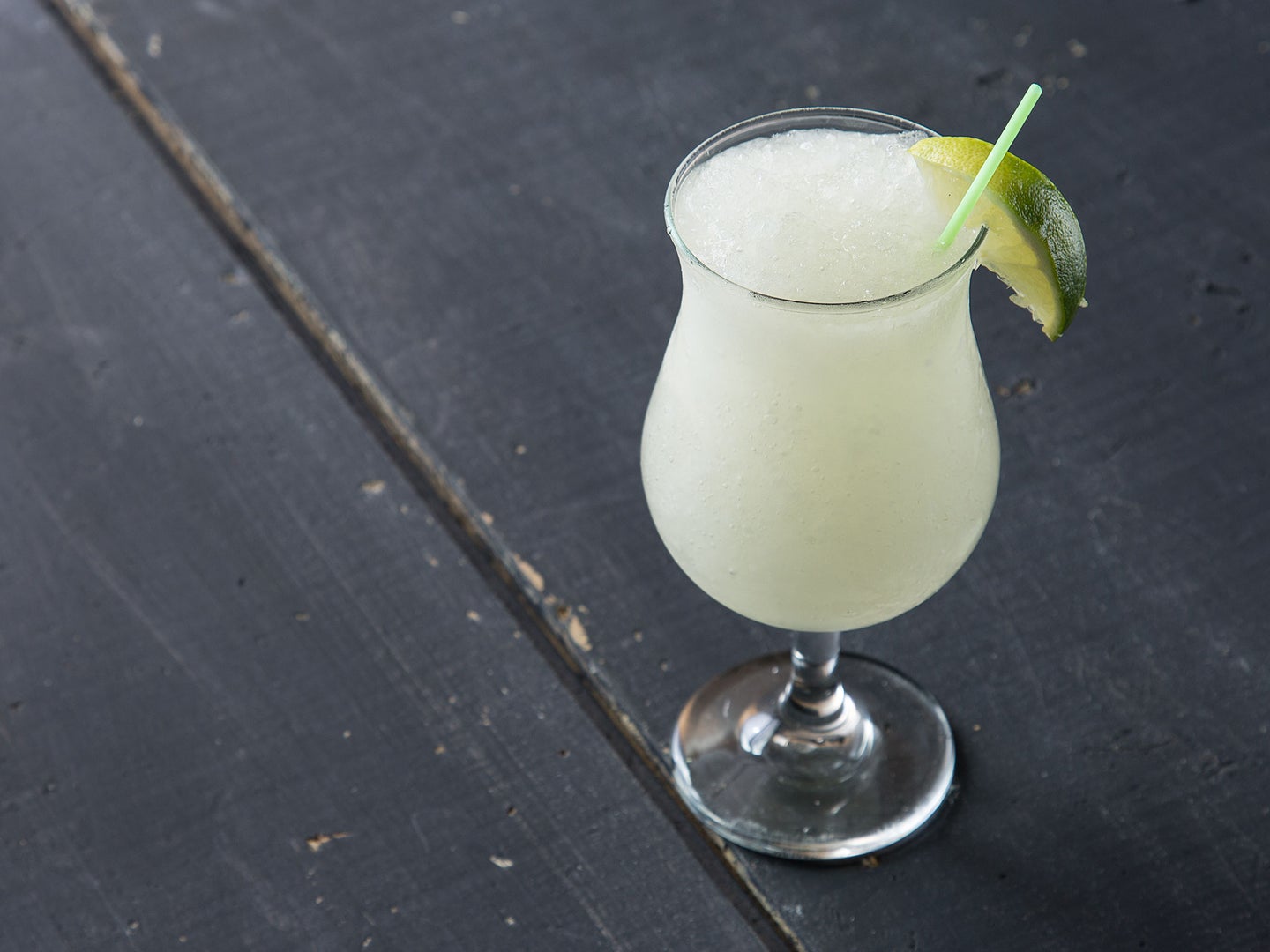 Nothing's more refreshing than a cold drink on a hot day. But when the temperature starts to rise, sometimes ice cubes just aren't enough. Thankfully, frozen cocktails are inherently  batchable, so you can spend less time fiddling with the refills this summer and focus on relaxing over those frosty beverages.
The name of the game is working smarter. When American inventor Mariano Martinez figured out how to make frozen margaritas using a soft serve ice cream machine, it changed the cocktail game forever. Thankfully, for the home bartender, the ol' Tex-Mex classic doesn't actually require any special equipment beyond a decent blender. Simply combine tequila or mezcal with ice, limeade, and a hit of fresh lime juice and let the crusher rip.
Tiki-style drinks favor fruit-forward flavors that channel the tropics.  Feel free to add fresh ingredients like berries and bananas directly to the blender—just be sure to save a slice or two for garnishing the glass. 
So trade your beach umbrella for a paper one, because the drinks are served.
In 1971, American inventor Mariano Martinez figured out how to make frozen margaritas from a soft serve ice cream machine—the rest is history. We recommend using Herradura Silver Tequila for this refreshing variation. Get the recipe for Frozen Margarita »
The ultimate vacation drink, this rum-based pineapple cocktail is enriched with cream of coconut and half-and-half. Get the recipe for Frozen Piña Colada »
A fruity frozen daiquiri becomes dessert-like with the addition of heavy cream. Get the recipe for Beach Towel »
Canned frozen limeade intensifies the citrus flavor of this slushy Mexican-inspired libation. Get the recipe for Frozen Limeade Margarita »
This refreshing frozen drink from Williamsburg, Brooklyn's Baby's All Right gets its baby pink color and pleasant bitterness from a combination of Campari and fresh grapefruit juice, while a pinch of finely ground yerba maté adds subtle herbal flavor and a gentle caffeine kick—the perfect fuel for a night of revelry. Get the recipe for The Pink Baby »
Sgroppino, a slushy combination of lemon sorbet, vodka, and prosecco, is common in Italy as a palate cleanser, a dessert, or a pre-dinner drink. This recipe calls for the ingredients to be whisked together to create a chilly, frothy libation. Get the recipe for Sgroppino »
Cinnamon adds warm spice to this frosty treat made with puréed pineapple. Get the recipe for Pineapple Express »
Agricole rum, made from fresh sugarcane, adds rich flavor to this frozen drink. Get the recipe for Blackberry Blast »
This legendary margarita comes from bartender Ruben Bernal at Las Carnarias restaurant in San Antonio. Get the recipe for Prickly Pear Margarita »
A classic Peruvian cocktail gets the freezer treatment. Made with the South American grape brandy that's popular in Chile and Peru, the pisco sour makes for a salty, sweet, tart, and beautiful sorbet. Get the recipe for Pisco Sour Slushy »
This rose-hued variation on a grasshopper—the classic boozy chocolate–mint milkshake—trades crème de menthe for almond-flavored crème de noya. Get the recipe for Pink Squirrel »
Punch Romaine, a rum-spiked shaved-ice palate cleanser served to first class passengers during the fateful last dinner aboard the Titanic on April 14th, 1912, was based on a recipe from famed French chef Georges Auguste Escoffier, who championed alcoholic shaved ices during the early twentieth century. The original recipe, essentially a granita, is updated here as a drinkable, citrusy cocktail poured over an iceberg of crushed ice. Get the recipe for Punch Romaine »
The recipe for this icy take on a bloody mary is based on one in the classic Esquire Drink Book (Harper and Row, 1956). Get the recipe for Frozen Bloody Mary »