31 Excellent Bottles to Stock a Better Home Bar in 2020
This holiday season, give the gift of a good drink with our guide to the best spirits, amari, and other home bar essentials.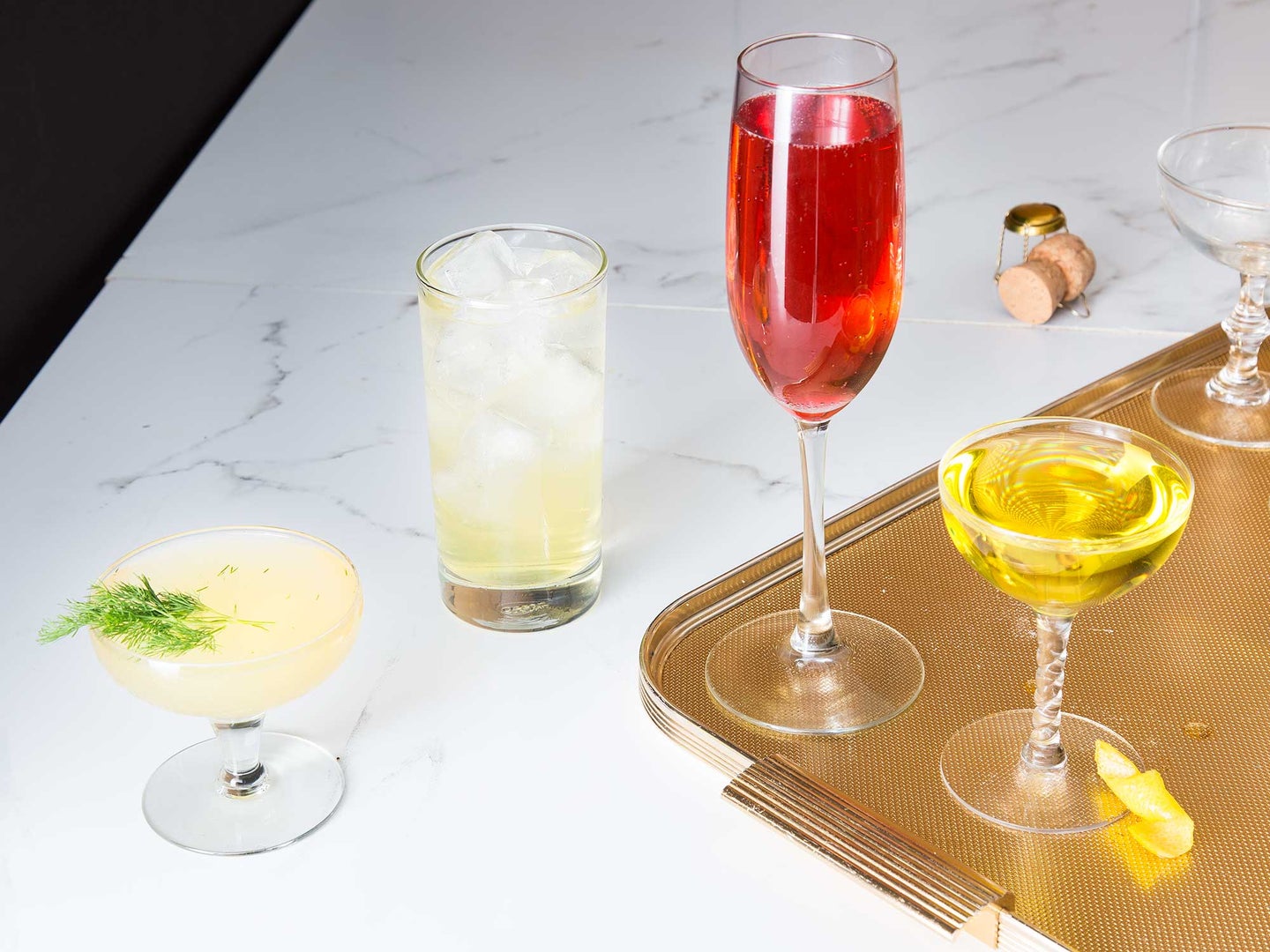 If 2020 has driven you to drink, you're not alone. With online liquor sales soaring, it seems that more people than ever are drinking at home. And in light of the unprecedented amount of time we've spent cooped up during lockdown, the "home mixology movement" is now a bona fide trend.
While there's no single "right" way to shop a booze collection, purchasing bottles by category and by cocktail is an efficient method. Say, for example, you're shopping for a whiskey fan. Consider gifting a bourbon, which will unlock hundreds of whiskey-based cocktails from an old fashioned to a gold rush. Does a family member adore spritz-style cocktails? Think outside the Aperol with new-school amari and fortified wines they're sure to love.
From the basic setup of vodka, gin, tequila, rum, and whiskey to the wondrous herbal flavors of amari and several specialty sippers, here's the ultimate home bar gift guide.
The Spirited Essentials (Under $50)
For new home bartenders, start with the elemental building blocks of classic cocktails: vodka for a Moscow mule, gin for a martini, rum for a daiquiri. Our recommendations for essentials—including time-honored bartender favorites as well as some exciting 2020 newcomers—all come in under $50.
Gin: Sipsmith London Dry Gin
For a standout take on a classic London dry, look to Sipsmith, the brand that opened doors for all British craft spirits distillers by lobbying the government to license stills with less than 1,800-liter capacity. Inspired by the long history of British gin distillation dating back to 17th century prototypical juniper spirits, Sipsmith's juniper-forward London Dry features 10 key botanicals that were deemed most emblematic of the style. Use it in any gin cocktail, from a fancy G&T garnished with lemon peel to a tart but refreshing gimlet.
Vodka: Absolut Elyx
Elyx, the fancified version of the classic Absolut Vodka, is crafted using single-estate Swedish winter wheat and distilled in a 1921 copper column for a supremely silky finish. Whether knocked back on ice or stirred (never shaken) into an ice-cold martini, this vodka is a definite crowd pleaser. Plus, the Absolut Elyx Boutique has some of the best merch in the industry—including copper punch bowls, julep cups, and bar spoons—to accompany the signature copper-accented bottle.
Blanco Tequila: Mijenta Tequila Blanco
Launched earlier this year to much fanfare, Mijenta is a new sustainable tequila from Jalisco, Mexico. Leveraging 25 years of industry experience—during which she notably launched Volcan de Mi Tierra tequila—maestra tequilera Ana Maria Romero has created a premium, clear agave spirit, rich with notes of honey, vanilla, and tropical fruit and a lush finish. Priced on the higher end at $50 a bottle, this blanco tequila is best enjoyed sans mixer or used in cocktails where the spirit can shine through, like a Mexican variation on the old-fashioned that swaps tequila for the usual bourbon and mole bitters for Angostura.
Mezcal (Smoky): Sombra Espadín
With the continued popularity of agave spirits, it's commonplace now for home bars to stock a smoky, savory mezcal. Produced in Oaxaca's Rio Hormiga Colorado Valley by veteran winemaker and master sommelier Richard Betts, the award-winning Sombra Mezcal certainly fits the bill. The smoke-forward spirit is made using Espadín agave piñas fermented with wild yeast and double-distilled in a copper alembic still. The company is looking out for the community, too: Sombra provides funding for local education programs and environmental charities, and has upcycled spent agave fibers to help construct houses for local folks affected by earthquakes in the region.
Mezcal (Mild): Yola Joven Mezcal
Founded by Yola Jimenez, Gina Correll Aglietti, and indie-pop singer Lykke Li, this sustainable mezcal brand sources espadín and madre cuixe agaves from an Oaxacan farm that Jimenez's grandfather purchased in 1971. With a commitment to paying Mexican workers a fair wage, Yola exclusively hires women at its bottling facility in Oaxaca. The mezcal's floral nose gives way to a palate full of citrus and juniper.
White Rum: Probitas White Blended Rum
Produced with mixology in mind, this new flavorful white rum represents a collaboration between two of the Caribbean's foremost producers: Hampden Estate in Jamaica and Foursquare Distillery in Barbados. Fusing aged and unaged rums, distilled in a mix of columns and pot stills, Probitas offers accents of banana, citrus, and molasses, making it ideal in fresh lime daiquiris, mojitos, and more.
Dark Rum: Diplomatico Reserva Exclusiva
This amber-toned Venezuelan stunner uses spirits aged up to 12 years, distilled from molasses in a copper pot still. With a robust profile of tropical fruit, toffee, and vanilla—rounded out by a finish of bitter orange and dark chocolate—the Reserva Exclusiva is as appropriate for sipping as it is for upgrading any rum recipe, from a piña colada to a Dark 'n Stormy.
Cognac: Deau Cognac VS
To whip up a classic Sazerac, sidecar, or Vieux Carré, you'll need a solid cognac on hand. Produced using the traditional Charentais method, this small-batch cognac offers a silky body and subtle sweetness layered with a fresh floral aroma and finished with hints of vanilla. What's interesting about this particular VS ("very special" blend) is that it sips like an older brandy, making it ideal for drinking straight, or for shaking and stirring up any of the aforementioned cocktails.
Bourbon: Wild Turkey 101
Want a solid old-fashioned? Make it with Wild Turkey 101. One of the best-value everyday bourbons at just $25, the 101 touts big flavor thanks to its high proof, high rye content—and plenty of time in American white oak barrels. Find the requisite notes of vanilla and caramel accented by honey, citrus, and charred oak. A bit of time on ice allows this whiskey to open up to its full potential.
Rye: Rittenhouse Rye
For a tried-and-true rye whiskey that can take the place of bourbon in old-fashioneds or spice up a Manhattan, choose Rittenhouse. The bottle can be found in the well of most high-end bars—and for good reason: its artful balance of grain and spice allows it to anchor any cocktail.
The Conversation Pieces
For those who already have a working bottle collection, it's worth gifting new, lesser-known expressions to add intrigue and personality to the home bar. We recommend looking for non-traditional vodkas and gins, along with aged tequilas and rums. Also, consider spirits that sometimes get overlooked in home setups, like Dutch genever and Brazilian cachaça.
Vodka: Caledonia Spirits Barr Hill Vodka
Paying homage to the beekeepers of the Northeast, this unique terroir-driven vodka is made by cold-fermenting raw Vermont honey for three weeks, then distilling it—using both column and pot stills—into a lusciously silky spirit. The honey is surprisingly noticeable on the nose, succeeded by a palate of pleasantly earthy sweetness that is sure to make you reconsider what you think you know about vodka.
Gin: Salcombe Gin Rosé Sainte Marie
Inspired by the south of France, this pleasantly fresh gin is crafted using citrus peels, lemon verbena, rose petals, and orange blossom. A standout among the trendy, flavored gins on the market today, it's also got sweetness from strawberries and angelica root. Dry and juniper-y enough to appease traditionalists, yet distinctly floral, fruity, and citrusy enough to entice the adventurous, Salcombe is as fantastic paired with a tonic as it is shaken with citrus.
Gin: Freeland Spirits Geneva
Inspired and informed by the Dutch mother spirit and gin predecessor genever, this gin from the Pacific Northwest embraces local terroir with Oregon-grown rye grain distilled with seven botanicals in a copper pot still. There's not much like this on the market: an American gin with aromas of fresh baked bread and a palate of buckwheat and hazelnut.
Tequila: Maestro Dobel Tequila Añejo
A favorite in the SAVEUR office, this añejo tequila might be described as having a Dr Pepper–like quality—but in the very best way—with hints of prune, vanilla, and orange peel brightening up a powerful backbone of oak and caramel. A combination of different tequila vintages aged in white oak barrels, this is a slow sipper for sure.
Cachaça: Caña Classic Cachaça
With grassy flavors and a distinctly tropical profile, rum's Brazilian cousin cachaça is believed to be Latin America's oldest distilled beverage. Created by second-generation producer and master blender Vicente Ribeiro, Caña is a newcomer to the sugarcane spirits category. Thrice-distilled and filtered through coconut husk charcoal for a clean, elegant flavor, the spirit offers floral and fruit notes that gracefully give way to a subtly honeyed finish. Use it in Brazil's time-honored caipirinha cocktail or a cachaça-based julep riff.
Rum: Pusser's Gunpowder Proof Black Label
Enjoy notes of prunes, dates, and dried fruit in this dark, full-bodied rum that's produced using a traditional Admiralty-strength recipe once favored by the Royal Navy. Boasting a dedicated following among in-the-know rum drinkers (and anyone interested in mixing up an authentic Painkiller cocktail), Pusser's invites with the warming aroma of molasses, vanilla, oak, and cinnamon—a must-have for those who are diving into the world of cane spirits.
Rum: Chairman's Reserve Spiced Rum
This St Lucian rum makes for a pleasant holiday gift partly because it tastes like Christmas—that is, if Christmas was bottled in the Caribbean. Citrus meets cinnamon in the warm, spice-forward palate, which also offers flavors of clove and allspice. Sip it straight or use it to spice up any rum recipe.
Tennessee Whiskey: Nelson's Green Brier Tennessee Whiskey
Resurrecting a family recipe first bottled in 1860, Nashville's Greenbrier Distillery has produced a standout Tennessee whiskey distinguished by founder Charles Nelson's wheated mash bill. Filtered through sugar maple charcoal and aged in new charred oak barrels, the full-bodied spirit delivers a warm, pastry-like palate of brown sugar, cinnamon, and apple.
Scotch Whisky (Unpeated): The Macallan Double Cask 12 Year
No boozy shopping list is complete without this fan favorite that some consider the gateway sip to the world of single-malt Scotch. The 12-year-old unpeated whisky is produced in Scotland's Speyside region and finished in sherry casks. A deep amber color, it shows off heady oak aromas and a palate of sherry, dried fruit, and baking spices. This is the ultimate celebration whisky.
Scotch Whisky (Peated): Laphroaig 10 Year Cask Strength
If you're looking for peat done elegantly, consider this beloved single malt matured in ex-bourbon barrels, barrier-filtered, and bottled at strength. As you note the aromas of smoke and ocean, picture the windswept Islay cliffs battered by the spray of the sea. Perhaps add a few drops of water before sipping to unlock peat smoke and subtle sweetness on the palate.
Irish Whiskey: Knappogue Castle 14 Year Single Malt
Combining two 14-year-old single malts—one aged in bourbon barrels and one in Oloroso sherry casks—this limited-quantity Irish whiskey offers notes of dried apricot, nuts, and malted grain. This expression is triple-distilled, unpeated, and non-chill filtered.
Australian Whisky: Starward Nova
Launched in the United States just last year, this pioneering single malt whisky speaks to the terroir, climate, and natural bounty of Australia. Aged in Australian red wine barrels that once contained shiraz, cabernet sauvignon, and pinot noir, the easy-sipping spirit offers a nose and soft palate of dark fruit.
The Accessories: Amari, Liqueurs, and Bitters
Amari, fortified wines, vermouths, bitters—these "accessories," if you will, offer the botanical and herbal flavors that make for complex and vibrant drinks, but can also stand alone as aperitifs and digestifs. This is by no means a comprehensive guide; the category of amari, a broad label for traditional bittersweet Italian liqueurs, is so diverse and wide-ranging that we encourage drinkers to taste and experience them all to find the ones they like. Beyond widely familiar mainstays like Aperol, Campari, Cynar, and Fernet, here are newer options worth exploring.
1757 Cinzano Vermouth di Torino
A new innovation by the iconic Italian brand Cinzano, this premium vermouth comes in Rosso and Extra Dry variants. Despite being a recent release, the recipe looks all the way back to the original vermouth created by the founding Cinzano brothers in the late 1700s. Use the Rosso to jazz up a negroni and the Extra Dry to elevate a martini.
Starlino Rosso Vermouth
It would be fair to say that this elegant fortified wine tastes exactly the way violet candles smell. Produced in a distillery set outside of Turin, the birthplace of the aperitivo, this modern yet classically-minded sweet vermouth features wormwood and absinthe alongside a range of herbs and botanicals including raisins, vanilla, ginger, bitter orange, and cloves. These ingredients are distilled, blended with three white wines and a fortified wine, then rested for 30 days in ex-bourbon barrels.
Ortolan Rosolio
This California-born botanical liqueur invites you to stop and smell the roses—literally. Made with 25 different varieties of heirloom roses, fresh and sustainably harvested from the Golden State, Ortolan Rosolio nods to the Italian rose liqueurs produced as luxury goods in the early 1900s. Enjoy it simply with seltzer and a citrus peel—due to the natural properties of the roses, the liquid changes from amber to bright pink with the addition of citrus.
Faccia Brutto Fernet Pianta
A chic new rendition of the universally-known Fernet-Branca, this new-school digestif is distilled not in Italy but in Brooklyn, New York by former chef Patrick Miller. Layered with fresh mint and the essence of earthy, mildly sweet Chaga mushrooms—which are often used in tea—it sips perfectly as an after-dinner drink.
Pierre Ferrand Dry Curacao Orange Liqueur
Designed after a 19th century recipe, this traditional French liqueur showcases bitter laraha oranges and spices blended with Ferrand Cognac. This version was created by master blender Alexandre Gabriel with consultation by cocktail historian David Wondrich. Use it in a luxe margarita, drizzle it over vanilla ice cream, or sip it neat for dessert—alongside bittersweet chocolate.
Organic Mixology Liqueurs
These fun, 35-proof liqueurs are low on sugar and high on flavor. Choose from combinations like vanilla-rose and Meyer lemon-ginger, all produced using organic ingredients including organic cane sugar. Add a splash of your favorite liqueur to champagne for an amped-up toast or spike some coffee with a boozy sweetener.
The Non-Alcoholic Drinks
Teetotalers have it better than ever these days with new innovations in the non-alcoholic "spirits" sector. These standout beverages are made with the same thoughtfulness and attention to flavor as their alcoholic counterparts.
Ghia Aperitif
This gorgeous, supremely giftable aperitif is inspired by the herbs and botanicals of the Mediterranean region. Find notes of gentian root, ginger, and elderflower accented by bright pops of citrus from yuzu juice and lemon peel.
Proteau Rivington Spritz
This botanical drink is a ready-made, effervescent cocktail of hibiscus and chamomile flowers, Chinese rhubarb, gentian root, and strawberries. Sip it on ice and savor its simple balance of bitter, floral, and fruity notes.
Kin Euphorics High Rhode
The fashionable tonics by Kin are made with herbal extracts and supplements—including nootropics and adaptogens—designed for relaxation or enhanced social interaction. Regardless of whether or not the drinks actually alter your neurochemistry, one thing is certain: they are tasty. Take the standout High Rhode bottling, which layers hibiscus with other botanicals like gentian, orange peel, and licorice.